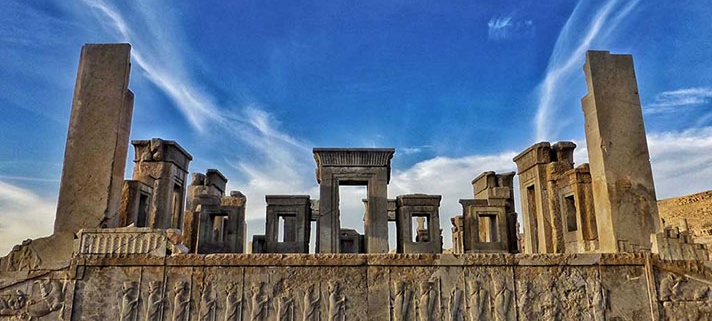 Iran travel guide: Culture, Nature, Attractions, Safety & more
Iran is one of the most ancient countries located in the west south of Asia. Regarding its geographical position, Iran connects the East to the West. The long history and the vast area have led to amazingly variant climatic conditions, cultural attractions, and natural landscapes. That is why Iran is famous for being a destination for all four seasons. Enclosed with the Caspian Sea on the north and the Persian Gulf and Oman Sea on the south while the desert in between, Iran is a proper destination for all nature and adventure lovers who dream of different thrilling experiences of climbing, canyoning, skiing, marine activities, and safari. Embracing 22 UNESCO Heritage Sites and one UNESCO Natural Site as well as 13 Intangible Cultural Heritage registered on UNESCO and many more registered on Iran National Heritage List, Iran looks like a live museum for all enthusiast culture lovers too. It is also one of the best gastronomic destinations for all avid foodies. Travel to Iran at any time and enjoy the attractions and activities of your own favorite season. Stick with us read a complete Iran travel guide.
1. Iran's Culture
Iran travel guide: Ancient Culture and Long History
Iran, as the cradle of one of the most ancient civilizations of the world, is proud of its thousands of year old historical, cultural, and architectural attractions, elegant gardens, pleasant food, and warm hospitable people. With 22 cultural heritage and one natural site inscribed on UNESCO World Heritage List, Iran offers a unique diversity of attractions in the world: from Lut Desert to the Persian gardens; the amazing city of Isfahan to the hand-dug rocky houses in Meymand, Kerman; the towering mountain of Damavand covered in snow to Kish Island.
Iran, the country of wind catchers, Ab Anbar (water reservoir), Persian gardens, palaces, museums, caravanserais, bathhouses, bridges, mausoleums, castles, mosques, churches, monuments, bazaars, literature, science, history, poets, artists, kings, and scientists is a live museum of the culture, history, art, and architecture. Susa, Shushtar Hydraulic System, and chogha zanbil in Khuzestan as the birthplace of the Elamites, and Burnt City dating back to 3200 BC in Sistan and Baluchestan are among Iran cultural and heritage sites.
Long history, outstanding architecture, elegant gardens, delicious food, hospitable people, astonishing landscapes, and remarkable wildlife all represent Iran as a great destination to explore. The vast area of the country has led to an amazing great variety of cultures, traditions, customs, languages, and lifestyles. Moreover, it is situated in such a geographical location that you can see different kinds of climate in different parts of the country at the same time. Sitting on a critical spot and connecting west and east as a bridge, Iran has always been the center of attention for culture lovers. The unique cultural (as well as natural) features of Iran- as one of the oldest civilized places on the earth- attract many tourists from all around the world.
2. Nature
Iran travel guide: Intact Nature
Iran embraces mountains, deserts, forests, caves, canyons, rivers, Geopark, and national parks. Since Iran covers a vast area, it takes advantage of various landscapes and different climatic conditions resulting in remarkable biodiversity. Therefore, it has the most inspiring places for adventure travelers from around the world. Rafting, hiking, biking, trekking, spelunking, caving, mountain biking, and canyoneering are all the adventurous activities you can enjoy in Iran.
3. Festivals
Iran travel guide: Events and Festivals
Different kinds of climate and the vast area of the country during long history have caused great diversity in language, custom, lifestyle, and handicrafts in different parts of the country. All this culminates in different festivals, rituals, events, and traditions in Iran. Nowruz known as the Persian New Year is one of the greatest Iranian festivals celebrated worldwide by Iranians and some other ethnolinguistic groups as the beginning of the New Year. Shab-e-Yalda (Yalda Night) is one of the most ancient Persian festivals annually celebrated on December 21 as the longest night of the year. Tasua and Ashura are respectively the 9th and 10th days of Muharram and Shia Muslims commemorate the battle of Karbala. Chaharshanbeh Suri (the Persian Festival of Fire) is another Iranian festival celebrated on the eve of the last Wednesday before Nowruz, and Mehregan is the celebration of light, friendship, kindness, and love. It is also Thanksgiving Day for the Iranian farmers and it is celebrated in autumn.
4. Attractions
Top Attractions of Iran (the UNESCO World Heritage Sites)
Golestan palace dating back to Qajar dynasty located in Tehran
Naghshe Jahan Square in Isfahan, built at the beginning of the 17th century
Masjed-e-Jame of Isfahan
Pasargadae and Persepolis dating back to the Achaemenid era located in Fars province
The historic city of Yazd well-known as the mud-brick city of windcatchers
Shushtar historical hydraulic system in Khuzestan province dating back to the 5th century B.C.
chogha Zanbil in Khuzestan province dating back to the Elamite era
The Armenian Monastic Ensembles of Iran located in the north-west of Iran consisting of the monastic ensembles: St. Thaddeus (Qara Kelisa), St. Stepanos, and the chapel of Dzordzor
Tabriz Historic Bazaar Complex, the longest roofed bazaar in the world in East Azerbaijan province going back to the 12th century
Sheikh Safi al-din Khānegāh and Shrine Ensemble in Ardabil dating back to the Safavid dynasty
Soltaniyeh Dome, the largest brick dome in the world located in Zanjan
Bisotun the biggest inscription in the world
Takht-e Soleyman in West Azerbaijan province
Persian Qanat a hydraulic water system including eleven qanats dating back to six thousand years ago
Iran travel guide: Persian garden
Susa The ancient city located in the south-west of Iran belonging to the different historical periods especially the Elamite, Persian, and Parthian periods
The Cultural Landscape of Meymand a cave village located in the south-eastern Iranian province of Kerman
Shahr-i Sokhta or the burnt city in Sistan & Baluchistan province dating back to around 3200 BCE
Bam and its Cultural Landscape
Gonbad-e Qabus
Sassanid Archaeological Sights of Fars Region comprising eight archeological sites in three geographical parts Bishapur, Firouzabad, and Sarvestan in the southeast of Fars Province
Lut Desert or the Dasht-e Lut, a salt desert in Kerman and Sistan and Baluchestan provinces on the east and south-east of Iran
Hyrcanian Forests or the Caspian Forests covering the northern provinces of Iran
5. Safety in Iran
Iran is a safe country for all people especially the families, only women, and solo female travels; Because Iran benefits from a rich culture comprising a combination of different religions, traditions, and beliefs that all emphasize morality, the high position of family as the pillar of a healthy society, and high respect for women. Iran is also one of the safest countries in comparison to other regional destinations. Iran with an extended diverse in culture and nature can offer a vast range of attractions and activities to both genders in different age groups.
6. The Best Time to Visit Iran
The vastness of the land has provided a diverse nature, from the humid forests on the north to the dry deserts in the central part, and the sub-tropical forests on the south. It has a variable climate too. One can see freezing winter with heavy snowfall in the northwest and mild spring-like weather in the south at the same time. It is possible to ski in the ski pistes in the Alborz and the Zagros Mountains, take a sunbath at the southern beaches and enjoy the desert safari tour all in one travel. It makes Iran a destination for all four seasons of the year. With more than 10,000 plants, 1,140 animals, and 500 bird species identified, Iran could be a great destination for nature and animal lovers. Hyrcanian forests of Iran dating back to the last stage of the ice age as a green biology library, Ali-Sadr Cave in Hamadan, Badab-e Soort travertine terraces in Mazandaran, Gandom Beryan known as the hottest place on Earth and Kaluts of Shahdad in Lut Desert, Nishapur mines of turquoise, Sarv-e-Abarqu as the second oldest species of tree in the world in Yazd, Shamkhal Canyon, Qeshm Island as the only Geopark in the Middle East, mangrove trees and Star Valley in Qeshm Island, mud volcanoes and the Iranian Short-Muzzle crocodile named Gando in Sistan and Baluchestan, the Asiatic Cheetah, the Iranian Ground Jay as the endemic to Iran, Fritillaria imperialis as the endemic flower of Iran known by the name inverted tulip among Iranians, and Narcissus flower listed as a national treasure of Iran are among its natural attractions. There are 26 national parks, 35 national natural sites, 42 wildlife sanctuaries, and 150 protected areas in Iran.
Weather and Climate
When and Where to travel to Iran
Traveling to Iran is always a good idea, at any season, to any location. We cannot agree on just one specific time to enjoy the glory and magnificence of Persepolis or to be fascinated by the dreamy blue tiles of Sheikh Lotfollah Mosque or the eye-catching ancient bridges in Isfahan.
But generally, Iran's high season is from March to May when the weather is at its best throughout the country, and from late August to October when the weather is a bit warmer. In total, spring in Iran is the high season, summer and winter are low seasons, and fall is the shoulder season. But keep in mind that Iran with its vast area, ancient culture, and amazing diverse climatic conditions has many to offer all year round. Moreover, the low season is the best time to visit Iran's cultural and natural attractions and communicate with locals without worrying about the crowds of tourists and travelers.
Where to Go in Spring?
From the Caspian shores in the north to the coast of the Persian Gulf and the sea of Oman in the south, Iran is at its best in spring but the unmissable places during your travel in Iran are Alborz and Zagros Mountains. Guilan, Mazandaran, and Golestan- the provinces on the coast of the Caspian Sea- and the north-west side of Iran are magnificent destinations for all seasons but they are at their best during spring.
The endemic plants of Iran such as inverted tulip, Susan-e Chelcheragh (only in the two Guilan and Azerbaijan provinces), and Persian ironwood in the forests of Caspian Sea shores, extracting the world's finest rose water in Kashan, Citrus aurantium blossoms blooming in Shiraz, ancient Rudkhan castle sitting on a hill in green forests of Guilan, Dehdez village on the shores of Kroon River, deep canyons, gorgeous waterfalls, and soaring mountains are the breathtaking sceneries that you will enjoy throughout your tour to Iran in the spring season.
Where to Go in Summer?
Summer is a great time for traveling to the cooler regions of Iran on the northwest and west parts such as Azerbaijan provinces (eastern and western), Kermanshah, and Zanjan, as well as Fars province on south for remarkable expeditions in canyons, caves, and mountains. It is also a great time for summiting the top three peaks of Iran: Damavand, Alam Kuh, and Sabalan. Also, you can enjoy water rafting in the rivers of Zagros and Alborz Mountains. Hiking, climbing, rafting, biking, rock climbing, and canyoneering are some fun activities you can do in the ever-green Alborz Mountains. In fact, Alborz is a canyon-filled paradise for beginners and expert explorers.
Chakrood canyon in Gilan province, Mor and Kamjel canyons in Mazandaran province on Caspian shores, Raghaz canyon in Fars province; Ali Sadr, Parau, and Ghoori Ghal'e castles (all in Kermanshah province); Arasbaran protected area situated on the north of Iran at the border to Armenia; Takht-e Soleyman in West Azerbaijan province (the UNESCO World Heritage Site), Bisotun in Kermanshah, Soltaniyeh Dome in Zanjan (the UNESCO World Heritage Site and the largest brick dome in the world), Tabriz traditional Bazaar (the UNESCO World Heritage Site and the biggest ancient covered bazaar in the world,); and Kandovan village (with ice-cream cone-shaped houses carved in the rocks) are just some of the cultural and natural attractions to experience a memorable summer adventure.
Where to Go in Fall?
Fall is the season that nature wears its most fascinating colored gown: the gold, red, orange, purple, brown, and green against a thin layer of grey clouds in the sky!
Hyrcanian forests of Iran in Alborz Mountains; Cloud Forest in Semnan province; the ancient province of Khuzestan in southwestern Iran as the birthplace to Elamites (2400 to 539 B.C.) embracing Chogha Zanbil ziggurat and Shushtar historical hydraulic system (both UNESCO world heritage sites); Bakhtiari, Lor, and Qashqai tribes who live on the foot of the generous Zagros Mountains in Khuzestan province; Yazd, the city of adobe houses and wind towers in the desert as the birthplace of Zoroastrian religion; Kerman province home to Bam Citadel, Kaluts of Shahdad in Lut desert (the only natural UNESCO Site of Iran), Roghe canyon, the cultural landscape of Maymand, and Shazdeh garden, are some destinations you can enjoy visiting when you travel to Iran in the fall.
Fall is the season of pomegranate, Mehregan celebration, and Yalda Night.
Where to Go in Winter?
Iran is renowned for its history, architecture, elegant gardens, scrumptious food, and hospitable people. With twenty-three UNESCO world heritage sites, it is one of the countries with the most tourist attractions in the world. Though Iran is not famous as a ski destination, it has thirteen international ski pistes with a long skiing season and good quality powder snow. If you travel to Iran in winter, you can visit the warm regions of the south of Iran such as Persian Gulf islands: Kish and Qeshm (both are free zone areas with no need of visa), and Sistan and Baluchestan province besides the ski pistes in cold regions covered with snow.
Winter is the only time you can go skiing in Alborz Mountains; also enjoy the sunny beaches of the Persian Gulf on the same day. In winter, you can see one of the most beautiful flowers in the world, the Behbahan Narcissus in Khuzestan province. Qeshm island embraces the only Geopark in the Middle East. Chabahar in Sistan & Baluchestan province is the only habitat of the Iranian Short-Muzzle crocodile that locals call it Gando. Shahr-i Sokhta, meaning the burnt city, is one of Iran's UNESCO world heritages in this province. You can also visit Hara forests on both Qeshm island and Chabahar. Miankaleh peninsula, the only Iranian island in the Caspian Sea, hosts thousands of birds from Siberia and thousands of bird watchers who come from all parts of Iran to just get a glance of these lovely guests every winter.
8. Gastronomy
Tasty but Not Spicy Iranian Foods
Iran as a large country embracing different ethnicities with different cultures is so diverse in culinary that every city enjoys a large variety of very delicious and tasty foods. Iranians love spices and a combination of different spices such as turmeric, saffron, black pepper, dried lemon, cumin, and so forth to give a savory smell to the foods and make them really delicious. Though Iranians use spices a lot, their foods are usually tasty but not necessarily spicy. Persian foods are a mixture of the most nutritious ingredients including meat, rice, vegetables, beans, and spices. Iranians love spices and a combination of different spices such as turmeric, saffron, black pepper, dried lemon, cumin, and so forth to give a savory smell to the foods and make them really delicious. Iranians mix all those ingredients in such a balance that they turn into a delicious and nutritious meal as a result. Kebabs, stews, and different kinds of rice (Chelow and Polo) such as Joojeh Kabab (chicken kebab) as the Iranian favorite picnic food, Gheymeh Nesar as a very delicious Persian jeweled rice with succulent pieces of lamb, Khoresh-e-Ghormeh Sabzi (Persian herb stew), Khoresh-e-Fesenjan (Persian pomegranate and walnut stew), Mirza Ghasemi as a vegetarian meal, and Baghali Ghatogh as an easy, healthy, and tasty dish are some of the most popular Iranian foods.
Iran Medical Tourism
Affordable State-of-the-art Facilities and Treatment
Iran's highly equipped hospitals and rehabilitation centers offer a wide range of state-of-the-art facilities and treatment with experienced expert medical teams at reasonable costs compared to the developed countries, southeastern Asian countries, and Iran's regional competitors like the Persian Gulf States. Iran enjoys a unique combination of pleasant climate, splendid natural sceneries, relaxing villages, hot (mineral) springs and spas in different parts such as Sar'eyn in Ardabil, highly advanced medical centers and hospitals, up to date medical technology, suitable infrastructure, and well-equipped accommodations. There is also a hotel hospital in Tehran, the capital of Iran. Thousands of visitors from different countries travel to Iran annually for plastic surgery, heart surgery, eye surgery, stem cell treatment, organ transplants, artificial insemination, and other surgeries and medical treatments. Moreover, Iran offers high-quality medical care in rhinoplasty, cardiology, dentistry, rheumatology, nephrology, neurology, dermatology, gynecology, urology, orthopedics, otolaryngology, hematology, gastroenterology, and many other branches of medicine. It is also one of the top countries in biotech. Many private hospitals in cities like Tehran, Shiraz, and Mashhad provide accommodation facilities for the tourists too. Looking for a medical tour to Iran? click here.
Are you planning to travel to Iran? Check out our Iran tours.
https://irandoostan.com/dostcont/uploads/2018/11/Persepolis-travel-to-Iran.jpg
366
712
Iran Travel
https://irandoostan.com/dostcont/uploads/2018/05/logo-idt2-09.png
Iran Travel
2018-11-27 18:07:31
2023-09-10 14:43:37
Iran travel guide: Culture, Nature, Attractions, Safety & more