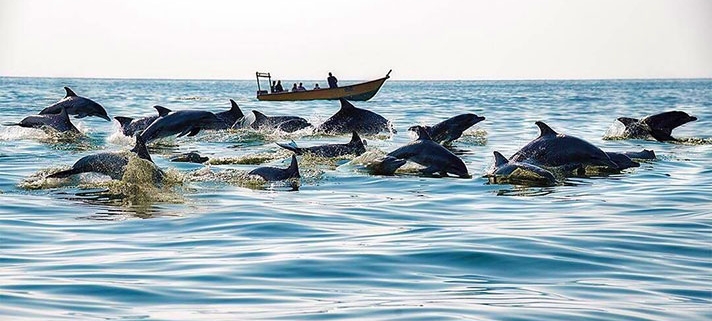 Hengam, the Island of lovely dolphins
Hengam Island is located in the south of Qeshm Island and it is within Hormozgan province; you can reach it by hiring a motorboat. If you go there soon in the morning, you would have a chance of seeing naughty dolphins playing happily in the sea just beside your boat. Considering its area, it is a very small island, however, you can enjoy whatever you might expect: the rocky shores where you can find a pleasant solitude, the serene sunset that would amaze you with its lovely orange color, the kind natives that would welcome you with their warm smiles and host you with delicious foods such as savory samoosa, the colorful fish that move freely before your very eyes, the great opportunity to relax and camp by the blue water of the sea, exploring the local bazaar of Hengam and buying many handicrafts as the souvenirs of your travel to Iran, swimming in the crystalized water of the Persian Gulf.
Hengam Island has very friendly people whose main job is fishing; however, they also make a living by selling local foods and handicrafts to the tourists and travelers on the island enjoying their time sightseeing, taking pictures, or wandering.
The dreamy island of Hengam has many natural and cultural beauties to charm tourists. Its attractions vary from historical English harbor buildings and Portuguese shipwrecks to the sea life attractions such as turtles and sharks.
Are you planning to travel to Iran? Check out our Qeshm island tour.
https://irandoostan.com/dostcont/uploads/2017/05/Hengam.jpg
366
712
Travel to Iran
https://irandoostan.com/dostcont/uploads/2018/05/logo-idt2-09.png
Travel to Iran
2017-05-09 10:11:29
2023-09-13 11:12:05
Hengam, the Island of lovely dolphins