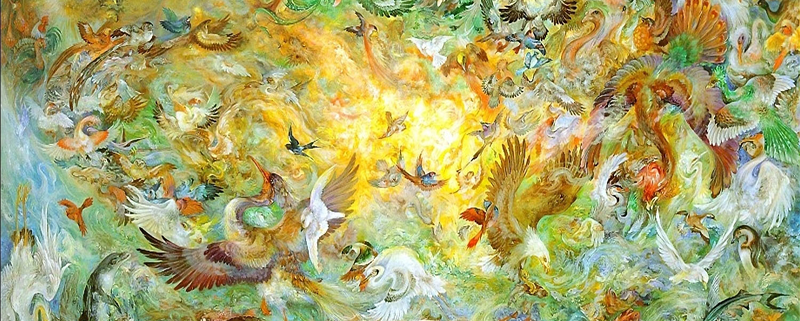 Persian miniature: Everything about Iranian miniature
Persian miniature is a traditional style of painting that is detailed, colorful and small in size, often representing a mythological or religious theme. Due to its long history, Iran has a rich artistic heritage, and miniature is one of them. In your travel to Iran, there are many places you can see and buy this original work of art.
If you are planning to travel to Iran, here is the link to online Iran visa.
The History of Persian Miniature
Iranians' taste for art dates back to the cave age, about 8 to 10 thousand years ago where the displays of hunting scenes are still evident on "Lorestan", "Sialk" and other ancient archaeological sites.
It is believed that Iranian prophet, Mani, who was also a famous artist, was a pioneer in miniature in the 3rd century as his book was designed with tiny figures. However, there are limited documents of Iranian miniature related to pre-Islamic era.
After Invasion of the Moghuls, miniature painting in Iran was influenced by East Asia which is quite obvious in the human figures and their faces. Although, Iranians developed their own techniques and themes. Miniature started to become an outstanding genre from 13th century and reached its zenith in 15th and 16th centuries. And soon, Persian miniature was prevalent among other Islamic miniatures particularly the Ottoman miniature in Turkey, and the Mughal miniature in the Indian sub-continent.
During Islamic period when Persian miniature was significantly flourished, various independent schools came into existence, each representing unique features. Among the most known ones were Tabriz school, Baghdad school, Shiraz school, and Mozaffarian School. Many ancient Iranian stories and poems of Ferdowsi, Saadi, Nezami and Hafez were illustrated in fine miniature by great artists of this period.
The evolution of Iranian miniature stopped by the end of Safavid period in Iran, since the Safavid kings were attracted to the western styles and this art entered a new era.
Iranian Miniature Features
"Miniature" is a French term meaning "tiny replica of nature", however Iranian miniature has fundamental differences with what is called miniature in the eastern Asia and Europe. Actually, the only similarity between Persian miniature and those of China, Japan and Europe is being small in scale. There are also other unique features about Persian miniature; the first one is its rich delicate details in spite of being small in size, no slight detail has been missed by the artist which catches every viewer's eyes, some paintings are so delicate that you need a magnifier to see its detailed beauties.
The second feature is that, no perspective technique has been used in Iranian miniature, elements are just overlaid on each other on a flat surface which looks somehow amateurish to those who have got used to Western styles of painting.
Added to these, miniature in Iran is not only about a separate work of art but also refers to some illustrations for Iranian manuscripts, as on the margin of the poetry books, for instance. This kind of art became popular since the beginning of the 14th century, handwritten books were adorned with the scenes from hunting, battle fields and feasts.
Where to see fine Iranian Miniature?
Persian miniature started by devoting itself to adoring books and papers; however, it later found its way to design the walls of glorious building. During Ashkani and Sassanid empire in pre-Islamic era the walls of kings' palaces were embellished with miniature art, but unfortunately nothing has been left of these constructions. During Islamic period when miniature art flourished, Safavid kings paid a special attention to miniature art, and that is why many historical buildings of this period has been beautified with colorful astonishing Iranian paintings you can visit while traveling to Iran.
Since Isfahan was the capital of Iran during Safavid, the city is the best place to see Iranian miniature. Chehel Sotoun, Ali Qapu, Hasht Behesht palace, Qeisarie Bazaar in Isfahan; Boroojerdi house in Kashan and Chehel Sotoun in Qazvin represent the finest examples of Iranian miniature in Iran. Isfahan is famous for its Islamic architectural masterpieces and it is included in all tours to Iran.
If you are interested in art and especially Iranian miniature, we strongly suggest you visit National Museum of Iran in Tehran where there are various ancient artworks such as pottery, textiles and adobe calligraphy, from Iran's post-Islamic era.
Can I buy Iranian miniature as a souvenir from Iran?
Iranian miniature has gone a long way to be painted on pictures made of thin layer of bones. There are still artists following miniature schools and create fine arts that deserve to be appreciated. The price is different depending on the artist's skill, the quality of the work, the size and also theme of the miniature. Most tourists are excited by seeing Iranian artworks in the shops, they carefully gaze at the works of Iranian artists in their workshops to select and buy the best Iran souvenirs. You can buy Iranian miniature works not only as a wall picture but also on different objects such as decorative containers which makes it even more valuable.
There are different traditional and modern bazaars in different cities that are famous for fine handicrafts and artworks. You can ask your tour guide about these bazaars, however they are usually quite close to the visiting places in your tour itinerary.
Are you planning to travel to Iran? Check out our Iran tours.
https://irandoostan.com/dostcont/uploads/2019/11/Farshchian.png
600
800
Farima Fehrest
https://irandoostan.com/dostcont/uploads/2018/05/logo-idt2-09.png
Farima Fehrest
2019-11-09 11:30:26
2023-10-02 09:17:46
Persian miniature: Everything about Iranian miniature