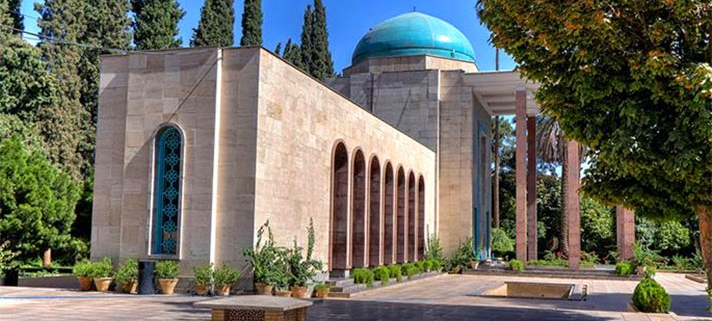 Saadi, the Great Persian Poet of All Time
Saadi Shirazi- Abu-Mohammad Muslih al-Din Shirazi- the great Persian poet of all time, was born in Shiraz in the 13th century. He is one of the most influential Persian poets of the medieval period, admired for his artistry in expressing the deepest moral and social thoughts in the simplest words for all ages. He is well-known as the "Master of speech" among Persian scholars and one of the best poets of classical Persian literature. His two outstanding literary masterpieces are Golestan and Bostan.
The exact date of his birth is not known. According to his qasida poems, he left home to explore the world in 1225, contemporary to the invasion of Mongols to Fars. In Golestan, composed in 1258, he addresses himself as a person who has lived 50 years, but he is still naïve and does not know much about life.
Saadi Shirazi Lifestory
After leaving Shiraz, he went to the Nezamiyeh University in Baghdad and studied Islamic sciences, theology, law, history, and Arabic literature. During his thirty-year journey, he had the opportunity to travel across Anatolia, Syria, Egypt, and Iraq. He also visited Jerusalem, Mecca, and Medina. He wrote about his travels and adventurous life in both Bustan and Golestan. Master of Speech fought alongside Sufis against Crusaders in Halab, but they captured him at Acre and held him captive there for seven years. But like many of his other stories, such as traveling to India and Central Asia, it cannot be confirmed and is considered highly suspect. Without a doubt, he lived much of his life as a wandering dervish.
Who is Saadi?
Saadi was a man of learning and traveling. He met all kinds of people, from intellectuals, merchants, preachers, farmers, ordinary people, and survivors of the Mongol invasions to Sufi dervishes and even thieves living in remote areas far from the invaded regions. Saadi was able to study society and advise and preach to people to follow wisdom and morality. He finally came back to Shiraz before 1257 CE in his late forties, and it was the time that he finished the composition of his masterpiece called Bustan. His birthplace Shiraz was where he spent the remainder of his life and was greatly respected by the residents and ruler of the city. He passed away between 1291 and 1294 in Shiraz. He has been titled a Sheikh because of his depth of knowledge.
Saadi Shirazi Bustan
His best-known work Bustan (or Bostan), was completed in 1257. Bustan is entirely in verse. It includes 183 stories in ten chapters about the virtues such as justice, kindness, love, modesty, liberality, generosity, satisfaction, and happiness, and the ecstatic practices of dervishes addressing all people to have a better and happier life. Bustan was called Saadi Nameh in older versions. It contains about 4000 verses.
Golestan
His masterpiece Golestan was completed in 1258, a year after composing Bustan. It is mainly composed in prose. It includes 8 chapters, mainly about the kings' morality, the dervishes' behavior, the benefits of contentment, silence and talking in proper time, love and youthfulness, weakness in old age, and education. Interspersed among the stories are short poems. It is one of the most influential books in prose in Persian literature. Saadi attempts to advise people to live freely and improve their quality of life in Golestan. It contains different anecdotes, pieces of advice, and quotations. It can show the cultural and social conditions of the society at the time of Saadi very well. Some characters and stories are real, and some are fictional. It is one of the first Persian books made by a print machine in 1824 in Tabriz.
Persian Language and Literature
Other works of Saadi include Ghazals (love poems or Lyrics; sonnets), Qasidas (longer mono-rhyme poems or Odes), Quatrains, and short pieces in prose in both Persian and Arabic. He is known as one of the greatest ghazal-writers of Persian poetry besides Hafez. Many scholars believe the best ghazals are from Saadi and Hafiz. Saadi has about 700 ghazals, mostly with the essence of love and some with mysticism sermons. He uses irony in his works to represent and criticize the deficiencies and corruptions in the society of his time.
The Greatest Ghazal Poet
The ghazals of Saadi are collected in four groups: Old Sonnets (written in his youth); Tayebat and Badaye (written in his middle age); and Khavateem (written in his old days). Most experts believe Saadi's Old Sonnets are about earthy love, while his Khavateem is more about mystical love, as well as ethics and piety. According to this dichotomy, they guess Saadi practically passed the earthy love to the mystical love during the different stages of his life.
Saadi's Artistic Style of Writing
Saadi elaborately distinguishes between spiritual and mundane aspects of life in his works. He tries to visualize the deepest meanings of life in the most tangible contexts and close to conversational language as far as possible in a way that even common people can get the most out of his writings. Saadi's writing style is called Saj' in Persian and Arabic, and it is a kind of prose characterized by rhythm as well as rhyme. This artistic style of writing reaches its peak in Saadi's Golestan. His prose style is described as simple but impossible to imitate.
Saadi Shirazi Poems
The writing style of Saadi undoubtedly had a huge influence on Persian literature and many great poets who followed him. There is a surprising similarity between his language and modern Persian. After about eight centuries, his works are still easy to understand and admirable in different languages. Many of the Persian proverbs have been taken from his works. Translations include "the proof of the pudding is in the eating", "what can you expect from a hog but a grunt?" and "Haste makes waste." Among the well-known western poets who translated Saadi's works are Goethe and Andre du Ryer- the first European who presented Saadi to the west for the first time in 1634. Golestan was translated into Latin in 1651. Sir Richard Francis Burton translated Golestan into English for the first time.
In one of the most well-known immortal poetries of Saadi, he considers all humans as different parts of a whole body, regardless of social barriers and race:
Human beings are members of a whole,
In the creation of one essence and soul.
If one member is afflicted with pain,
Other members uneasy will remain.
If you have no sympathy for human pain,
The name of a human you cannot retain.
This poem conveys such a deep humane universal concept that is printed on the ten-thousand-Rial bill to remind everyone of the love and peace in everyday life.
Tomb of Saadi
It is one of the major tourist attractions in Shiraz to visit his mausoleum, also known as Saadieh. It is located in a beautiful garden beside Delgosha Garden (dating back to the Sassanid era). The tomb was built in the 13th century. Unfortunately, it was destroyed in the 17th century. The present-day building was built between the years 1950 and 1952. It was inspired by Chehel Sotoun and built by the architect Mohsen Foroughi. Many Persian elements have been used in its architecture. It is also a National Heritage Site. It is visited annually by thousands of visitors who respect him and adore the eloquence in his works. Most of the tours to Iran include Saadieh in their itineraries while visiting Shiraz during their travel to Iran. To commemorate Saadi, 21 March is celebrated as the National Day of Saadi in Iran every year.
Are you planning to travel to Iran? Please read Things to do in Shiraz and Check out our Iran tours.
https://irandoostan.com/dostcont/uploads/2018/05/Saai-Shirazi-tomb.jpg
366
712
Iran Travel
https://irandoostan.com/dostcont/uploads/2018/05/logo-idt2-09.png
Iran Travel
2018-05-19 11:47:02
2023-09-11 12:23:25
Saadi, the Great Persian Poet of All Time