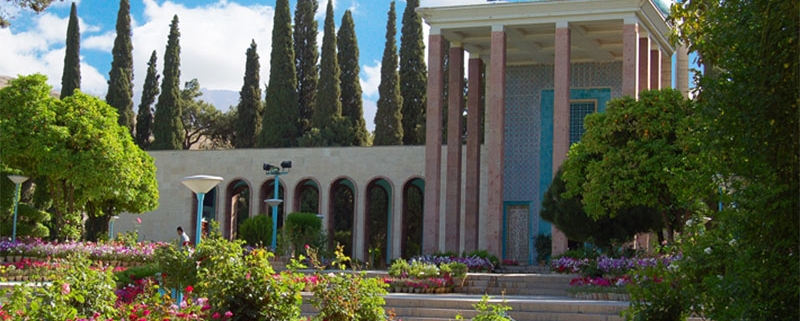 Things to do in Shiraz: Photos, opening hours, info
Have you ever thought how would heaven look like? You would probably think of someplace full of flowers and blossoms, with enormous fountains and green gigantic trees. Then you are probably thinking of a place like Shiraz. This amazing city has embraced many historical and natural attractions that no visitor thinking of a dreamy trip in one of the gorgeous and ancient paradises of Iran, would tend to miss. This article introduces Things to do in Shiraz; some of which have a global reputation.
Persepolis
Persepolis was the capital of the Persian Achaemenid Empire. This monument has so many historical stories to offer; as some locals may say it is "History in front of your eyes". In 518 BC Darius the Great built Persepolis as a modern city which was impressive due to its luxury and opulence. The architecture of Persepolis shows us how grand and fascinating the place was in 500 BC. Persepolis is one of the historical monuments that is inscribed in UNESCO. So, as a representative of Iran's history and glory, you wouldn't want to miss it. To reach Persepolis, taking a taxi seems the best way. There are also mini-buses departing from Karandish terminus in Shiraz every morning.
 Opening hours: 8 am – 5:30
Nasir al-Mulk Mosque
At first glance, visitors may not realize the colorful secret hidden inside this mosque. Nasir al-mulk mosque, also as some tourist might like to call it, Pink Mosque turns into a magnificent masterpiece by the reflection of the colorful windows on the Iranian carpets. Due to this incredible artwork of Iran's culture, a heaven has been created for photographers to take stunning pictures. Today, this mosque which was built by Qajar dynasty is one of the must-see attractions of Shiraz that no visitor would like to miss.
To arrive here, you can take Valiasr-Namazi buses and get off the bus at Chahar Rah Moshir (Moshir Crossroad) Station.
Opening hours: 7 am – 5 pm
Shah Cheragh shrine
Near pink mosque, you can also visit Shah Cheragh shrine. Shah Cheragh is a tomb of two brothers named Ahmad and Muhammad who are sons of Musa-al-kazim, seventh Shia Imam. This shrine is covered with mirror shards and tilework and welcomes you with an enormous fountain.
If you are going on foot, from Shohada Square, enter Piroozi Street. Then get on Dastgheibi Blvd. and after that get to 9th of Dey Street. And in case of using a car, in Sibooye Blvd. at Shahzade Ghasem Square, turn to the right to Hazrati Street. Then turn to the left to 9th of Dey Street.
Opening hours: 24/7
Vakil Complex
Named after the founder of the Zandiyeh dynasty, Vakil complex was constructed in this period when Shiraz was the capital of Iran. The complex consists of Vakil Bath, Vakil Bazaar, and Vakil mosque, all of which have been built for the public interest.
Vakil Bazaar
Looking to buy a souvenir in Shiraz? Vakil bazaar offers everything you're looking for. Inside the bazaar you will find yourself surrounded by all Iranians' handicrafts and spice stalls. You can find all sort of handcrafts; such as rugs and carpets, copper handicrafts and antiques. There is also some type of sweet called Masqati including pistachio, rose and saffron which are mostly known as a famous souvenir from Shiraz. To reach vakil bazaar you can use bus; get off at Shahrdari Station and take a walk southward on Piroozi Street, turn left on Farhang Avenue, go past by Taleqani Street and find Vakil Bazaar on the left side. On the way to Vakil bazaar you can also visit other parts of Vakil complex including the bath and the mosque.
Opening hours: 8 am – 9 pm
Vakil bath
Vakil bath was originally a public bath dating back to Zandiyeh dynasty. The arches and the tilework of the bath show the history of Iranian architecture and culture.
Getting to Shohada Square, you can walk an 8-minute distance eastward on Zand underpass and then turn right on Taleqani Street to get to Vakil Bath.
Opening hours: 9 am – 9 pm
Vakil mosque
Vakil mosque is a fascinating mosque near Vakil bath with 48 columns which is an interesting place for photographers to take special photos. A large courtyard and stunning facade, blue tileworks of the arches and porches, the ceiling with its spectacular designs surrounded by well-designed walls are quite impressive and eye-catching. Vakil mosque is named after the founder of the Zandiyeh dynasty just like the bath and bazaar.
Using bus seems to be quite easy to access the mosque, you can get to Shohada Square and walk an 8-minute distance eastward on Zand underpass and then turn right on the first alley to get to Vakil Mosque.
Opening hours: 8:30 am – 8:30 pm
Karim khan Citadel
Karim khan Citadel known also as Arg of Karim khan, is also a part of Vakil complex but used to be a royal palace for Karim khan, himself who was the founder and the first king of Zandiyeh dynasty. However, during Qajar dynasty the castle turned into a prison and each room turned into a cell. Despite all of the damages occurred to the castle, it is still considered as an intricate and detailed brickwork. Inside of the citadel, is a courtyard with hundreds of citrus trees with great smell of oranges' blossom in spring. To keep a memory of your trip to Shiraz, you can take a selfie right next to the sign of Shiraz behind the castle.
You may either take a bus or taxi. Use the buses to Shohada Square and get off the bus in the square, you will see the great Karim Khan Citadel.
Opening hours: 9 am – 10 pm
Near the citadel, you can also pay a visit to Pars or Nazar museum which is the oldest museum of Fars providence. It is an old house near the citidel, full of amazing and dazzling paintings on its roof. Although It is a small museum but the fact that Karim Khan, one of the of Iran's most moralistic kings has been buried there, makes it special. You can find precious and valuable objects such as boxes, mirror frames and an ancient hand written Quran with a spectacular font. You will be amazed by the fascinating atmosphere and the vast variety of items which is definitely worth visiting.
To use the bus, Shahrdari Bus Stop in Shohada Square is the closest station, after 5 minutes of walking you will reach the museum.
Opening hours: 8 am – 6 pm
Shapouri Pavilion and Garden
Shapouri House was owned by one of the greatest merchants of Shiraz. The idea of its architecture originated from two periods in Iran's history, Qajar and Achaemenid architecture. Entering the house, you will see a garden full of Mediterranean cypress, plane and maple trees and a huge fountain surrounded by roses and pelargoniums. The first floor is used as a café and the second floor is a restaurant; so, after visiting the garden around the mansion you can sit in the yard or at balcony, order drink or food and enjoy your stay. Photographers will specially be impressed by this elegant house and its beautiful garden.
Accessing the Garden is possible either through walking from Kari Khan Zand Street and also taking a taxi which is quite affordable in shiraz.
Opening hours: Every day at 9 am – 12 am
Eram Garden
The beautiful and colorful blossoms at Eram Garden especially during the spring has made this UNESCO-listed World Heritage Site an attractive place for visitors. Being a botanical garden, different kinds of plants and trees, such as palm and cypress trees are planted and raised here. By just looking at the garden and the beautiful mansion inside designed with traditional tiles and unique architectural patterns, you will truly believe you're in heaven. Women will appear in traditional colorful costumes, and walk around the pool while people go and visit the building.
To use subway, Find Namazi metro station, after 10 minutes of walking, pass Daneshjoo Square and you will find Eram Garden. Having decided to go by bus, try to find Kolbeh Sq to Eram Sq. or Narenjestan Blvd. to Namadi Sq. buses.
Opening hours: 8 am – 8:30 pm
Tomb of Hafez
Hafez is one of the most prominent poets of Iran, his poems are engraved on Iranians' heart. Tomb of Hafez is one of the most significant Shiraz tourist attractions that anyone with a sense of love for poetry would like to visit. The garden offers a peaceful atmosphere, with loads of flowers in various colors, there is usually a pleasant music in the background and it's a wonderful place to relax and read some of Hafez poems.
For centuries, Iranians have widely believed in consulting Hafez when confronting a difficult situation or making challenging decisions. Opening the Hafez Book randomly, the poetry will reveal the answer to your intention and guide you to the right path.
To arrive here, you can either of these buses line: Dastgheib to Narenjestan or Golestan Sq. to Namazi.
Opening hours: 8:30 am – 10 pm
Tomb of Saadi
Saadi is one of the greatest poets of all time, not only in Iran but to all over the world. Saadi was both a traveler and a poet; having travelled to a lot of countries, he came back to Shiraz and started to write his poems. Tomb of Saadi offers a spiritual atmosphere with a beautiful garden; his poems are written all over the walls around his tomb. In front of the tomb there is a pond that people stop to make a wish and throw coins into it. Don't forget to drop coins into the pond and make wishes!
To reach the site, take a taxi or a bus by Haft Tanan Boulevard, enter Boostan Boulevard and after walking for 10 minutes you will get to Tomb of Saadi.
Opening hours: 8 am – 10 pm
If you are looking forward to pay a visit to Shiraz, spring is the best season to visit this breathtaking paradise because of the blooms and blossoms and also during fall due to the good atmosphere of the city.
https://irandoostan.com/dostcont/uploads/2020/02/saadi-tomb.jpg
600
800
Travel to Iran
https://irandoostan.com/dostcont/uploads/2018/05/logo-idt2-09.png
Travel to Iran
2020-02-17 15:15:46
2023-09-26 16:40:02
Things to do in Shiraz: Photos, opening hours, info