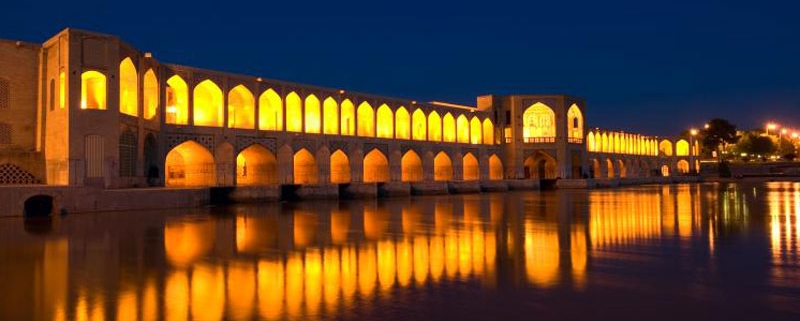 Things to do in Isfahan (Photos, Info, Timing)
Isfahan is filled with wonderful structures belonging to the Seljuk and Safavid Dynasties. It is a city of rich Persian art, history, culture, and handicrafts that you should not miss. There are beautiful palaces, bridges, mosques, and bazaars in Isfahan that are a great representative of the beautiful four-season Iran. In this article, we have included the best Things to do in Isfahan.
Wandering around Naghshe Jahan Square
Don't mistake it for the usual square right in the heart of the city. Naghshe Jahan Square known also as Imam Square is a significant square full of wonders and archaeological masterpieces belonging to the Safavid Era. This UNESCO World Heritage Site has great attractions on each corner and there are a lot of stores all around the square presenting the remarkable Isfahan handicrafts and art.
You can find Sheikh Lotfollah Mosque on the east, Shah Mosque on the south, Ali Qapu Palace on the west, and Qeisarie Gate on the north side of the mosque which are the prominent attractions of this square.
There are so many colorful tiles and calligraphic inscriptions in the Sheikh Lotfollah and Shah Mosque. Geisarie Gate is actually the main portal to the Isfahan Grand Bazaar. By passing Qeisarie Gate you will be welcomed to a labyrinth of wonders of the bazaar where you can find an opportunity to get a better understanding of local lives. The arched ceilings and domes are a great representative of a typical Persian bazaar. You can find different types of handicrafts, well-known Isfahan carpets, various delicious spices, traditional and modern clothes, and so on in the bazaar. This roofed bazaar belongs to the 16th century.
Visiting Naghshe Jahan Square may take more than half a day, but it's totally worth it. Since you will be able to deep into the rich Isfahan culture, do not rush into visiting Naqshe Jahan Square because you will miss a lot. Just take your time and explore each corner's beauty slowly. By the way, you can get on a horse and go through the square from an upper view.
Naghshe Jahan Square is close to Darvazeh Dowlat Square. With a 1- km walk, you will reach there, just go on the east side wide of the square on Sepah Street and within a 10- minute walk, you reach Naqshe Jahan Square.
Opening Hours:
Spring and Summer: 9 a.m. to 6 p.m.
Autumn and Winter: 9 a.m. to 4:30 p.m.
Walking through time in Jameh Mosque of Isfahan
Wondering what walking through time might mean for an attraction in Isfahan? Well, Jameh Mosque has undergone gradual changes during the last centuries, that is why you will be confronting changes through time in this mosque. In different dynasties, there were some remodeling and reconstructions in the mosque styles. Its magnificent architectural design has a prominent effect on Iran and Central Asia. Besides, Jameh Mosque has an open area with a magnificent view of the sky.
To get to Jameh Mosque, you need to head north on Majlesi Street and Jameh Mosque is just on the right side of the street.
Opening Hours:
9 – 11 a.m. & 1- 4:30 p.m.
Enjoy the Beauties of the Zayandehrud River
One of the great features of Isfahan is the Zayandehrud river and its bridges right in the middle of the city. Just in the south of the beautiful Chahar Bagh Abbasi Street, you can reach the eye-catching Sio-se-pol Bridge. This bridge spans the Zayandehrud River and is a two-story bridge with 33 arches that stretch across the Zayanderud River. Unfortunately, due to the climate changes, downstream of the river has dried up several times in recent years. But if you are lucky, you will be amazed by the beauty of the river and the Sio-Se-Pol bridge as well. The great point of this bridge is that you will find local people singing or reciting a poem on the bridge at night and the scenery is just wonderful.
A few meters away, you can see Khaju Bridge. This bridge was built during the Shah Abbas II Kingdom. In the two-story Kahju bridge center, there is a pavilion where you can enjoy the landscape.
The river is just across Bozorgmehr Square. Just head to the west of the square and within a 1- kilometer walk you will reach the Khaju Bridge after crossing one extra kilometer, you will get on the magnificent Sio- Se- Pol Bridge.
Marvel at Isfahan Vank Cathedral
Right in the center of the Jolfa area -which is the Armenian quarter of Isfahan-, you can find Vank Cathedral also known as Amenaperkich Cathedral. The multicolored murals and frescoes in the church are a must-see when visiting Isfahan. This church has vividly depicted biblical stories. Bear in mind that cameras are not allowed to capture these brilliant patterns and paintings on the ceilings and walls. It is on Middle Nazar Street right along the Zayandeh- rud River.
Opening Hours:
8:30 a.m. to 5:30 p.m.
Walk around Chehel Sotun Palace
Chehel Sotun Palace is one of the Persian Gardens registered on the UNESCO World Heritage Site List. Its name ("Chehel Sotun" means "40 pillars" in Persian) comes after the palace's 20 pillars and it is said with the reflection on the water in the front pond, you can see forty pillars; which is actually not true. This palace was also built under the command of Shah Abbas II. This site was constructed as an entertainment center for the king's guests. You can see magnificent frescoes and paintings on the ceiling and walls. Unfortunately, a great number of its ceramic panels have been dispersed and you will find them in European museums. On the east side of Darvazeh Dowlat Square, on Sepah Street, you can see the magnificent Chehel Sotun Palace.
Opening Hours:
8:30 a.m. to 7 p.m.
Listen up Carefully in Isfahan Music Museum
If you have artistic taste and specifically you are a fan of musical instruments, Isfahan Music Museum is a MUST-VISIT in the Jolfa area. It has a collection of more than 300 traditional Iranian instruments. The remarkable point about visiting this museum is that the guides at the museum play the instruments for you to showcase their differences and their specific sounds. Besides, in peak times, you can enjoy live folklore performances by the musicians of the museum. For getting to Isfahan Music Museum, just head North on Tohid Street and turn left at Mehrdad Street, you can see the museum.
Opening Hours:
9 a.m. to 9 p.m.
Hike up Sofeh Mountain
If you hike on a regular basis and you are searching for a place around Isfahan to exercise a bit, Sofeh Mountain is a good option. Note that it is 590 meters above sea level and it takes you less than two hours to reach the peak. Besides, the route to the peak is almost paved, so don't worry if you don't have suitable hiking shoes with you.
To reach Mount Sofeh from the Darvazeh Shiraz Square, just head east toward Hezar Jerib Avenue and turn left onto Soffeh Boulevard. You will easily get there in a 10- minute ride.
Atashkade; Zoroastrian Fire Temple
The Atashkade belongs to Sasanian Era and is located on a hillside that is a few kilometers to the western part of Isfahan. With a little bit of hiking, you will have an excellent panorama of the scenery at this Zoroastrian Fire Temple. The temple is on east Nazar Street along the Zayandeh- rud River.
Opening Hours:
8 a.m. to 12 p.m. & 4 p.m. to 8 p.m.
Arrange an Overnight Trip to the Varzaneh Desert
There are numerous well-known deserts in Iran and we highly suggest visiting at least one of them. If you have limited time and Isfahan is on your list, Varzaneh is a great option to visit since it is right next to Isfahan. At Varzaneh, you can either have a night camping tour in the desert or stay at its beautiful traditional guesthouses. Varzaneh is within a two-hour drive distance to Isfahan. Bear in mind that it is not just limited to its desert; there are some historical sites and the beautiful Salt Lake you can visit during your stay.
This was just a shortlist of a few attractions in Isfahan, but as it is said "Isfahan Nesf-e Jahan" means that Isfahan includes half of all the culture, history, and beauties of the world. If you are lucky enough to have extra time, try visiting Hasht Behesht Palace, Menar Jonban, Saeb Tomb, Avicenna Tomb, Majlesi Tomb, Angorestan, Malek Historic House, Bird garden, and Pigeon Tower.
This is not where it ends, Isfahan is a tasty city where you can find delicious foods, sweets, and snacks. Don't miss trying Beryani and Khoresh Mast -the famous Isfahani dishes-, and buy some Gaz -Isfahan pretty delicious sweet- for your loved ones.
Are you planning to travel to Iran? Check out our Iran tours.
https://irandoostan.com/dostcont/uploads/2020/03/khaju-bridge.jpg
599
800
Sara Hoseingholizadeh
https://irandoostan.com/dostcont/uploads/2018/05/logo-idt2-09.png
Sara Hoseingholizadeh
2020-03-17 22:24:58
2023-09-04 11:27:59
Things to do in Isfahan (Photos, Info, Timing)