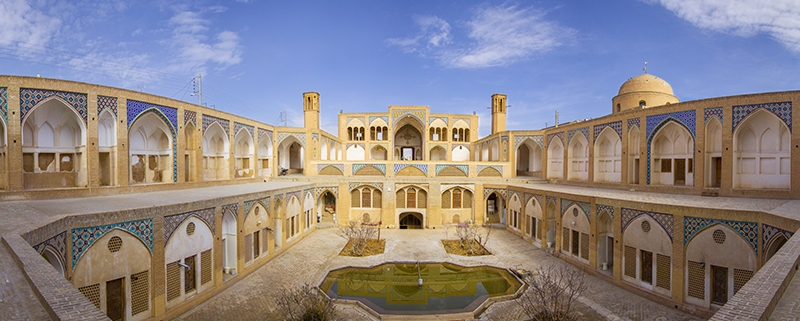 Things to do in Kashan (Photos, timing)
Known as the city of flowers and rose water, you may have heard a lot about Kashan's magnificent historic houses and arts. It is a great city where you can stay at least for a day to enjoy the architectural houses, beautiful mosques, carpets, and pure rosewater. Being close to Tehran (244 Km, about a three-hour drive) is a positive point about Kashan, and you can visit it at either the beginning or end of your trip to Iran. Below, we have introduced you to the best Things to do in Kashan.
Fin Garden
Fin Garden is one of the nine Persian Gardens that UNESCO registered as a World Heritage Site in 2012. Fin Garden in Kashan was built under the command of Shah Abbas I as a symbol of paradise and an entertainment resort for Safavid rulers. Some repairs were carried out during the Qajar Era, while the overall design remained the same. A pretty significant political issue has happened in this garden. Minister Amir Kabir (a famous and well-liked Iranian Chancellor in the 19th century) was murdered here during the Qajar dynasty.
Turn northeast on Shahid Ardahal Square, and after three kilometers on Amrkabir Street, You will reach Kashan Fin Garden.
Opening hours: 9 a.m. to 6 p.m.
Agha Bozorg Mosque
During the late 18th century, this magnificent building served as a mosque and a school. The building was constructed to house Agha Bozorg's prayers and preaching sessions. Aqa Bozorg Mosque has a unique symmetrical architecture with two courtyards and a stunning domed chamber. This four-story mosque has an interior courtyard with a pool, minarets, and wind towers. The ceiling of the mosque is something you should look up to. Don't forget to bring your camera with you since every corner of this historical monument is worth a shot.
On the west side of Kamal-ol-Molk Square, at Fazel Naraqi Street, you will find Agha Bozorg Mosque.
Opening hours: 9 a.m. to 7:30 p.m.
National Museum of Kashan
The National Museum of Kashan is one of the oldest museums in our country and one of the most prominent tourist attractions in Kashan, located within the historical Fin Garden. The National Museum of Kashan was built in 1966, and you can find it on the west side of Fin Garden. There are more than 400 pieces from the 7th millennium BC to the very contemporary era- in the National Museum of Kashan. This museum is a single-story building with multiple halls and a large basement. Make sure to take pictures and share them on your social media, it will definitely be unique.
Head southwest of Amir Kabir Street, and you can find the National Museum of Kashan at the end.
Opening hours: 9 a.m. to 7 p.m.
Kashan Bazaar
There are different stories about the construction time of this bazaar. Some believe it goes back to the Seljuk era, while others think it is a masterpiece of the Safavid Dynasty. There are many mosques, tombs, baths, and Timcheh in Kashan Bazaar. If you are visiting this bazaar, don't miss Amin-o-Dowleh Timcheh. Amin-o-Dowleh Caravansari, also known as Amin-o-Dowleh Timcheh in the Kashan Bazaar, is a three-story caravansary where people used to trade goods.
On the west side of Imam Khomeini Square, on Mohtasham Street, turn right at 15th Nikuii, and you can see the grand Bazaar of Kashan.
Opening hours: 9:30 a.m. to 12 p.m. – 5 p.m. to 8:30 p.m.
Sultan Amir Ahmad Bathhouse
This traditional bathhouse -or as they call it in Persian, "Hammam"- goes back to the Seljuks' Era (11th century). The magnificent decorations and traditional structure catch each visitor's eyes to deepen in the ancient lives of the local people. The bathhouse is divided into two parts; the dressing hall and the bathing hall. The ceilings and walls feature turquoise and gold paintings and tilings. Additionally, make sure you visit the rooftop with its many domes and spectacular city and mountain views.
Head south on Alavi Street, and within a 400-meter distance, you reach Sultan Amir Ahmad Bathhouse.
Opening hours: 9 a.m. to 4:30 p.m.
Kashan Jameh Mosque
The Kashan Jameh Mosque, which is about 800 years old, is one of the astonishing historical treasures in the city and has long been a tourist attraction. The Jameh Mosque, generally known as the Kashan Friday Mosque, dates back to the pre-Islamic and Seljuk eras. In addition to its brick dome, the mosque features a mausoleum and a high porch below it. Outside is a large courtyard, two large naves, a lower nave, and a basin in the middle. This mosque was registered in the list of national monuments of Iran. Visit Kashan's Jameh Mosque, a relic of the Seljuk era, and get a sense of the style of the mosques of that period when you are there.
Kashan Jameh Mosque is located in the Meydan Kohne (Old Square) neighborhood on Baba Afzal Street.
Kashan Traditional Houses
Kashan is quite well-known for its beautiful architectural masterpieces, which used to be luxury houses belonging to wealthy export-import traders. Most of these houses date back to the 29th century. Some of these houses have been renovated, while others have been divided into smaller units. However, a few of them have been preserved. Below, you can see the traditional houses in Kashan which have been preserved:
Tabatabaei House
If you want to get more familiar with Persian culture, roaming around Persian houses might be the most fulfilling experience as you will be able to observe where and how the local people used to live. Stained glass windows and stone reliefs are two features of the Tabatabaei Historical House. Almost most of the historical houses of Iran have this stunning architectural style. The spectacular monument was built under the command of Jafar Tabatabai, a well-known carpet merchant. The house has an area of 4700 square meters, including 40 rooms, 4 yards, 4 basements, and 3 windcatchers. In addition to its endless beauty, the interior includes multi-colored mosaic windows and paintings that add to its everlasting beauty.
Head south on Alavi Street, and enter Sultan Amir Ahmad Street, and find Tabatabaei House.
Opening hours: 9 a.m. to 4:30 p.m.
Abbasi House
The astonishing stained glass windows at Abbasi Historical House catch any visitor's attention. If you want to face a kaleidoscope of colors through windows, it is better to visit this house on a sunny day. Located in the central part of Kashan, the Abbasi house is protected by the Iran Cultural Heritage Organization, partly renovated, and turned into a public museum. The interior of the house is decorated with lattice, mosaic windows, stucco reliefs, and carvings.
Head south on Alavi Street, and within a 210-meter distance, you reach Abbasi House.
Opening hours: 8 a.m. to 8 p.m.
Manouchehri Historical House
Functioning as a hotel these days, Manouchehri Historical House was built in the 17th century. This house is one of the most unique traditional residences with 9 individual rooms, a restaurant, a movie house, a velvet, and zari weaving workshop, a gallery, a handicraft store, and a book store. Khaneh Manochehri restaurant in Shahneshin on the Eastern front of Shahneshin is one of the most beautiful dining spaces. A room with straw walls and colored plaster grids above the doors reflects the Iranian style.
From Mohtasham Street, head southeast on Sabet Alley, stay on Sabet Alley and then continue on 7th Emarat Alley.
Are you planning to travel to Iran? Check out our Iran tours.
https://irandoostan.com/dostcont/uploads/2020/03/kashan-iran-attractions-to-visit.jpg
366
800
Sara Hoseingholizadeh
https://irandoostan.com/dostcont/uploads/2018/05/logo-idt2-09.png
Sara Hoseingholizadeh
2020-03-18 08:33:24
2023-09-04 11:15:06
Things to do in Kashan (Photos, timing)