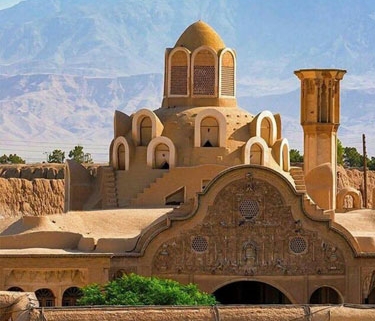 Known as the city of flower and rose water, you may have heard a lot about Kashan magnificent historic houses and arts as well. It is a great city where you can stay at least for a day to enjoy the architectural houses, beautiful mosques, carpets, and pure rosewater. Being close to Tehran (244 Km which takes about a three-hour drive) is a great point about Kashan and you can visit it at either the beginning or end of your trip to Iran. Below, we have introduced you to the best places to visit in Kashan.
Fin Garden
It is one of the nine Persian Gardens registered in UNESCO World Heritage Sites in 2012. Fin Garden was built under the command of Shah Abbas I as a symbol of paradise and was an entertainment resort for Safavid rulers. In the Qajar Era, some of the buildings were fixed while the whole design is preserved. A pretty important political issue has happened in this garden. Minister Amir Kabir -a famous and well-liked Iranian Chancellor in the 19th century- has been murdered here during the Qajar dynasty.
Turn northeast on Shahid Ardahal Square, and after three kilometers on Amrkabir Street, You will reach Fin Garden.
Opening hours:
8 a.m. to 5 p.m.
Aqa Bozorg Mosque
Belonging to the late 18th century, it was both a mosque and a school right in the heart of the city. It was built for Agha Bozorg prayers and preaching sessions. Aqa Bozorg Mosque has a unique symmetric architecture with its two courtyards and an astonishing domed chamber. This four- storey mosque has an interior courtyard with a pool, minarets, and wind towers.
On the west side of the Kamal-ol-Molk Square, on Fazel Naraqi Street, you will find Agha Bozorg Mosque.
Opening hours:
8 a.m. to 5 p.m.
• Kashan Bazaar
There are different stories for the construction time of this bazaar. Some believe that it goes back to the Seljuks Era while others think that it is a masterpiece of the Safavid Dynasty. There are so many mosques, tombs, baths, and Timcheh in Kashan Bazaar. If you are going to visit this bazaar, don't miss Amin-o-Dowleh Timcheh.
Amin-o-Dowleh Caravansary: Also known as Timcheh Amin-o-Dowleh in the Kashan Bazaar is a three-storey caravansary where people used to trade goods.
On the west side of the Imam Khomeini Square, on Mohtasham Street, turn right at 15th Nikuii, there you can see the great Bazaar of Kashan.
Opening hours:
8 a.m. to 5 p.m.
• Sultan Amir Ahmad Bathhouse
This traditional bathhouse -or as they call it in Persian "Hammam"- goes back to the Seljuks' Era (11th century). The magnificent decorations and traditional structure catch each visitor's eyes to deepen in the ancient lives of the local people. Space is divided into two parts; dressing hall and bathing hall. Ceilings and walls are beautifully decorated with turquoise and gold paintings and tilings. Besides, don't miss out on visiting the rooftop with its so many domes as well and also has a spectacular view of the city and mountains.
Head south on Alavi Street and with a 400 meters distance, you reach Soltan Amir Ahmad Bathhouse.
Opening hours:
8 a.m. to 5 p.m.
National Museum of Kashan
This museum was built in 1965 and you can find it on the west side of Fin Garden. There are more than 400 pieces from the 7th millennium BC to the very contemporary era- in the National Museum of Kashan.
Head southwest of Amir Kabir Street and at the end of it, you can find the National Museum of Kashan.
Opening hours:
9 a.m. to 7 p.m.
Kashan Jameh Mosque
Dating back to the Seljuk Dynasty, it is the oldest attraction of Kashan. It used to be a fire temple but after the entrance of Islam to Iran, it turned to be a mosque. Note that this mosque has confronted some destruction. Accordingly it has been renovated several times.
Head south of Baba Afzal Street and after only 600 meters, turn right on Daghigh street and you will find Jameh Mosque of Kashan.
Opening hours:
8 a.m. to 5 p.m.
Kashan Traditional Houses
Kashan is pretty well- known for its beautiful architecture masterpieces which used to be luxury houses belonging to wealthy export-import businessmen. These houses were mostly built during the 29t century. Some of these houses are being reused and some others have been divided into smaller houses. While a few of them have been preserved. Below, you can see the traditional houses in Kashan which have been preserved:
Opening hours:
8 a.m. to 5 p.m.
Abbasi House
The astonishing stained glass windows at Abbasi Historical house catch any visitor's attention. If you want to face a kaleidoscope of colors through windows, it is better to visit this house on a sunny day.
Tabatabaei House
Stained glass windows and stone reliefs are two features of the Tabatabaei Historical House. This spectacular monument has been built under the command of Jafar Tabataii who was a pretty famous carpet merchant. The house has an area of 4700 square meters including 40 rooms, 4 yards, 4 basements, and 3 windcatchers.
Borujerdi House
Beautiful designs and fabulous paintings on the walls and ceiling are the characteristics of Borujerdiha House.
Ameriha House
Built in the 18th century, recently Ameriha House has been turned into a hotel. Having an area of 9.000 square meters, Ameriha House has seven courtyards and two bathhouses.
Adel Historical House
Also known as the pearl of Kashan, Adel Historical house was built in the Qajar Era. This masterpiece has luxurious decorations and is built based on the Kashan climate where it is cold in the summers and pleasant during winters.
Manouchehri Historical House
Functioning as a hotel these days, Manouchehri Historical House has been built in the 17th century.
It is not where it ends, there are so many other historic houses in Kasan. To name a few, you can visit Yasin Historical House, Ehsan Historical House, and Morshedi Historical House
• Attractions Outside Kashan
Noosh Abad Underground City (Quee Ancient Underground City): In the north of Kashan with a 5-kilometer distance, you can reach this underground city with 1,500 years of homing and sheltering this lifestyle. It was built to protect the inhabitants from Arab attacks under the command of Anushirvan – a Sasanian King-.
Mashhade Ardahal:
Don't mistake it with the great Mashhad city in the northeast of Iran. Mashahde Ardaha is a village in the 42- km distance to the west of Kashan. You can see the Tomb of Imamzadeh Sultan Ali in this city. The prominent point about this city is the well- known religious festival called "Qali Shouyane Mashaade Aradahal" held during late September and early October. In this custom, people wash a big carpet as a symbol of commemorating Imamzadeh Sultani Ali. Besides, you can visit Sohrab Sepehri Tomb in this village. Sohrab Seoehri is a famous lovely Iranian poet and writer.
Aran va Bidgol
If you are into religious sites, you will also like Aran va Bidgol. It is a 15- km distance to Kashan and you can reach there easily by taxi. There is a holy shrine in Aran & Bidgol which is worth visiting. Keep in mind that for visiting holy shrines you need to observe the dress codes and women must wear Chador. But don't worry about Chador, you can put one of the shrine's Chadors.
Niasar Fire Temple:
This fire temple was built during the Sasanian Era and is in a 30-km distance to the Kashan. The magnificent domed chamber in Niasar Fire Temple showcases the Chahar- Taqy architecture belonging to ancient Iran.
Mitra Temple: In a 30- km distance to Kashan, in Niasar city, you can see the amazing Mitra Temple which was carved in the form of a cave. Mitra Temple is also known as "Ghaare Raees" (Boss's Cave) and belongs to Parthian Era.
If you are more a fan of natural attractions, below we have introduced three beautiful natural sites close to Kashan.
Qamsar
Kashan is very famous for its pure rose water and the rose water distillations -known as Golabgiri- festival during April and May. Note that at the end of each year, Muslims wash Kaabaa with the Qamsar and Niasar rose water.
Abyaneh is a stepped village -meaning that the roof of a house is the yard of the upper house- made of adobe clay. The remarkable point about Abyaneh Village is its red soil. You can also visit the salt lake, caravanserai, castles, and mosques in Abyaneh.
Maranjab Desert
It is a magnificent desert right across Kashan. You can arrange an overnight desert tour from Kashan to visit the wonders of this desert at night. You will admire the sand dunes and camels. Besides, don't worry about your night stay, you can stay at a caravanserai.
https://irandoostan.com/dostcont/uploads/2020/03/Kashan.Feat_.jpg
350
375
Sara Hoseingholizadeh
https://irandoostan.com/dostcont/uploads/2018/05/logo-idt2-09.png
Sara Hoseingholizadeh
2020-03-18 08:33:24
2020-06-10 14:13:06
Best Places to Visit in Kashan