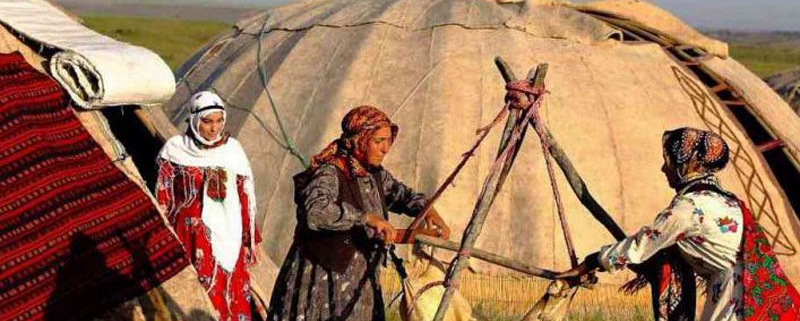 The history of nomadism in Iran, dates back to the second millennium BC, the arrival of Aryans to the central plateau of Iran. The tribal lifestyle has been alive until today in four corner of Iran, 19 Iranian tribes are still migrating for survival, from the hillsides to the plains. Among all those tribes some are still totally committed to their values and have maintained their culture, language and lifestyle during centuries. Traveling with these people reveals a lot of hidden treasures of Iranian culture, and is possible in both winter and summer. Stick with us to know the most famous Iran nomads.
Bakhtiyari Nomads
What if every single scene of "The Grass_1925" is still taking place in reality in hillsides of the Zagros mountain range? Bakhtiyari people calling themselves "Brave as Iranian lion" migrate twice a year between Khuzestan and Lorestan (both historical and touristic regions of Iran with some sights dating back to more than 6,000 years ago). The livestock is considered as the main source of income in nomadic life, that's why everyone in the tribe, including both men and women, is in charge of animal husbandry. Bakhtiari women also weave small rugs known as "Ghalicheh" in their free times. A quick google search about Bakhtiyaris will give you a clue that finding a golden planet in the galaxy is much easier than finding a Bakhtiari man without a Mustache! In fact, the Bakhtiyari style has been the same for years: the black and white coat reminding of piano named Chogha with loose pants and black hats for men, and long colorful dresses with adorable beads embroideries for women. These old travelers of Zagros, speak Lori dialect of Persian language and are Shia Muslims as many other Iranians. Opening eyes to the pristine nature before any birds wake up, and sleeping with the Lori lullaby in a tent, is not the occasion to miss!
Qashqai nomads
Bakhtiari people are not the only migrants of the Zagros hillsides. Qashqai tribe is another great nomad tribe in the southern part of the Zagros mountain range. Thinking of Qashqai word, for me personally recalls of tulips shaped hats, and big populated parties including traditional music and dance in nature (mostly wedding parties). These people hold the title of "best nomad rug weavers" in the Persian Carpet category. Although Qashqai people immigrate between Zagros hills and Fars province, they're mainly Turkish speakers! The same as their Bakhtiari neighbors, Qashqai people earn their livelihood from animal husbandry and carpet weaving. Don't forget to taste their food if you don't want to miss an organic delicious cooked with fire meal!
Balochi Nomads
The Baloch are an Iranian people who live mainly in Balochistan in Iran and Pakistan as well as neighboring areas of Afghanistan. The Baloch speak Balochi and they are originally Iranian. Baluchi nomads live in tents (gidam) made of palm matting stretched on poles. More recently, houses build of sundried brick. They are scattered along narrow, long village lanes. Both old and newer houses have an open courtyard in front, enclosed by a low mud wall or palm fence. Balochi customs and traditions are conducted according to codes imposed by tribal laws. The Baloch men wear long shirts with long sleeves and loose pants. The dress is occasionally accompanied by a pagh (turban) or a hat on their heads. In contrast to Pakistan, the Iran Balochi dress code is more conservative in sense of length and material. Some Baloch women in Iran also cover their faces with thick red color wools (Burqah) and wear scarf and Chador which is a long veil.
Turkmen Nomads
The Turkmen are an ethnic minority who speak Turkish with the Eastern Oghoz accent which is the same dialect spoken in the Republic of Turkmenistan. They live in Turkmen Sahra district in the Gorgan Province in the northern part of Iran. The area is a fertile plain near the Iranian border with the Republic of Turkmenistan. The district extends from the Atrak River in the north, to the Caspian Sea in the west, Quchan Mountains to the east and the Gorgan River to the south. They have been living in Iran since 550 AD, but they began to form a tribe from 750 AD. They can be considered as the descendants of Central Asian Turks who were retained to their ethnic identity during the Mongol invasion. The most important tribes of Turkmen living in Iran are Kuklans and Yamotes. Turkmen men's clothing consists of parts such as costume, trousers, hats, and shoes. Turkmen women's clothing is simple to make, but they use a lot of decorations on it. They are master in terms of carpet waving as well.
Shahsavan Nomads
Shahsavan nomads are one of the best-known and most important tribes living in northwestern provinces of East Azarbaijan and Ardebil. They begin their migration to their traditional summer camps in Mount Sabalan in early May. With the availability of the pastures and many mountain springs the Shahsavan tribes graze their animals with ease. They earn a living by breeding livestock and graze them on the pastures of mountain ranges in Ardabil. They live in dome-shaped tents stretching almost five meters and are usually decorated with bells, colorful cloths, rugs, and cushions. Men usually take responsibility to set up tents and being shepherd and women produced a variety of colorful and intricate flat-woven rugs, storage bags, blankets, and some knotted pile carpets. Shahsavan men wear dark loose pants, collarless shirts, and jackets with a belt while women wear colorful long skirts and dress with a headband with a scarf that twists around their heads. Their rich history, lifestyle, customs, and traditions attract many tourists annually.
https://irandoostan.com/dostcont/uploads/2020/03/Shahsavan-Nomads-in-IR.jpg
600
800
Farima Fehrest
https://irandoostan.com/dostcont/uploads/2018/05/logo-idt2-09.png
Farima Fehrest
2020-03-17 22:24:26
2020-06-10 14:13:20
Where to visit Iranian Nomads