Yazd attractions infographic
Yazd, also well-known as the city of windcatchers, is located between the northern Dasht-e Kavir and the southern Dasht-e Lut and is absolutely a city of the desert. The windcatchers and mud-brick houses are well representatives of a typical city of the desert.
Yazd is also well-known for its picturesque rooftops, which is of utmost attraction to many photographers.
Besides, Yazd used to be one of the main places of Zoroastrianism, the ancient monotheistic religion, around 3500 years ago and is still considered the center of Zoroastrianism in Iran. This has caused the city to be the home to several religious sites in Iran. These historic religious sites include the Fire Temple containing a central fire that has allegedly been burning since the 5th century A.D, Chak Chak, Iran's most significant Zoroastrian pilgrimage site, and Yazd Towers of Silence.
Other attractions in Yazd include Dowlatabad garden embracing the tallest wind tower in the world and the well-preserved, still inhabited Old Town in Yazd with the yellow-brown of the mud-brick buildings.
All these beauties have made the city a delightful destination for tourists traveling to Iran. There is a lot to be visited here in Yazd, incorporate it into your travel list to Iran! we would welcome any inquiry you may have about traveling to Iran, please do not hesitate to contact us at info@idt.ir. We will come back to you soon.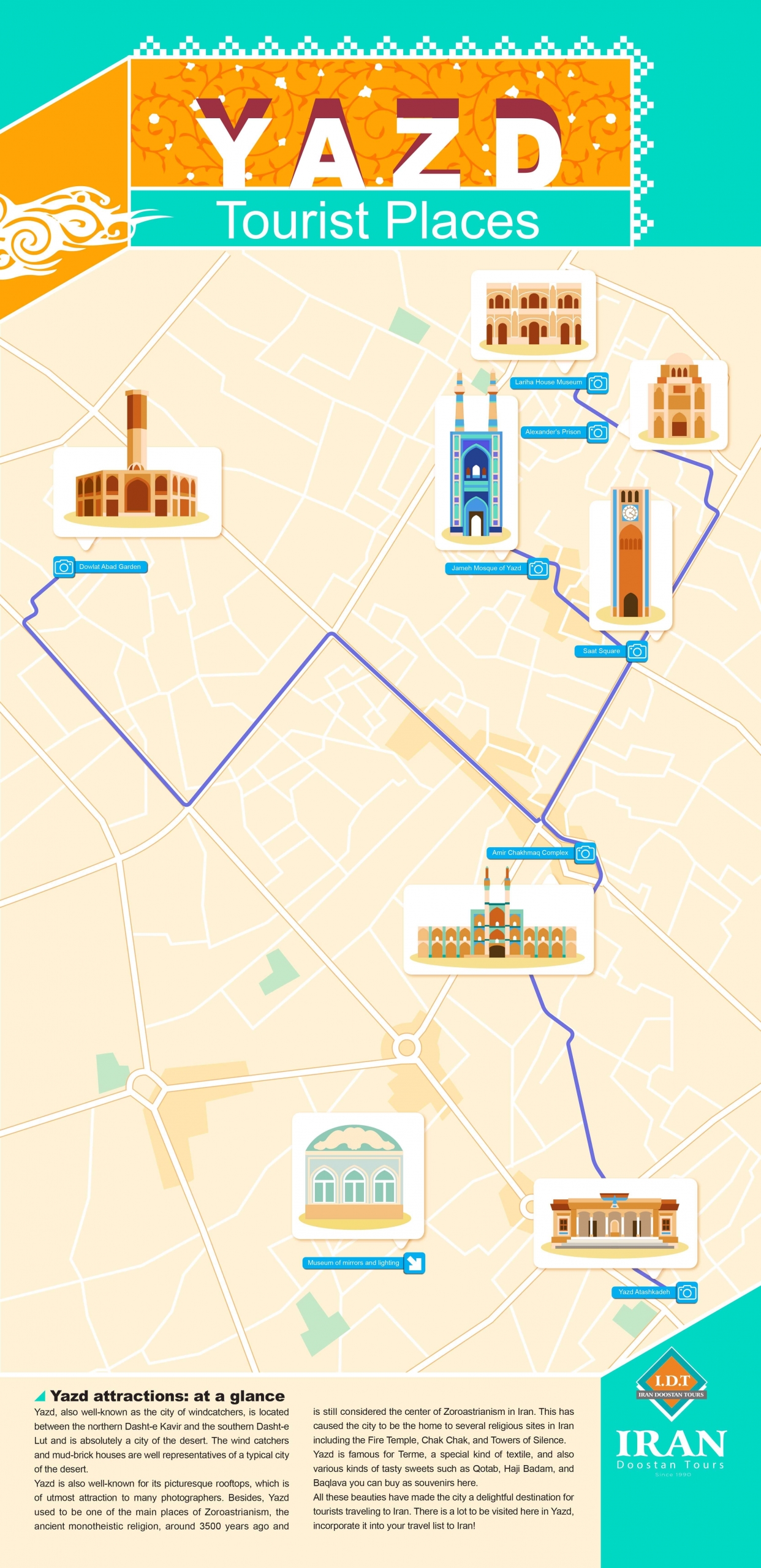 To see and download the high-quality infographic, click here: Yazd attractions infographic.
Are you planning to travel to Iran? Check out our Iran tours.
https://irandoostan.com/dostcont/uploads/2020/08/Yazd-featured.jpg
266
712
Farima Fehrest
https://irandoostan.com/dostcont/uploads/2018/05/logo-idt2-09.png
Farima Fehrest
2020-08-20 10:25:21
2023-10-02 08:51:28
Yazd attractions infographic