Tehran attractions infographic (Districts 1-3)
As a metropolitan which has been the capital of Iran for over 200 years, Tehran offers loads of tourist attractions in every corner of the city. Stay with us here to know more about Tehran attractions located in districts one, two, and three.
From the past to the present, the district one of Tehran also called Shemiran, has been well-known for its pleasant climate and a great deal of natural beauty. The area is located between the Alborz mountain range is Lavasat and Darkeh river. Due to its good climate and location in the highlands and rural context, the roads leading to the mountains (Darcheh Darcheh Tochal) are considered to be the heart of tourist attractions in Tehran. Major tourist attractions in this region include Niavaran cultural center, Sa'ad Abad Complex, Niavaral complex, Darband, Darake, Tochal, Jamshidie Park, Melat Palace, and many other natural and cultural attractions that worth a visit.
Tehran's second district is located in the northern and central parts of Tehran, on the fringe of Alborz to Azadi Square. Just like district One, district two has a high potential for living, amenities, and luxury houses. The area is mainly residential and offers green areas as well. Milad Tower, Tehran Jurassic Park, Pardisan, Nahjol-Balaghe, and Parvaz Parks and also many beautiful gardens are some of the main tourist attractions of Tehran in district two.
Turning to Tehran's third district is located in the northeastern part of Tehran and is one of the largest urban areas in Tehran. One of the most important attractions in the area is Mellat Park. Its cultural areas include Arasbaran Cultural Center, Allameh Amini Library, Ustad Shahriyar Library, and Water Museum Garden located on Yakhchal Street.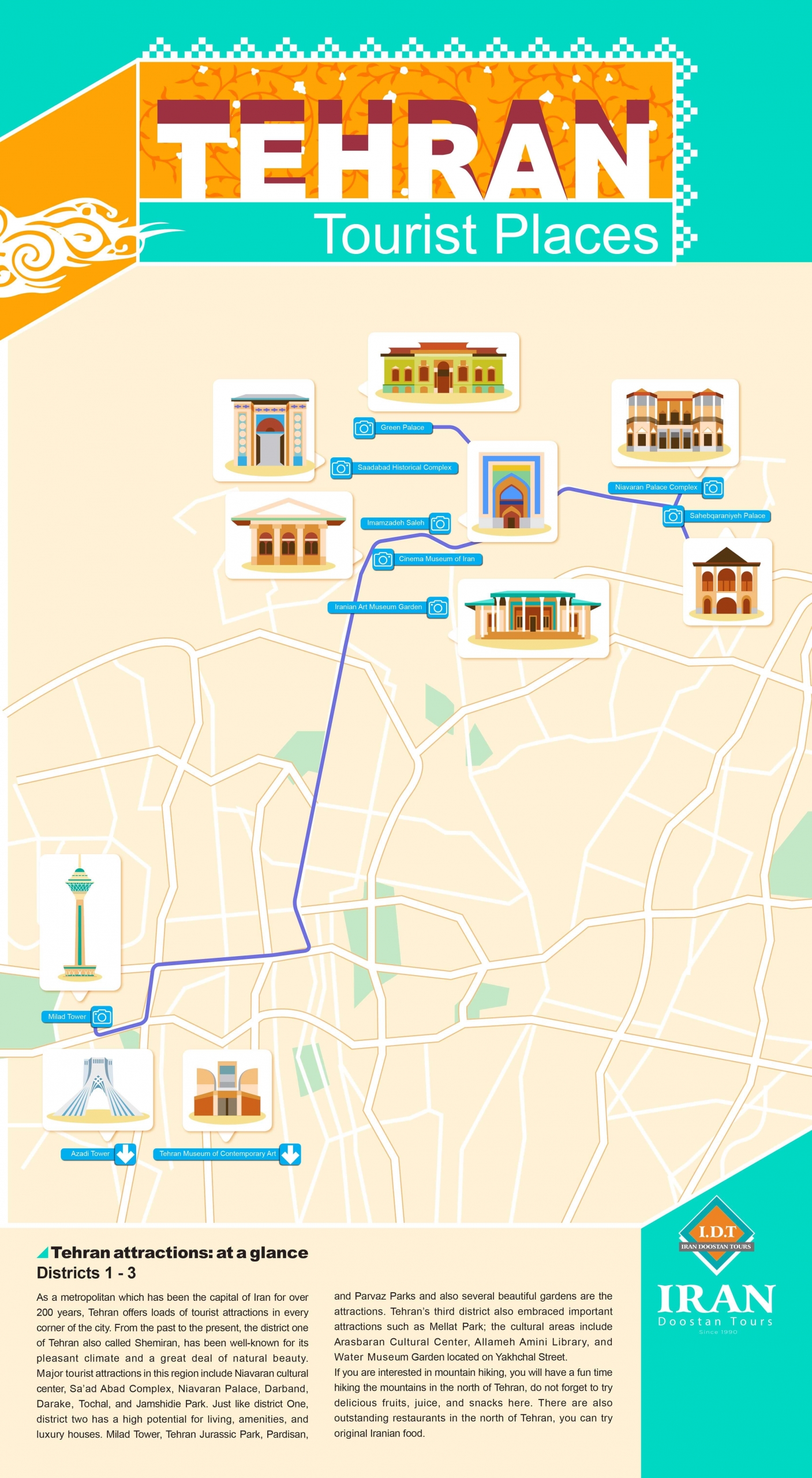 To see and download the high-quality infographic, click here: Tehran 1-3 attractions. To consult us, please do not hesitate to send an email to info@idt.ir. We will come back to you soon.
Are you planning to travel to Iran? Check out our Iran tours.
https://irandoostan.com/dostcont/uploads/2020/10/Tehran-1.jpg
266
712
Farima Fehrest
https://irandoostan.com/dostcont/uploads/2018/05/logo-idt2-09.png
Farima Fehrest
2020-10-04 21:56:53
2023-09-03 12:15:44
Tehran attractions infographic (Districts 1-3)