Iran Nightlife: Explore the Iran at Night
When it comes to nightlife, many people think of bars, cabarets, and casinos! If they are questioned what you think of nightlife in a religious Islamic country like Iran, they may think you are pulling their legs! They barely think Iran as any other country enjoys great lively nights full of bright flickering lights, of course in harmony with its culture. Iran Nightlife is inextricably intertwined with delectable unique Iranian food and family life. Let's see what happens in some main cities at night!
Tehran
Tehran as the capital of Iran enjoys great lively enjoyable nights contrary to the heavy traffic during the day. There are numerous places to visit and enjoy at night in Tehran as the city of museums, palaces, and parks. In some parks, different nightly arcades are held introducing handicrafts and traditional or home-made foods. Many concerts and plays are performed in concert or theater halls such as Vahdat Hall, Roudaki Hall, or Milad Tower at night. The movies also show late-night movies in summer and in Ramadan in Iran. Many shopping centers in summer or on holidays are open until late night too. It is a good opportunity for those who prefer shopping at night. Many restaurants and coffee shops also serve food and other relevant services such as hubble-bubble and live music until late at night. Moreover, there are some Tehran city tours delivered at night to make people familiar with both traditional texture and modern parts of the city. As the streets are less crowded at nights, it gives people the best view of the city architecture. Bam e Tehran (literally the roof of Tehran), as one of the passages to Tochal peak, is the best place for a full magnificent view of the city at night. It is open 24/7. The mild slope walking road is suitable for different ages. There are food and fast food stands along the road too. The award winning Tabiat Bridge is also a good multipurpose place: It's all possible to get some fresh air, watch modern architecture, and have dinner at the international wooden road food court near the bridge while meeting friendly locals. Si-e Tir Street, a historical street with many museums and historical buildings such as the National Museum of Iran, is another nice suggestion. There are a lot of portable stations for homemade or traditional street foods, drinks, ice cream, and fast food on both sides of the street.  As it is closed on cars at nights, you can have a feeling of more safety and tranquility.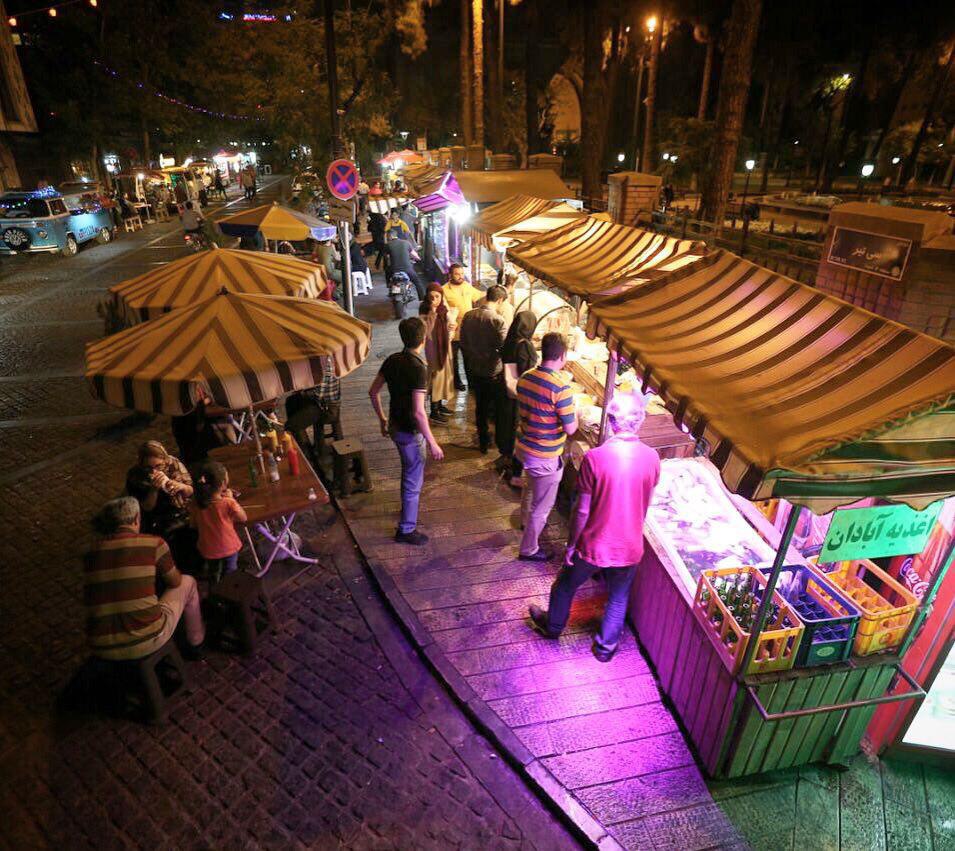 Iran Nightlife – Si-e Tir Street in Tehran
Darband, just above Tajrish Square, is a place where you can experience the Tehran nights in a different way. In fact, it's a must-see! You can taste traditional Iranian food and drinks in the open air restaurants after taking a walk along the roaring river, or the snacks the vendors offer. Honarmandan (Artists) Park is another choice, especially for those who love art or prefer vegetarian diet.  There are art galleries and a vegetarian restaurant and café there. Azadi Square is another example for nightlife in Tehran! As there are the intercity bus terminal and the taxi station there, the travelers who are waiting for their bus or taxi can experience late-night snacks and food while the vendors are selling their products beside the street.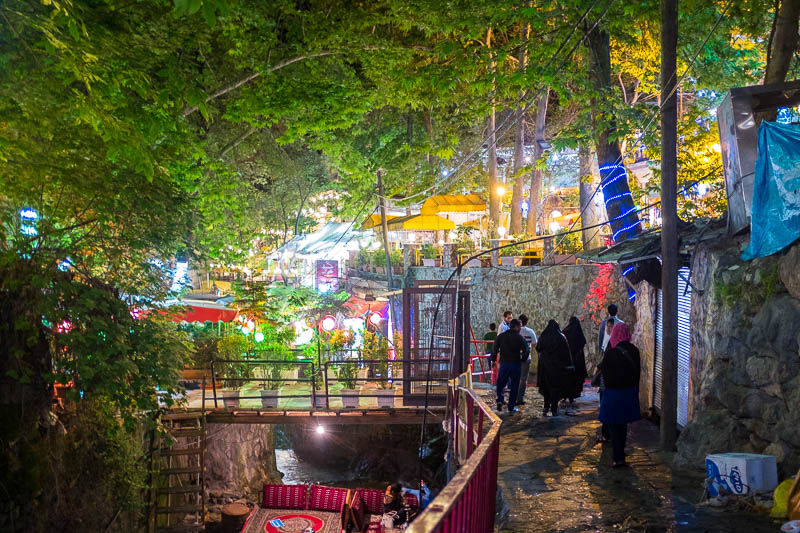 Iran Nightlife – Darband lively nights in Tehran
Mashhad
Mashhad, the second most populated city of Iran, embraces the Holy Shrine. It is a vibrant metropolitan city with lively crowded nights. As the streets leading to the shrine are crammed with five-star and luxury hotels, budget hotels, hotel apartments, and hostels all full of travelers and pilgrims, and the shrine welcomes the pilgrims 24/7, the vendors sell different products from delicacies to the clothes at late night. The streets are so lively that it barely comes to mind that it's past midnight! Even many shops near the holy shrine remain open at that time to hospitalize the guests of Imam Reza (eighth Shiite Imam) and offer them a wide variety of products and services such as souvenirs. In fact, the boundaries between day and night in Mashhad are less obvious and nightlife includes different kinds of religious, business, and recreational activities. Mashhad is also famous for its countryside restaurants. There are many picturesque villages with pleasant weather, cool at night, such as Shandiz and Torqabeh. They serve a broad variety of scrumptious traditional food until late at night. They are well-known for some Iranian popular kebabs such as Shishlik, Barg, Bakhtiari, other kinds of traditional food like Dizi, as well as tea and hubble-bubble. There are also plenty of fast food restaurants and souvenir shops. Shariati Square in Mashhad is also another place where all restaurants, cafes, coffee shops, greasy spoons, fast food restaurants and pizzerias are open late at night. Many recreational and sport centers such as the movies, parks, pools and water parks, Water Waves Land as the largest water park in the Middle East for example, are open till morning in Ramadan too.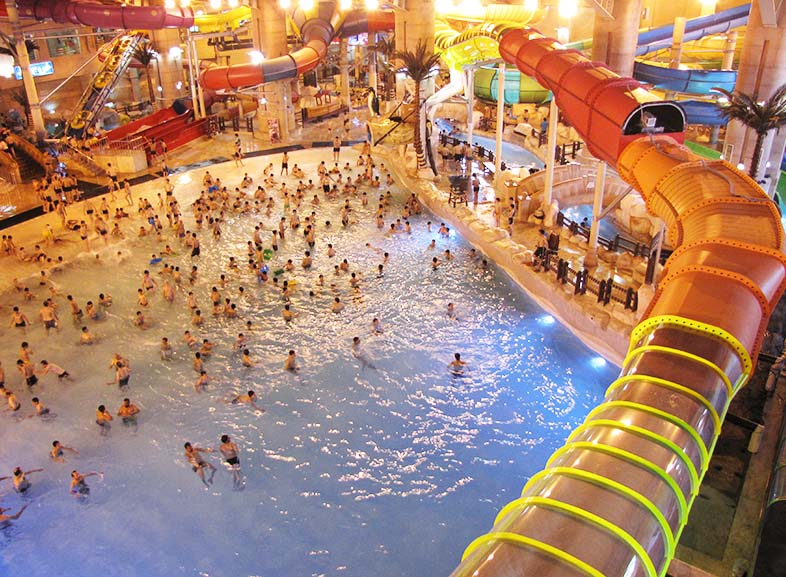 Water Waves Land in Mashad, the largest water park in the Middle East
Isfahan
Isfahan is the masterpiece of Islamic architecture and art. You can see a great deal of mosques, caravanserais, bridges, madrasas, churches, handicrafts, etc. in Isfahan. But the part of the city where you can experience the liveliest nights is around Zayandeh-Rud River and the bridges over it. Zayandeh-Rud River adds more beauty and exhilaration to the city atmosphere. At night, people gather on the bridges and in the riverside parks. Some young men sing traditional music under Si o Se Pol (the bridge with 33 arches); a live solo concert under the sky! Some families have a picnic to have dinner together. Some drink tea enjoying the cool weather of night beside the river. Soffe Park on the mountain is recommended too. You can have a wonderful view of the city at sunset or sunrise.
Naqsh-e Jahan Square in Isfahan
Rasht
Rasht, known as the city of raining, designated as UESCO creative city of gastronomy. So, it could be a perfect choice for people who have good appetite! There are many installs and carts by the road offering kebab to kebab lovers. Every night, after shops are closed they serve the customers until late night. On some of these carts you can find hot delicious tea of Gilan farms, sometimes mixed with sour cherry that makes a perfect drink after having kebab. Rasht nightlife mostly includes family gatherings in different restaurants or around food kiosks. Among cities of Iran, Rasht is known as the city of night walking. It is famous as a city without sleeping! You can add overnight stay at the shore of Caspian Sea too.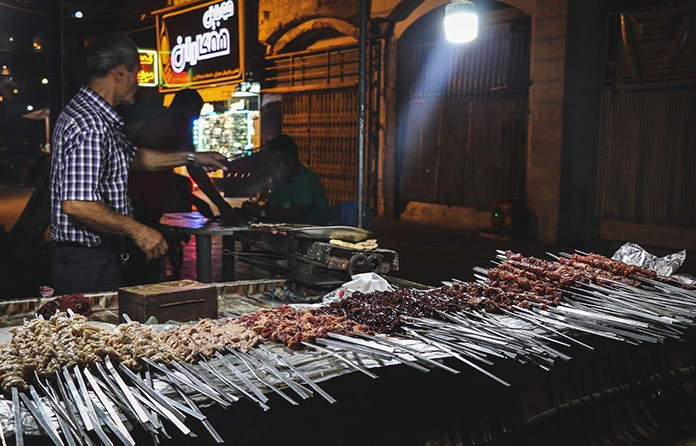 The man selling Kebab in Rasht
Kish Island
Kish Island as a free zone enjoys more various night events. After sunset, there are live music and different festivals in the restaurants. Dolphin Park is one of the places you can enjoy your time at night. The dolphin show in Dolphin Park is interesting. This park includes a bird garden containing more than 57 species of birds, a large aquarium exhibiting sea animals such as dolphins, sea lions, and white whales, a circus show and dolphin show. The dolphins in Dolphinarium play an amusing circus-like show that is worth watching especially with family. Some ships as moving restaurants welcome the guests by performing live music and serving dinner on the Persian Gulf waters. Before that, you can also enjoy bowling near the pier. Moreover, you can enjoy watching the amazing coastal landscape at night, biking or skating. There are sometimes concerts or live fun programs performed by famous or skillful artists in prominent hotels from midnight to dawn as well.
A beautiful sunset in Kish Island
Contrary to what many people in foreign countries think, remember that all activities abovementioned happen more lively and joyfully at nights in Ramadan. Moreover, parks at night are the best places during summer to meet local families who have gathered together for a picnic or a family dinner in fresh air under the sky.
Are you planning to travel to Iran? Check out our Iran tours.