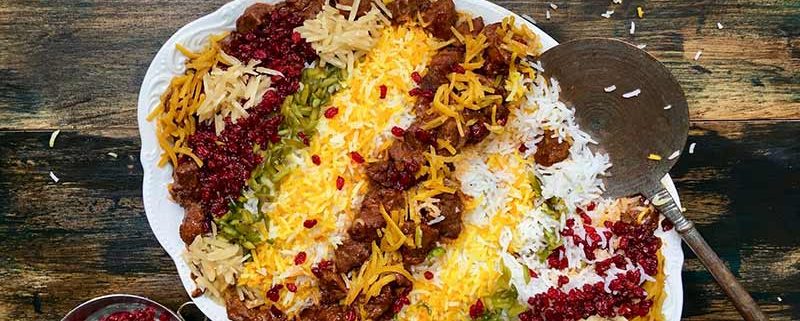 Iran as a large country embracing different ethnicity with different cultures is so diverse in culinary that every city enjoys a large variety of very delicious and tasty foods unique to that area. Iranians love spices and use a combination of different spices such as turmeric, saffron, black pepper, dried lemon, cumin, and so forth to give a savory smell to the foods and make them really delicious. Though Iranians use a lot of spice, Iranian foods are usually tasty but not necessarily spicy. Persian foods are a mixture of the most nutritious ingredients including meat, rice, vegetables, beans, and spices. Iranians mix all those ingredients in such a balance that they turn into a delicious and nutritious meal as a result. Kebabs, stews, and different kinds of rice (Chelow and Polo) are well known Persian dishes.
If you travel to Iran, you have the chance to experience making great Persian foods in major cities of Iran or in the heart of nature. Some of the most delicious Iranian foods are introduced as follows:
Iranians love kababs and they enjoy the tasty flavor and smell of various kinds of kababs such as Joojeh Kabab and Kabab Koobideh. Joojeh Kabab (Chicken kebab), the Iranian favorite picnic food, is very delicious food, especially when made with fresh chicken marinated in yogurt, saffron, and lemon juice. It is usually made with boneless chicken breast cut into small pieces. Iranians usually grill Joojeh Kabab over hot coals when they go on a picnic and they serve it with grilled tomatoes, and onions or with rice.
Kabab Koobideh is also the most famous of all kababs in Iran. It has a very delicious smell while getting grilled.  Usually, it is made from ground lamb or beef with chopped onion. It is a tasty dish served in both formal ceremonies and friendly picnics.
Joojeh Kabab (Chicken kebab) is the Iranian favorite picnic food
Gheymeh Nesar
Gheymeh Nesar of Qazvin is a very delicious Persian jeweled rice that has succulent pieces of lamb. The taste of rice mixed with Persian barberries, pistachio, cinnamon, turmeric, rose water, and saffron, and garnished with orange pill slices and almond silvers is very scrumptious.  Eating Gheymeh Nesar after visiting the historical attractions of Qazvin would be one of the most pleasant moments of your travel to Iran.
Khoresh-e-Ghormeh Sabzi
Khoresh-e-Ghormeh Sabzi (Persian herb stew) is one of the most favorite stews among Iranians. You would rarely find someone who does not love Ghormeh Sabzi. A combination of different aromatic herbs, cooked lamb cubes, beans, and dried lemons make it very delicious. Ghormeh Sabzi is served with cooked rice (Chelow). Do not miss it on your travel to Iran.
The Northern cities of Iran have a variety of very delicious foods. Rasht and Deylaman are two of the northern cities of Iran offering diverse delicious foods such as Fesenjan, Mirza Ghasemi, and Baghali Ghatogh to tourists and travelers. Once traveling to the North of Iran, you will have the opportunity to enjoy making and eating such scrumptious meals.
Khoresh-e-Fesenjan
Khoresh-e-Fesenjan (Persian pomegranate and walnut stew) is a very tasty stew integrated with Iranian culture. The ingredients are well-ground walnut, pomegranate sauce, and slow-cooked chicken or duck pieces. Khoresh-e-Fesenjan should be cooked at a low temperature to let the tastes blend and release walnut oil on the stew. The well-mixed ingredients make a sweet and sour taste that is really appetizing. Like many other Iranian stews, Fesenjan is also served with rice (Polo or Chelow).
Mirza Ghasemi
Mirza Ghasemi is a vegetarian meal that is very tasty and delicious. The originality of Mirza Ghasemi refers to Gilan province located in the north of Iran. Mirza Ghasemi is the favorite food for those who love eggplants and garlic. To make this succulent dish, the eggplants are grilled until the skin is charred and peeled off. Then, lots of garlic, tomatoes, salt, and pepper are added to the grilled eggplants, and finally, eggs are mixed with the ingredients to give it an excellent taste. Mirza Ghasermi could be served as an appetizer, side dish, or the main dish served with bread or rice. Since it is a simple meal made by grilling the eggplants on fire, you can easily make such a delicious meal once you are enjoying being in the forests of Gilan.
Baghali Ghatogh
Baghali Ghatogh is an easy, healthy, and tasty dish. It is one of the quickest dishes getting ready in less than an hour. Baghali Ghatogh is also a vegetarian dish including aromatic dills, garlic, fresh beans, eggs, salt, and pepper. It is served with bread or rice.
https://irandoostan.com/dostcont/uploads/2017/11/Travel-to-Iran-Iran-tours-Gheymeh-Nesar-1.jpg
600
800
Farima Fehrest
https://irandoostan.com/dostcont/uploads/2018/05/logo-idt2-09.png
Farima Fehrest
2017-11-04 11:01:23
2021-02-14 18:19:29
So Tasty But Not Too Spicy Iranian foods