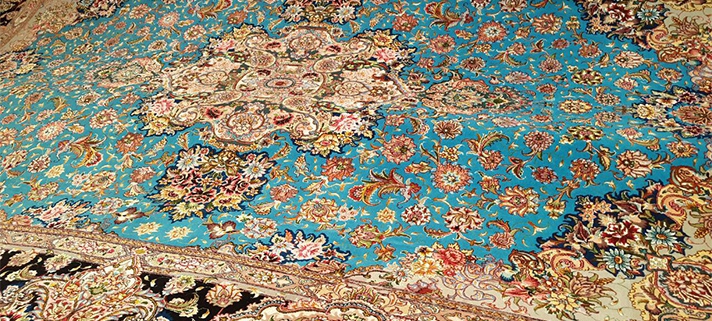 Persian rug: Everything about Persian carpet
From ancient times, Iranian people have used hand-woven carpets to change their homes from a dull house to a beautiful one. When it comes to carpets, everybody knows about those masterpieces woven by the artistic hands of the Iranians. The Persian rug is that magical element that can turn every house into a mansion. People adore Persian carpets for their complicated designs, splendid colors, and incomparable art. If you want to know more about the Persian Carpets lying in the heart of every Iranian house, keep reading!
The history of the Persian rug
Before the art of carpet weaving thrived in today's society, people used animal skins as a mat and a cover to protect themselves from the cold and wet environment to bring comfort and convenience to their families. As time passed and experiences were exchanged, weaving flourished, which is now developing and evolving in its present form. Carpet weaving began in Persia approximately 2,500 years ago as an art. The Pazyryk rug, which is the oldest carpet found on Earth, dates back to the 5th century BC. The patterns used in this carpet have been attributed to the Achaemenian Empire and the Iranians in those times. The density and quality of knots used in this carpet are still unique and impressive to many artists.
The Iranian carpet began to develop into traditional patterns over time and became a work of art, led to the development of carpet weaving as a form of art. Today, Iran is considered among the several great pioneers in Persian carpet.
The structure of the Persian Carpets
Iranian carpets are usually made of a mixture of wool and cotton. You can also find regions like Hamadan and Kurdistan that use camel hair for weaving carpets. Silk is also frequently used to make finely knotted ones in regions such as Qom and Tabriz, which are very popular among carpet lovers. Iranian original rugs are traditionally hand-knotted and consist of strings of warp and thousands of knots constituting the carpet's weft. Many have floral designs with roaming tendrils and come in a wide variety of colors. Other valued Persian motifs include bold medallions, spandrels, repeating arabesques, borders often utilizing repeated Herati patterns of flowers, animals, or human figures. Every region of Iran has its own unique design, motifs, and even colors. We will try to introduce the most outstanding Iranian carpets.
Tabriz Carpet
One of the unique persian handicrafts in Tabriz is carpet weaving, which has world reputation. Carpet weaving in Tabriz started before the Safavid era and is still one of the oldest and most famous centers of hand-woven carpet weaving in the world. Unsurprisingly, it is still famous among foreign traders today. Tabriz carpets have been able to attract countless fans by using new colors and designs. In general, the layout and colors of Tabriz carpets have a great variety. One of the designs of Tabriz carpets, which has been very popular in both the past and today, is a four-season carpet that has many details and depicts the life of farmers through the seasons: spring, summer, autumn and winter.
Isfahan Carpet
The gorgeous city of Isfahan has many tourist attractions and magnificent architecture, so it is no wonder it is one of the most visited cities by tourists in Iran. In Isfahan, which is the main center of handicrafts in Iran, in addition to many works of art, unique carpets can be considered as souvenirs. Isfahan's carpet designs are inspired by the magnificent architecture of the entire city. From city palaces and gardens to the tiles of the mosques. Other patterns, such as pictorial designs, human sketches and animal motifs, can also be seen in their works. The density of the knot is very high, and its thickness is low, so they are considered high quality and exquisite carpets.
Yazd Carpet
From the early 1930s, Kermani merchants began to produce Yazdi carpets for sale in the European and American markets. Yazd handmade carpets and rugs are very high quality and are highly durable; so many people would like to buy them. Yazdi carpets have elastic and bergamot designs and often an invariant background and free margins and sometimes designs imitating Kashan carpets. The main popular characteristic of Yazd's handmade carpets is the traditional design, the bergamot centered in the middle of the carpet. You can rarely find a Yazdi carpet with small bergamots scattered all over the carpet.
Nain Carpet
This carpet is made of fluff instead of wool, and it is known for its short pile and light and matte background colors with bergamot designs. Typically, Nain carpets are dyed red, blue, or beige on the surface. The resemblance of Nain rugs to the nearby city of Isfahan is undeniable. High knot density and fineness in texture can vividly be seen in this region's carpets. A typical carpet design in Nain city is a medallion design in the center of the rug along with Islamic motifs or flower designs. Remarkably, fine Nain rugs are made entirely of silk. Obviously, these silk carpets have higher prices than those made of wool.
As you can see, it is no surprise that the Iranian carpet has earned a worldwide reputation. If you are interested in art and handicraft, particularly the art of carpets, Iran Doostan offers some tours where you will get the opportunity to meet the nomads and how they make carpets.
Are you planning to travel to Iran? Check out our Iran tours.
https://irandoostan.com/dostcont/uploads/2022/03/Persian-Carpet-Tabriz-.jpg
366
712
Farima Fehrest
https://irandoostan.com/dostcont/uploads/2018/05/logo-idt2-09.png
Farima Fehrest
2022-04-11 14:57:54
2023-08-30 16:49:55
Persian rug: Everything about Persian carpet