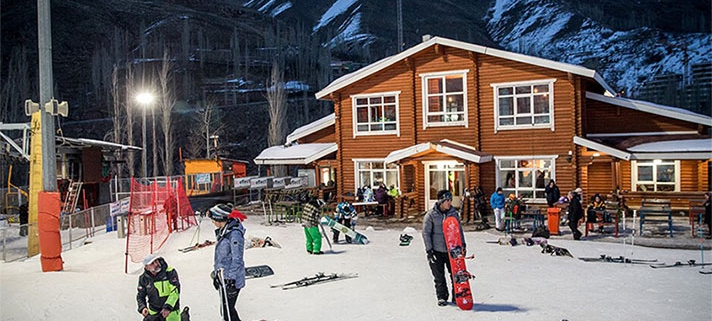 Best Iran winter destinations + Photos
Iran is known as the land of four seasons due to its special geographical location. You can have travel plans in every season. Most people plan travel to Iran in spring and summer. But this time we suggest you travel once in the winter. Here are the best winter destinations in Iran you can experience.
Kish
Many people may think that Kish Island is not suitable for recreation in winter due to its location. But you are wrong! Kish is among the best winter destinations in Iran, particularly if you are into water sports. Diving is one of the best pastimes you can have in Kish! In winter, the seawater is cleaner, and more beautiful to see colorful aquatic animals. Other new entertainment is Flyboard and Jet flyer. Using jet skiing, these two devices allow you to fly above the water! Cycling and motorcycling are also waiting for you on the island's coastline. You can rent a bicycle or motorbike from different stations and discover the island. You can walk on the beach for hours and pass through places and see the sights of Kish Island.
Qeshm Island
Qeshm is one of the largest magnificent islands in Iran, which attracts many tourists every year. Qeshm has both exciting water and air entertainment. Among its water activities, diving can be mentioned. You can dive around the Lark or Hormuz Island. It would be a different experience which is no less than exploring the Titanic! You can rent a boat to visit the Mangrove forests of Qeshm and the Stars Valley. Another water sport you can experience is parasailing and going to the heights of the sky over the Persian Gulf! Qeshm Island has lots of entertainment like Kish Island and can amuse you for hours and even days.
Hormoz Island
You can experience swimming and diving on the island of Hormuz. There are many motorboats that you can use to go sightseeing around the island. Hormoz has stunning natural attractions, and the most important of them is its colorful soil. Walking on the colorful beach of Hormoz Island will surely be your most different experience of walking by the sea. There are also bike paths for travelers, and you can do sports. It is interesting that natural events such as the migration of turtles and birds also occur in winter and are very attractive and spectacular, which will undoubtedly bring you an exciting adventure.
Iran: Heaven of skiers
Dizin ski resort
The pleasure of snow and cold takes many people to the foothills of the Alborz Mountains, the most popular winter destinations in Iran. Dizin is one of the most important ski slopes in Iran and the Middle East. You can experience snow skiing and snowboarding on a 7.5 km route. Dizin is not only for athletes and skiers, but also families can go and enjoy spending time in winter nature. In a part called fun Park, there is a tube riding on snow. The presence of snow sculptures, music, and tea and coffee facilities provide a space suitable for family and friends. Also, snowy mountain landscapes are good opportunities to take unique photos (Dizin Ski Resort Tour).
Shemshak ski resort
Shemshak is in the Alps of Iran, a city with wooden huts and a ski slope built in the foothills around Tehran. Exercise, photography, hot drinks, and Persian food along with a snowy landscape bring young and old here. Shemshak is the largest ski slope in Iran after Dizin. The height of the Shemshak ski slope reaches 3050 meters at its highest point and 2550 meters above sea level at its lowest point. One of the most attractive features of this place is the lighting a night which has made skiing at midnight possible for skiers.
Abali ski resort
Abali, the oldest ski slope, is one of the recreational complexes of Tehran. It is the first place where lifting machines were placed in 1332. Its snow melts later than in other places, so it is a good place for skiing! If you do not know how to ski, you can still do snowboarding, tube riding, photography, mountaineering, horseback riding, and playing tennis in this area. The interesting point about Abali is its similarity to Tochal in terms of size and height. It is located 57 km from Tehran and has relatively easy access. This feature makes it more crowded than other ski slopes. If you visit here, do not forget to drink Abali Doogh. This Iranian drink is delicious and worth a try.
The best winter destinations in Iran: Deserts
The Lut desert
The Lut desert is a vast region in the southeastern part of Iran, located between South Khorasan, Kerman, and Sistan-o-Baluchestan. You may think that the desert has just a scorching heat, but it is not. Actually, deserts, like other places, have their unique beauties and can be considered among the best winter destinations. There are some attractions there such as Kalout Shahdad, Kal-e-Shor River, and Gandum Beriyan for your visit. The wind in the desert seems obvious, but the water is a little strange! One of the wonders of the Lut Desert is the existence of permanent and seasonal rivers in it. Kal-e- shour is the most important river here, the water of which is acidic due to crossing the desert, and it is dangerous to touch. One of the most beautiful and unique sights is its night sky. Starry nights are the astonishing sights of creation that can easily surprise you.
The Shahdad desert
The Shahdad desert is a part of the Lut desert and is located on its western side. The sands of Shahdad, along with its tall clumps, are one of the most beautiful parts of the desert. Hiking on soft and warm sands is very enjoyable for tourists. This place has facilities such as safari, camel riding, and motorcycle riding with four wheels. The Shahdad Desert is a large area that is divided into three zones by Environmental Organization. These three zones are marked green, orange, and red. The green zone is an area that is not dangerous for visitors to visit; but if you enter the red and orange areas without a guide, you will surely get lost.
The Mesr desert
The Mesr desert is one of the most famous deserts in Isfahan province and has a gorgeous and unique nature. A deep well has been dug in the heart of this desert, which has created vegetation. One of the most prominent sights of the Mesr desert is "Salt Lake." The meaning of a lake in the desert is different from what you have in mind! Another spectacular attraction of this place is "Neizar Mesr". This section, with reeds and surrounded by sand, is located 6 km northeast of the Mesr village. It is the best place for photography. Also, you will have a chance to enjoy walking on soft sand here too.
The Rig-e-Jen desert, Bermuda Triangle of Iran
The Rig-e-Jen Desert in Semnan is known as one of the most challenging places for adventurers, and also its swamps are dangerous. The triangular shape and its dangers have caused this desert to be called the Bermuda Triangle of Iran. It is famous for its mystery. According to locals, many have traveled to this desert and never returned. If you do not have experience with the desert tour, do not choose the Rig-e-Jen Desert for your first trip. It is even better to travel in a group. But sleeping on the sand and gazing at meteors removes all of your daily fatigue (Rig-e Jenn safari tour)
The Maranjab desert
The Marnjab desert is one of the other deserts in Isfahan province. It is the best desert hiking option for sand lovers and is among the most popular winter destinations in Iran. Hiking among the high dunes and the salt lake is one of the prominent attractions of the Marnjab desert. For accommodation and relaxation, you can use the Shah Abbasi Caravanserai. This place was once a resort for traders who traveled to distant lands via the Silk Road. In the Maranjab desert, you can also enjoy a safari, camel riding, four-wheeled motorcycles, star observation at night, and night tourism.
Are you planning to travel to Iran? Please Check out our Iran tours & do not hesitate to contact us at info@idt.ir.
https://irandoostan.com/dostcont/uploads/2021/08/winter-destinations-Iran.jpg
366
712
Sarvenaz Attari
https://irandoostan.com/dostcont/uploads/2018/05/logo-idt2-09.png
Sarvenaz Attari
2021-08-12 14:11:23
2023-09-11 14:06:40
Best Iran winter destinations + Photos