Kermanshah Province, a Destination for Adventurists and Cultural Tourists
Kermanshah is one of the ancient provinces located in the west part of Iran. The long history of culture and art has made it a treasure of magnificent historical constructions and attractions to visit. Out of three thousand historical attractions this province embraces, 716 ones have been registered on Iran's National Heritage List. Bisotun is its only Cultural Heritage registered on UNESCO until this moment. Here, we try just to introduce some of the most prominent natural and cultural tourist attractions in Kermanshah province as a destination to both motivated adventure and culture lovers who travel to Iran.
Cultural Historical Heritage Sites and Attractions
30 km away from northeast of Kermanshah, there is a place with 28 National Heritage Sites named as Bisotun (or Behistun). Regarding its situation on the way of the Silk Road, its sacredness and pleasant weather have propelled different kings to leave behind unique relics during history. The inscription of Darius dating back to Achaemenid dynasty is on the UNESCO World Heritage List. The statue of Hercules with 147 cm height carved on the slope of the Bisotun Mountain is another distinguished historical work.
Another amazing must-see in Kermanshah is Taq-e Bostan. It is a collection of rock reliefs and inscriptions dating back to Sassanid era on the southwest of Kermanshah. It is composed of two arches in large and smaller sizes and some rock reliefs. The reliefs depict coronation of the kings Khosrow Parviz, Ardashir II, Shapur II, and Shapur III. An eye-catching landscape of mountains and a spring has turned this place into a pleasant attraction.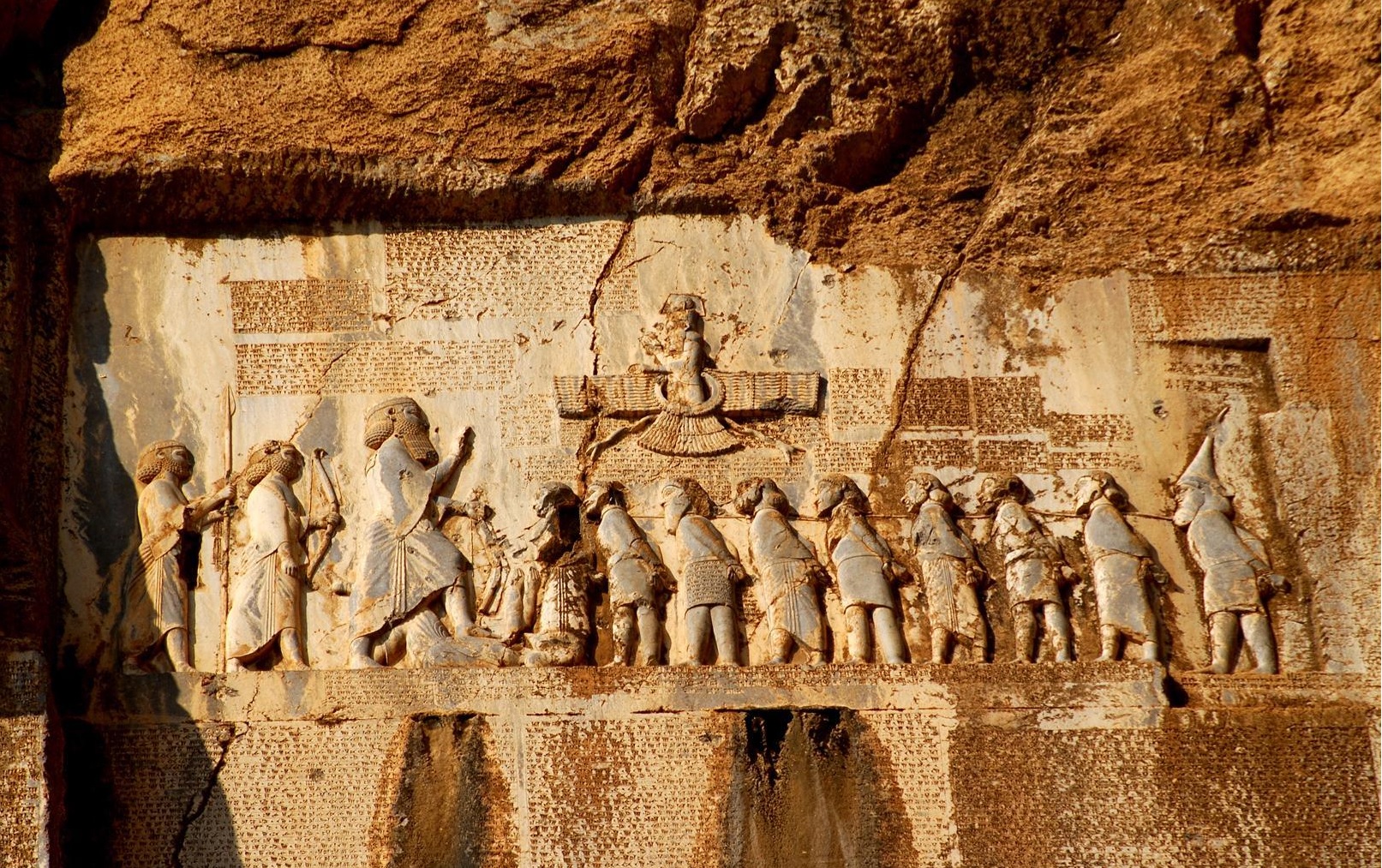 Darius inscription on Mount Bisotun, the UNESCO World Heritage Site, in Kermanshah, Iran
Anahita Temple in Kangavar near Kermanshah is the second huge stone structure of Iran. This construction was a temple to worship Anahita- the goddess of water, beauty, and fertility. This temple that is said dating back to Parthian or Sassanid era encompasses a row of about 54 m high stone columns.
There are also some rock tombs with great historical value displaying many points of ancient Persians' religious beliefs.
Ishaqvand Rock Tomb (Dakhma) is composed of three Zoroastrian burial sites located 25 km away from southwest of Harsin County. According to some archeologists, they are among the oldest Persian graves carved in the mountains going back to the Median era. The middle rock tomb is designed with an inscription showing a man praying in front of a cresset and a fireplace while a smaller body carved behind.
Dokan-e Davoud Rock Tomb (Dakhma) on the 3km southeast of Sarpol-e Zahab County is another rock tomb dating back to Median or Achaemenid era. It was carved into the mountain at the height of 12 m. There are 5 shelves and an oval grave inside.
There are other rock tombs in Kermanshah such as Sahne Rock Tomb as well.
Among brilliant historical architectures in recent centuries, two of them are outstanding.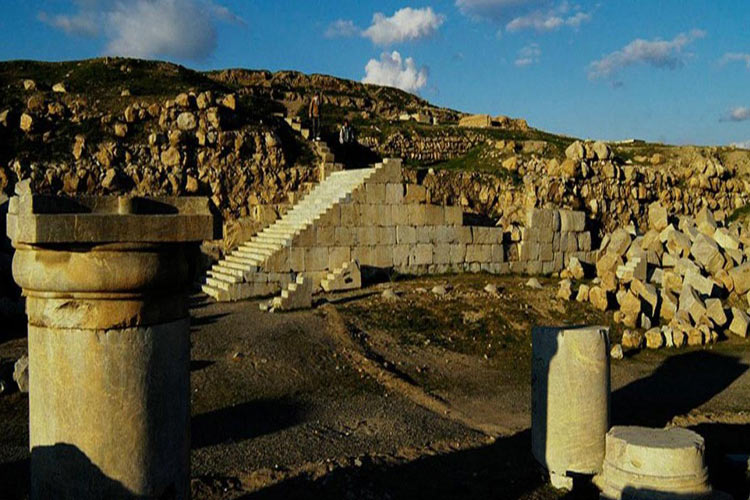 Anahita Temple in Kangavar, Kermanshah, Iran
Tekyeh Moaven al-Molk was a place hosting Kermanshahi people in public Shia mourning ceremonies. The natural colors used in its tile works are so magnificent that makes it unique in the world. It also encompasses the museums of Anthropology, and Clothes and Jewelry. Ancient farm tools, hunting gear, writing instruments, traditional Kurdish costumes, and giveh weaving process (the traditional hand-woven Persian shoes made of soft and durable cotton cloth and leather) are among the antiquities and themes exhibited in Anthropology Museum.
Tekyeh Biglar Beigi is another noteworthy building located in the old neighborhood of the city Kermanshah. This Qajar religious center decorated with brilliant mirror-work houses the museum of calligraphy and manuscripts. It was a place for Muslim religious ceremonies in the past.
Among the museums in Kermanshah, Zagros Paleolithic Museum, established in 2008, is the first and the only specialized Paleolithic museum in Iran. It displays a lot of stone tools and animal fossils and bones from the Paleolithic and Neolithic era.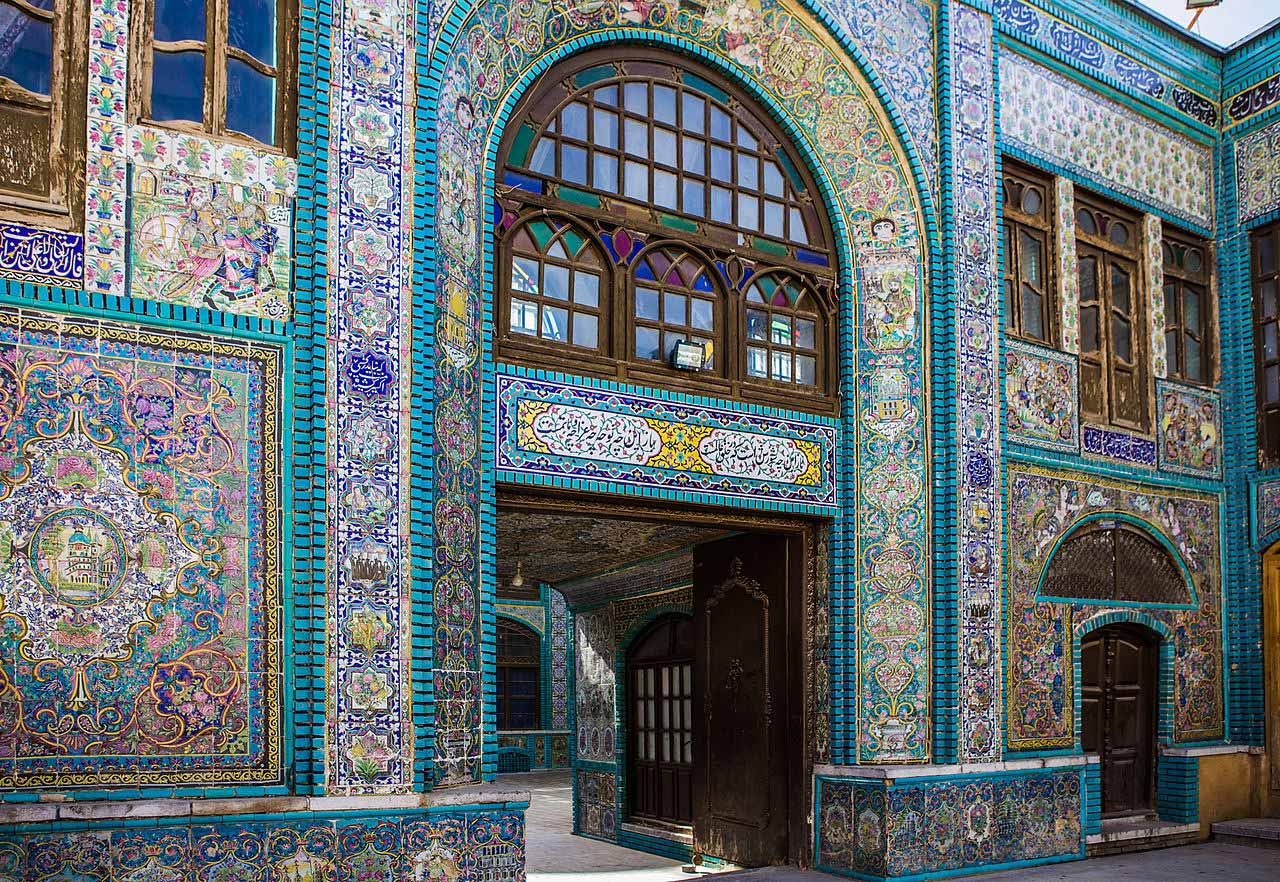 Tekyeh Moaven-al Molk in Kermanshah, Iran
Natural Attractions of Kermanshah Province
Notable caves, mountains, lakes and pleasant diverse nature have made Kermanshah one of the best destinations for adventurists. It is especially recommended to those who prefer to experience the real adventure in the heart of an ancient land with a rich culture.
One of the most exciting and prominent places in Kermanshah is Quri Qale or Ghoori Ghale Cave. It is the 7th National Natural Heritage of Kermanshah Province, dating back to 65 million years ago. It is located 87 km from the city of Kermanshah. With a depth of 3140 m, it is the longest and the largest water cave in Asia. It includes very beautiful waterfalls, stalactites, and stalagmites, and it is the habitat of the mouse-eared bat. It consists of two parts: the first part for the tourists and the second part- with many natural barriers- for professional cavers or spelunkers.
Parau Cave, the second National Natural Heritage of Kermanshah, is another remarkable cave located 12 km northwest of Kermanshah City, between the two mountains of Taq-e Bostan and Bisotun. Its opening is 3000 m above the sea level. Parau means full of water in the local language. There are 26 wells in it. As it is one of the most difficult caving expeditions in Iran, it could be one of the best destinations for real adventure seekers.
Parau Cave in Kermanshah Province, Iran
Among natural beauties of Kermanshah, Hashilan Wetland 30 km northwest of Kermanshah is a 260 ha protected area with sweet water. Its 110 islands are the habitat of 116 species of plants and the home to the wintering birds. It is a No-Hunting Zone. Hashilan means the nest of snakes, because of the presence of a great number of snakes and water snakes, especially dice snakes. Many other animals such as mammals, reptiles, and aquatics are also found in this wetland.
Sarab-e Niloofar is another picturesque place to visit in the spring and summer. It is a small lagoon covered with lotus flowers 20 km northwest of Kermanshah. It is the 55th National Natural Heritage of Iran. There are tourist facilities as well.
Kuhestan Park (or Bam-e Kermanshah) is also a good place to visit while traveling to Iran. It is a park in the north of Kermanshah, near Taq-e Bostan, where you have the full view of the city. The two artificial waterfalls add to its beauty.
Another place that is worth visiting by nature lovers is Flower Garden. It is one of the best examples of the flower gardens in Iran. Covering 5-hectare area, it is composed of four gardens of Persian, Japanese, French, and Italian including 4 thousand plant species. This large picturesque garden encompasses the pond, the cactus exhibition, seasonal plants section, shrubs and different kinds of flowers.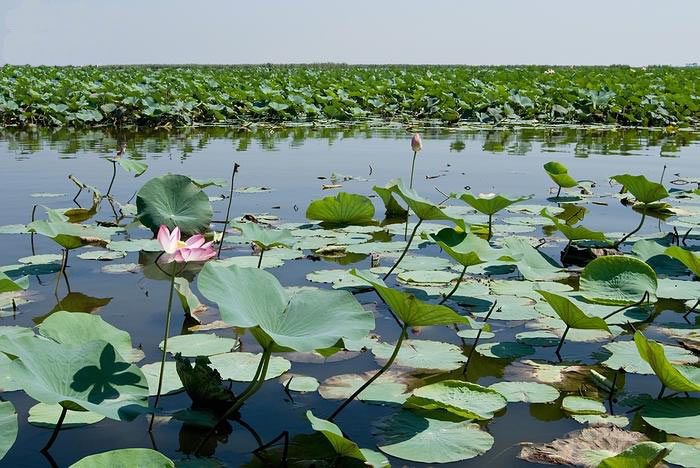 Sarab-e Nilufar covered with lotus flowers, Kermanshah, Iran
What to buy and eat in Kermanshah Province
The most famous souvenir of Kermanshah province is a kind of cookie named Kaak. Naan Roghani (a kind of sweet bread), Naan Berenji (another kind of cookie), Kermanshahi traditional oil, Saqez (traditional Persian chewing gum) are other well-known souvenirs that travelers to Kermanshah can buy.
Kermanshah is also one of the main centers for building traditional Iranian instrumental music such as tar, setar, tanbur, and daf. It is also one of the centers producing Giveh.
Tourists who travel to Iran have a wide range of eating options in Kermanshah. Dandeh Kebab, Khoresh-e Khalal, Tarkhineh are the most well-known delicious must-eat for those who wish to experience the real taste of Kermanshah.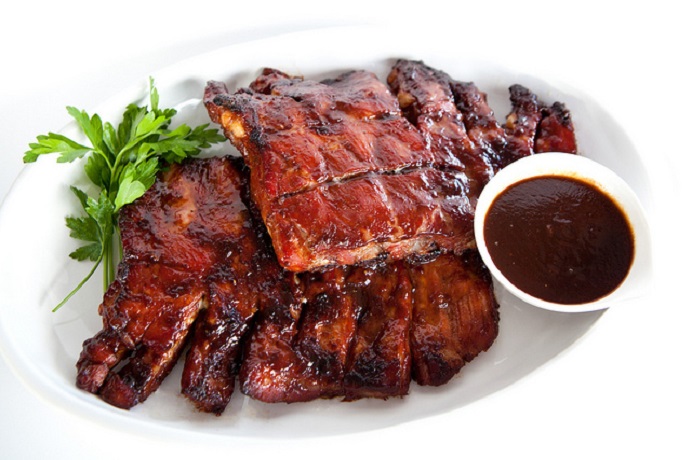 Dandeh Kebab, the traditional kebab of Kermanshah, Iran
Are you planning to travel to Iran? Check out our Iran tours.