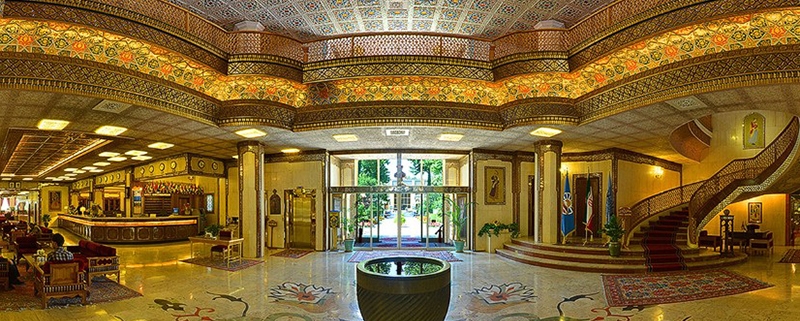 Spend some of "One Thousand and One nights" at Hotel Abbasi
Can you imagine yourself opening eyes in bed, looking toward a big colorful sash window overlooking the fabulous Persian garden and a great turquoise dome? well, good news! It's absolutely possible in Hotel Abbasi in Isfahan, which is the oldest hotel in the world! It needs only a quick reservation on the Hotel Abbasi website. Reserve your favorite hotels in Iran here.
Old as five dynasties
Shall I start the story of this historical hotel with ''once upon a time"? well, maybe. 400 years ago, at the time of king Sultan Hussein Safavid, the king's mother has endowed some of her properties, including the land of a mentioned hotel, to the public and ordered to build a Caravanserai there, to provide lodging for travelers. Years after that, Ashraf Afghan invaded Iran, overthrew The Safavids and destroyed their sites, also included Caravanserai. But the story isn't ended yet! In 1965 a creative engineer fount the way to renovate the whole complex. In 1700 the former Caravanserai reopened as Hotel Abbasi or Shah Abbas Hotel with preserving all the ancient elements, like the runnel of Persian garden or roof squinches.
Rooms and suits
You might have pictured you having a rough time in a 400 years old hotel, but no worries!  Hotel Abbasi is a good example of right cooperation between modernity and traditionality. 5 different type of rooms are available for the guests: standard single and double rooms, the landscape rooms with minimalist style decoration and garden view, luxurious paradise room with full facilities and garden view, Ghajar suits prepared for 2 people with fantastic Ghajar miniatures on its walls and roof and of course the garden view, and last but not least: Safavid suit which is the oldest and the most expensive option in Hotel Abbasi, with two bed rooms decorated with Safavid elements such as squinchs , illuminated manuscripts and plaster work.
Facilities and Services
There is a great sport complex consists of pool, sauna, gym, Jacuzzi … which provides some enjoyable services suchlike massage for its guests.
If you are a "food talks" person, be their guest! There are 4 high-quality restaurants in the complex. And "Chehelsotoon" is the most enchanting of them. Its open 12-15 and 19-23, serving both Iranian and international foods. It's not only the joy of eating delicious food that tempts to go there, Chehelsotoon is a real piece of art itself. The mural paintings in both Safavid and Ghajar styles, the Darius-design seats inspired by the Darius's throne from the stone configurations at Persepolis, the artistic works on the walls, ceilings, columns, banisters, pavement, doors, glass panes and even lanterns and ceiling suspensions multiply the beauty of the hall.
Advice
Keep in mind that the airport is about 25 far from the hotel, maybe you'll have to pack earlier.
By the way, beside all that advantages, there are a few limitations in Hotel Abbasi :1- pets not allowed, 2-only married couples can share a room.
location
Isfahan St. Amadegah, international hotel Abbasi
https://irandoostan.com/dostcont/uploads/2020/01/abb.jpg
600
800
Naeimeh Nakhaei
https://irandoostan.com/dostcont/uploads/2018/05/logo-idt2-09.png
Naeimeh Nakhaei
2020-01-27 09:48:24
2020-06-15 00:31:20
Spend some of "One Thousand and One nights" at Hotel Abbasi