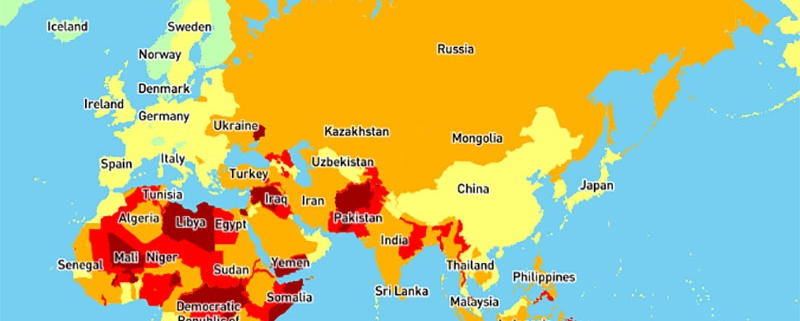 Travel Risk Map 2020: Iran is a safe destination to travel
Have a call for traveling to Iran in 2020 and feel uncertain? Well, if you are looking for some clue, 2020 Travel Risk Map seems a reliable source. According to International SOS, Iran is a safe destination, just as safe as Turkey with a record of more than 39.5 million foreign visitors in 2018!
Launched by global risk experts International SOS in collaboration with Control Risks, the Travel Risk Map 2020 indicates the danger level of different territories and countries based on factors threatening travelers such as violent and petty crime, political violence (politically motivated war and unrest, insurgency, terrorism) and social unrest (sectarian, communal and ethnic violence). More factors such as the effectiveness of the security and emergency services, the country's susceptibility to natural disasters, and the robustness of the transport infrastructure are also taken into consideration to represent more detailed information.
The map categorizes countries based on five levels of risk: insignificant, low, medium, high and extreme. Denmark, Switzerland, Norway, Finland, Iceland, and Greenland are the few countries in Europe to fall in the category of insignificant risk ones. The majority of European countries as well as the US, Canada, Australia, and New Zealand are considered low risk. While there are courtiers such as Iraq, Syria, Afghanistan, and Yemen rated as "Extreme" risk in the Middle East, Iran has been recognized as a medium risk destination along with Russia, Turkey, and India.
Travel risk map 2020 indicates that in spite of the imposed sanctions on Iran, and also what is covered in media about this country, the world admits Iran as a safe country to travel. Our experience of FITUR 2020, held on 22-26 January has also been amazing so far and we are waiting for more tourist arrivals and stronger partnerships in the future.
Iran is a fascinating destination to explore; its long history and geographically diverse land have provided remarkable cultural and natural attractions such as outstanding architecture, elegant gardens, remarkable wildlife, scenic scenery, delicious cuisine, awesome waterfalls, deep canyons, vast deserts, high mountains, and more importantly friendly people.
You are warmly welcomed here to experience a life-long memorable trip.
Are you planning to travel to Iran? Check out our Iran tours.
https://irandoostan.com/dostcont/uploads/2020/01/travel-risk-map2020-F.jpg
600
800
Farima Fehrest
https://irandoostan.com/dostcont/uploads/2018/05/logo-idt2-09.png
Farima Fehrest
2020-01-26 11:16:33
2023-09-05 16:48:19
Travel Risk Map 2020: Iran is a safe destination to travel