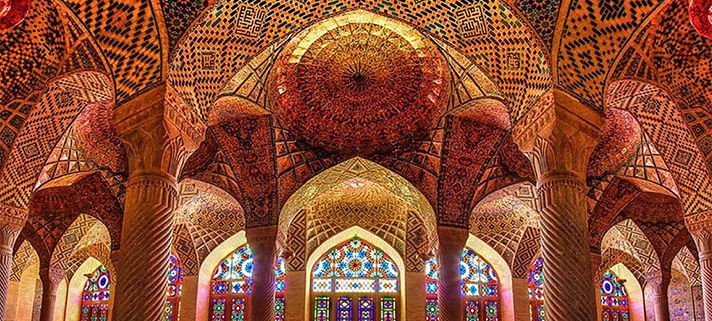 Nasir al-Mulk Mosque (Pink Mosque), Shiraz: Photos, video
Nasir al-Mulk Mosque also known as the Pink Mosque is an elegant piece of art and architecture that belongs to the end of the 19th century.  Located in Shiraz, it is a colorful mosque built during the Qajar dynasty. Nasir al-Mulk Mosque takes its name from one of the Qajar rulers – Mirza Hasan Ali Nasir al-Mulk – who ordered the construction of the mosque. Mohammad Hasan-e-Memar and Mohammad Reza Kashi-Saz were the professional designers of such an exquisite mosque. The construction of the mosque lasted from 1876 to 1888. Nasir al-Mulk Mosque in Shiraz-the combination of art and architecture – is one of the attractions for many tourists who travel to Iran.
Since the pink color and stained glass windows are applied elaborately in the structure and design of the Mosque, it is known by different names. Pink Mosque, Rainbow Mosque, Mosque of colors, and Kaleidoscope Mosque all describe different interpretations of visitors from this fantastic site.
At dawn, the sun shines through the stained glass windows of the Mosque and it glides from the right-hand side to the left-hand side to fill the inside with the glory of various colors combined. The vivid colors spread over the ground, the Persian rugs, the ceiling, the walls, the tiles, and the arches give soul to the solid structure of the mosque. They caress the amazed visitors' and worshipers' faces and inspire photographers with great ideas to take amazing pictures. Maybe the designers had aimed to construct such an astonishing space to hold everybody in awe and to create a sacred space for prayer.
Nasir al-Mulk Mosque has two eastern and western shabestans. The eastern Shabestan has a gorgeous tiled altar and twelve columns along with stained glass windows. The arts of tiling and painting in Shabestans, and the beautiful decorations of Mihrab have extraordinary beauty. The harmony among columns, fantastic geometric patterns, the play of light and colors, and the splendid Muqarnas all dazzle the eyes of visitors and photographers. The mosque has great elements of traditional architecture such as a central fountain, an iwan, Panj kāseh-i (five concaves), faience, and plaster works.
Nasir al-Mulk Mosque has been inscribed as one of the national heritage sites of Iran and it annually attracts many travelers to Iran. The best time to visit the mosque is early in the morning and about 8 to 9 am. This is the best time to see the light passing through the stained glass windows and making a kaleidoscopic space that amuses travelers, photographers, and worshipers. The interesting point is that Nasir al-Mulk Mosque is still used for worship. Today this glorious mosque is under protection by Nasir al-Mulk's Endowment Foundation.
Are you planning to travel to Iran? Please read Things to do in Shiraz and Check out our Iran tours.
https://irandoostan.com/dostcont/uploads/2018/01/pink-mosque2.jpg
366
712
Travel to Iran
https://irandoostan.com/dostcont/uploads/2018/05/logo-idt2-09.png
Travel to Iran
2018-01-10 10:29:06
2023-09-11 12:42:50
Nasir al-Mulk Mosque (Pink Mosque), Shiraz: Photos, video