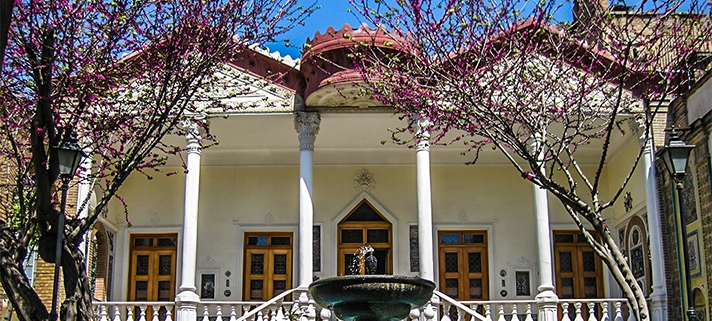 Moghadam Museum, a Historic Priceless House in Tehran
Moghadam Museum is a historic priceless house in Tehran and it is worth a visit for tours to Iran. The museum is located in the heart of one of the most crowded streets of Tehran; however, it has such a peaceful environment with so many splendid objects that makes the tourists feel quite comfortable.
A small beautiful garden with several turquoise ponds and many colorful trees such as pomegranates and cedars embraces the main building and its surrounding areas. A cozy cafe in the garden also gives the chance to have a sip of juice or coffee, while enjoying the spectacular view of the museum.
Moghadam Museum is known as one of the most precious museums where visitors can find many priceless items such as gems, textiles, paintings, pieces of furniture, and prehistoric objects in different parts. Various Iranian tile-works narrating many Iranian tales also catch eyes at each corner.
The house was a luxurious house dating back to Qajar period and it belonged to Ehtesab-ol-Molk who was one of the authorities of Nasseredin Shah's dynasty. Later, the house was left for his son "Mohsen Moghadam" and his son's French wife" Salma".
Mohsen Moghadam was a painter, a great archaeologist, and the professor at Tehran University. He combined art and history to design Tehran university logo representing an image of stucco seals of Sassanid period. The couple both loved history and culture and they dedicated life to collecting historical objects from around the world and displaying them in their house. In 1972, Mohsen and Salma bequeathed the family house and all its treasure to Tehran University.
Along with the unique objects exhibited in Moqadam Museum, many photos in the house depict the life of Mohsen and Salma to add a good homelike feeling to the museum.
Moghadam Museum is not far from Bazaar and National Museum of Iran, and a half day is enough to discover its many beauties. One can also reach it by getting off in Hasan Abad subway station which is very close to Moqadam Museum.
Having decided to travel to Iran? Find more information on Iran visa and things to do in Tehran and check out our Iran tours.
https://irandoostan.com/dostcont/uploads/2017/06/Moghadam-Museum-featured.jpg
366
712
Farima Fehrest
https://irandoostan.com/dostcont/uploads/2018/05/logo-idt2-09.png
Farima Fehrest
2017-06-01 12:03:29
2023-09-13 10:11:54
Moghadam Museum, a Historic Priceless House in Tehran