Track scenic beauties of Iran by Truck
Traveling by truck seems an exciting style in travel and tourism industry. It sounds a trip full of adventures; especially when the destination is less known just like the Middle East. that is why a group of motivated tourists have decided to track scenic beauties of Iran by truck.
The tour of "TBILISI to ASHGABAT" arrived in Tabriz on 20 May 2017and is going to leave Iran from Mashad on 3 June 2017 heading off to Ashgabat and finally China. Iran, as a bridge that connects West to East, has been included in the itinerary. The tour arrived in Tehran on May 22. Iran Doostan, as the organizer of the named tour to Iran presents this report according to the friendly interview with the tourists in Golestan Palace, Tehran.
The tour to Iran is comprised of 18 tourists from different countries, consisting of Australia, Spain, England, America, Norway, and New Zealand. Though many of them have already experienced traveling by truck to other places, it is the first time the tourists have come to Iran.
The tourists believed that travelling by truck would provide them with great opportunities that offer flexibility. They could get on and off at different places, camp in remote places and take a glance at the shining stars, manage their time better, come across various cultures, find friends from different countries with the same spirit of adventure, visit more places impossible to reach by train or flight, get familiar with more local people, and feel the depth of the aboriginal culture better. Moreover, the slower pace of trip allows them to spend more time on travel. All these could happen in traveling by truck, while it is comfortable enough to provide them with all they might need.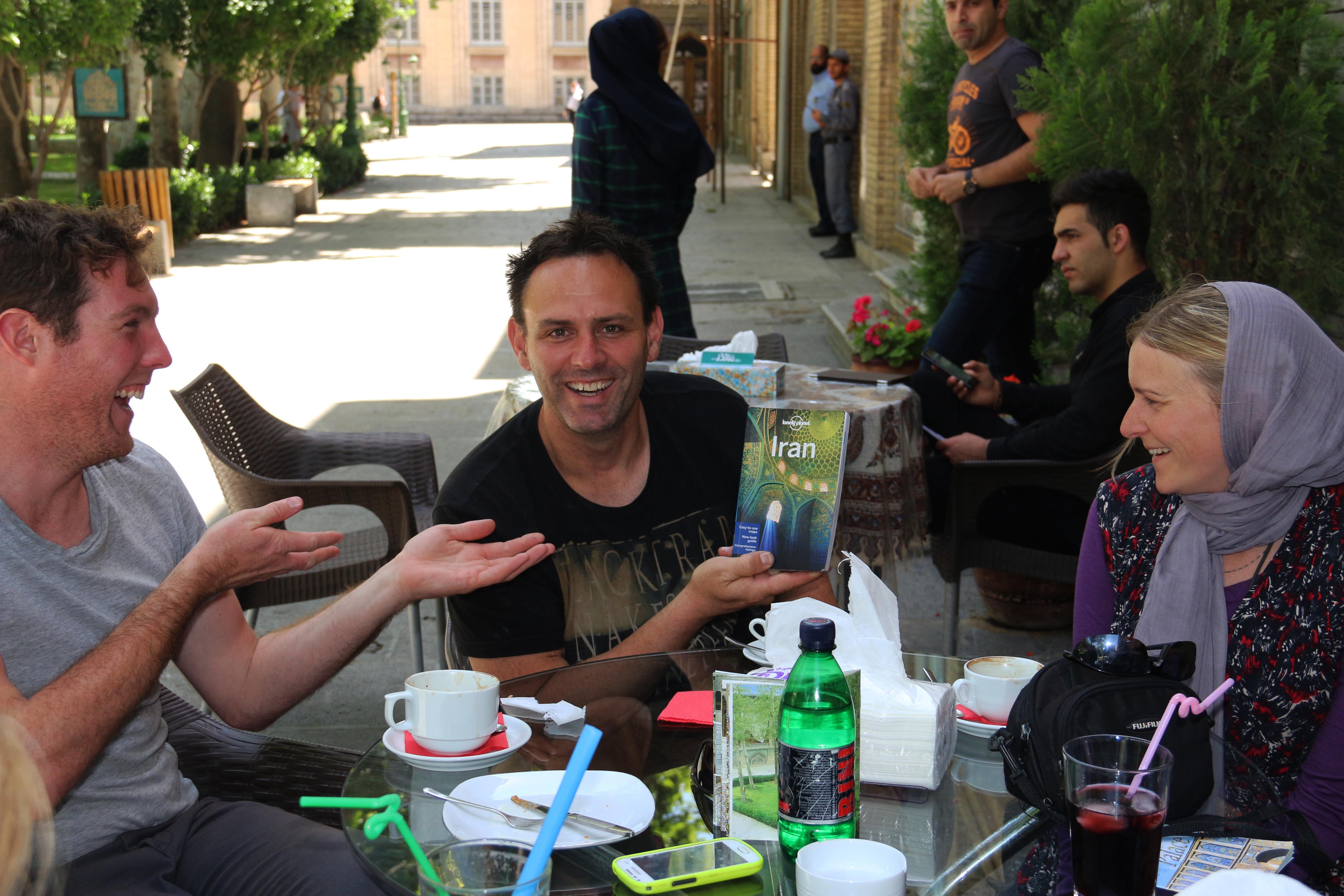 A friendly talk with truck tourists in Golestan palace, Tehran
The diversity of landscape in Iran was the attraction appealed to them. From the desert and hills to the green mountains; from the storm in Tabriz to the sunny sky in Tehran; the totally different climate, the stunning border between Armenia and Iran, the mountains scenery and the Iranian tiles were among the unique experiences of their tour to Iran.
Fortunately, the tourists found Iran as a safe country with friendly people, delicious food, and eye-catching traditional architecture. The received reality of Iran was completely different from the dangerous and unkind image represented by media.
Are you planning to travel to Iran? Check out our Iran tours.