Canyoning in Iran: Best Canyons
Rafting, hiking, biking, trekking, spelunking, caving, mountain biking, and canyoneering are all the adventurous activities you can enjoy in your travel to Iran, the country that is usually known for its ancient civilization and rich culture. They all satisfy the passion and excitement; however, canyoning is for the ones who enthusiastically wish to get an adrenaline rush.
Canyoning or canyoneering is a sport that combines the adventure of hiking, rappelling, climbing, bouldering, cliff jumping, and sometimes breathtaking swims. Mother Nature offers the most stunning canyons all over the world in America, Africa, Canada, Italy, France, Switzerland, and Iran.
Iran has spectacular canyoneering spots surrounded by gorgeous mountains of Alborz and Zagros. Some are located in the north of Iran surrounded by the lush green jungles and some are located in the south of Iran hidden behind the hot heart of dry mountains.
The exciting experience of canyoning in Iran
The canyoning history in Iran dates back to over sixty years ago when it was tried by military characters at first. In 1984, a team of two canyoneers descended Anderesm canyon successfully and it was a milestone in practicing cannyoning more seriously. The next decades, great canyons of Raghaz in Fars province and Kamjel in Mazandaran province were explored and descended in order to develop the exciting sport of canyoning in Iran.
If you want to get your feet wet in Iran's canyoning, there are amazing canyons to satisfy your desire. Raghaz, Kamjel, Chakrood, Eshkevar, and Anderesm are among the most stunning canyons of Iran. You will enjoy rappelling down rock faces, hiking through dense jungles, trekking in the heart of mountains, and descending roaring waterfalls. The canyons of Iran vary in the degree of difficulty. For instance, Raghaz canyon is suitable for those who want to enjoy jumping into the water and swimming as well as those who want to experience a technical canyoneering, while Anderesm canyon is an unattainable dream for amateurs. Anderesm with deep gorges and high waterfalls is the most challenging canyon of Iran.
Raghaz canyon located in Fars province is one of the most technical and adventurous canyons of Iran. It is surrounded by dry mountains and it has such scenic scenery that one can hardly believe. The astonishing Raghaz canyon has more than 60 roaring waterfalls and so many pools with crystal clear water. The journey is started without any gears at the beginning; however, to descend more waterfalls, technical equipment and exciting jumps into the pools are needed. The highest waterfall of Raghaz called Azarakhsh (Thunder) is 65m high and the deepest pool called Kabootar is 20m deep. The best time for canyoning in Raghaz is from April to August when you could enjoy jumping into the turquoise water of pools and also enjoy its many springs.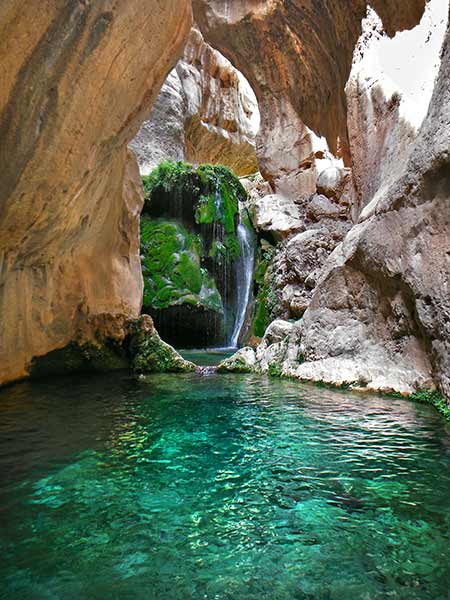 Canyoning in Iran – A spectacular view of Raghaz canyon, Iran
Kamjel canyon located in Mazandaran province in the north of Iran is another technical canyon. It is less than a decade that the first expedition took place in Kamjel. Depending on the technical degree of the plan, you might need waterproof shoes and clothes, headlamp, canyoning gears such as wetsuit, dry bag, and so forth. In Kamjel, you will get adrenaline rush from descending more than 30 waterfalls and enjoying fresh air and wilderness; however, it is necessary to check the weather forecast first, because it is very dangerous to go there during the rainy days. The best months to experience canyoning in Kamjel is from March to the end of September. You will remember it as one of the most adventurous activities during your travel to Iran if you are guided by an expert tour guide.
Chakrood canyon in Gilan province is another great canyon for outdoor enthusiasts. You would enjoy the gorgeous nature of Gilan jungles before reaching Chakrood canyon. Chakrood has many waterfalls; however, only some of them are suitable for canyoneering. The highest waterfall is approximately 30m high and you need to be perfectly equipped to descend it. Slosh through shallow streams, jump into the cool water, swim, and rappel down the gorges to get the best out of your canyoneering there.  When you go deep inside the canyon, you would enjoy sound of water streams and chirping of little crickets. In order to have an expedition in Chakrood canyon, you must professionally apply the rock climbing skills and have all necessary equipment.
One of the other technical canyons in the same area is Eshkevar canyon. It is located near Ramsar and it usually takes more than one day to descend the canyon technically. Eshkevar is a great place for canyoning adventures and you will enjoy hiking in the wild nature as well as rappelling water jumps and jumping into pools.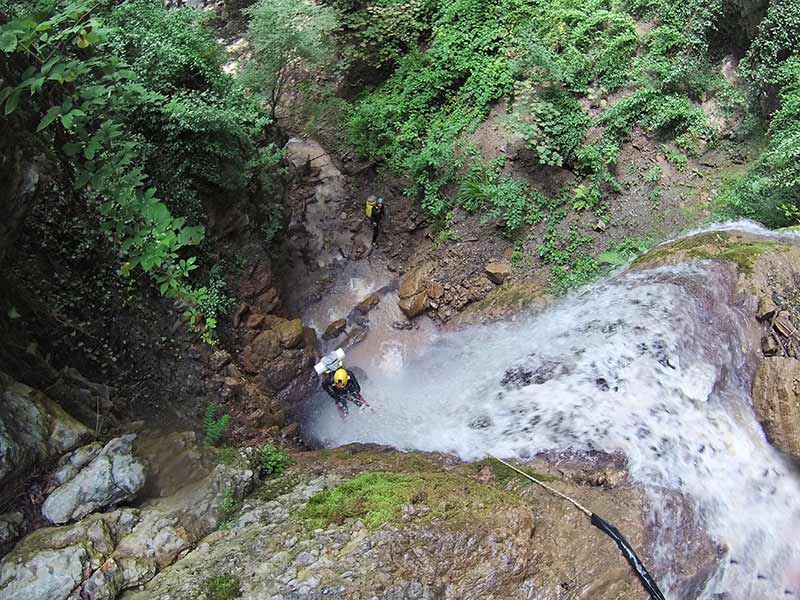 Canyoning in Iran – Adventurous canyons of Iran
Anderesm is the most challenging and difficult canyon of Iran. It is located in Karaj-Chalus road. Surrounded by lush green trees, numerous waterfalls, and massive gorges, it is a perfect adventurous spot for challenge-lovers. The number of waterfalls exceeds 30 with height varying from 5 to 25m. To descend the roaring waterfalls, one needs to use technical equipment.  Anderesm canyon also known as Tanehdar canyon has breathtaking gorges surrounded by 70m rock walls and massive waterfalls. Anderesm canyon is the most challenging canyon of Iran and skillful canyoneers are the only ones who could successfully descend it.
Though the nature of canyoneering is mingled with challenge and danger, you will be equipped with life jackets, wetsuits, technical ropes, and other required equipment.  Moreover, our expert guides will accompany you to make sure you are safe and have a great time.
Are you planning to travel to Iran? Check out our Iran canyoning tour.