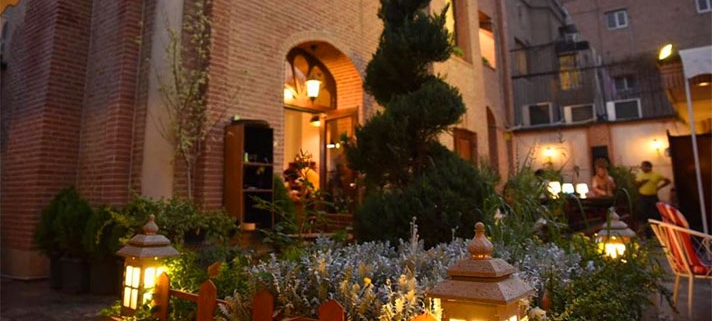 Old cafes in Iran, Nostalgia in modern life
Many people believe that nothing but nature brings people closer to themselves. But they are wrong. Today, you can sit in a cozy corner where no one is bothering you and enjoy your cool drink or a cup of coffee. So, you can get rid of all the hustle and bustle for a while. There are old cafes in Iran where people get together to discuss art, literature, music, or their favorite topics or simply enjoy a peaceful environment to relax. Here are some of the old cafes in Iran well-known for their outstanding features.
Naderi café, love and poem
If you like to sit on Polish chairs with dishes that have memories from the past; and breathe in an atmosphere where a part of the Iranian intellectual history has taken place, you should visit Naderi Cafe. Naderi Cafe in Tehran is located east of the College Bridge on Jomhouri Street (formerly Naderi). The Cafe dates back to 1927. At that time, an Armenian immigrant named "Khachik Madikians" traveled to Iran and established a café to show his skills in managing café and to create a hangout for intellectuals. It still exists after 50 years! Some people enjoy sitting on old chairs and being in the nostalgic atmosphere of this cafe, which was once a place for unique literary figures. Sometimes the visitors are contemporary poets and writers.
Do you know Iranian poets and writers? Famous figures such as Nima Yoshij, Sadegh Hedayat, Ahmad Shamloo, Forough Farrokhzad, Bozorg Alavi, Houshang Ebtehaj, Siavash Kasraei, Fereydoun Moshiri, Jalal Al-Ahmad, Simin Daneshvar, and many others chose this cafe for their getting together. They used to sit on the brown chairs, read the newspaper, drink coffee, and have political and literary discussions. Also, they created memorable works there. The interesting thing is that everyone had their place in this cafe, which remained empty even in their absence. By visiting, you will see chairs that are reserved forever.
The Naderi collection consists of three main sections. In the middle of the building is a pastry that has been closed for several years. Naderi Café and Restaurant also consist of two separate halls that are adjacent to each other; and have a total capacity of 140 people. The first hall is for cafes and the second hall is served as a restaurant.
This cafe has beautiful decorations. As you sit in that 100-year-old polished chair and wait for your coffee to arrive, you can browse through the memories of framed photos on the wall and its old cups. Today the café is run by Khachik Madikian's grandchildren. Also, all waiters are 40- to 50-year-old Armenian men. It is interesting to know that the oldest waiter in the Cafe is called "Eshghi" who always has a soda opener in his pocket, and whenever you want to open your soda, he is at your service! Also, one of the famous Iranian serials called Shahrzad has been recorded here.
Diamond Cafe, a classic mood
Once upon a time, there was an old photography studio with classical architecture on Ostad Nejatollahi Street (former villa) for a long time. But now, thanks to the efforts of some tasteful young people, it has become one of the most popular cafes in Tehran.
Diamond Cafe is located in an old building of the same name, considered cultural heritage, and retains its old texture. The cafe has a two-story building and a large courtyard where customers can use any of them to their liking. In designing the environment, they tried to combine traditional and modern architecture and maintained the classic spirit of the space while modern interior design. The cafe's lighting is also professional and uses three lighting models. There are also shrubs in the yard to keep the feeling of greenness and vitality alive in the yard. Smoking is allowed both in the yard and on the second floor, and you can safely free your mind from anxiety and troubles.
If you are a fan of coffee, be sure to try it here. Diamond Cafe coffees are 100% Arabica, and you can taste the original taste of coffee. Latte, mocha, and Americano are some drinks in this cafe that we suggest you try them with delicious cakes and waffles. If you like cold and stylish drinks, exciting choices are waiting for you. Among the special fruit drinks in this cafe, we can mention Rambutan. The high quality of raw materials and professional baristas also make the drinks of Diamond Cafe excellent.
Do you care about breakfast? Omelets and English breakfast are great choices to start an amazing and energetic morning. Besides the unique taste and quality, the beauty of the food design can be seen in all orders of Diamond Cafe. Our other recommendation is to try plates of pasta. Overall, Diamond Café is an excellent place for group and friendly get-togethers.
Masoudie Cafe, a cafe in a mansion
Masoudie Cafe is located inside the majestic and old Massoud mansion. It is one of the most beautiful historical mansions in Tehran. This cafe is in Baharestan Square and Ekbatan Street.
This mansion was the palace of a prince who was not destined to become king. Massoud Mirza was the son of Nasser al-Din Shah, who took the title of Zel-o-Sultan from his father and became the ruler of Isfahan. But later, he disputed with the king for some reason and stayed away from the monarchy. In 1290 AH, he ordered the construction of a mansion on a land of 4,000 square meters on Mellat Street in Tehran.
The main area of ​​the Masoudie mansion consists of two parts, east and west, which are separated by a lattice wall. When you enter the courtyard, the columns, the ceiling, and the stained glass will attract your attention. There is a large rectangular pool in front of each mansion and beautiful and fragrant flowers in the courtyard.
Where is the cafe? Inside the mansion, there is a cozy cafe with its old Ghajari decor called Masoudie Cafe. It brings the picture of traditional Iranian houses into your memory. Here the food is as delicious as the grandmother's cooking! This beautiful and pleasant cafe offers a variety of hot and cold drinks. Do not miss the traditional drinks with herbal essences. Also, Turkish coffee is recommended, and be sure to try the apple pie! A variety of traditional Iranian dishes are also served here, including cutlets, Kookoo Sabzi, Mirza Ghasemi, Omelet, and Ash Reshte. If you are one of the people who spend a high price on a good quality and enjoyable environment, you will like Masoudiyeh Cafe.
Chai Bar Cafe
Chai Bar Cafe is among the old cafes with a nostalgic environment that will acquaint you with the traditional historical sense. The Kolahfarangi mansion is a magnificent mansion on ​​Andarzgoo Street, which was once a place for entertainment to Nasser al-Din Shah Qajar. So now, Chai Bar Cafe is located in this mansion, among the beautiful and historical garden of the Iranian Calligraphers Association. About the appearance, the outer facade of the building is made of bricks. The windows are decorated with tiles in the style of traditional architecture.
Inside the mansion, however, you will find a warmer atmosphere. All the walls are white. The ceiling is solid green, and old chandeliers hang from it. Dark brown wooden tables and chairs are set inside the café. Customers can look at the green space outside through the magnifying windows. If you prefer to sit outside, it is located right in the middle of the garden. The sycamore trees growing in the heart of the grass greet you and provide a shade of coolness for you to relax. The tables and chairs are made of metal, and cushions are placed for help on their backs.
Do you love tea? Tea is Iranians' favorite drink! This cafe is one of the few old cafes that serves more than 100 types of tea. Drinking tea in special Iranian cups is always a reason for family-friendly meetings and conversations. In addition to tea, coffee, liqueurs, syrups, and delicious snacks are also available. You can try different types of sandwiches such as steaks, falafel rolls, or kebabs for snacks.
A combination of traditional and modern styles in the design of Chai Bar cafe fascinates every viewer. Also, you can visit the Visual Arts Gallery (Art Center). The cozy and pleasant environment makes you spend a happy and relaxing day in this cafe.
Are you planning to travel to Iran? Check out our Iran tours.
https://irandoostan.com/dostcont/uploads/2021/08/featured-Diamond.jpg
366
712
Sarvenaz Attari
https://irandoostan.com/dostcont/uploads/2018/05/logo-idt2-09.png
Sarvenaz Attari
2021-09-14 10:15:21
2023-10-01 12:52:31
Old cafes in Iran, Nostalgia in modern life