Iranian Metalwork Is Splendid Souvenir for Travelers to Iran
Iran as a vast ancient country has enjoyed a great variety of cultures and ethnicities during its long checkered history. That is why it is so rich in handicrafts as the mirror of different nations' lifestyles and beliefs. Among diverse Iranian handicrafts, metalwork is perhaps the best-documented. In fact, one can see the glorious history of Iran on the surface of metal. Moreover, Iranian metalwork is splendid souvenir for travelers to Iran.
Metalwork has been a distinguished Iranian art during Iran old history, especially in the Islamic period. The exact date of pre-Islam Iranian metalwork is not clear, but the bronze metalwork found in Luristan shows the outstanding Iranian skill and artistry in the 1st millennium B.C. Some metalwork contemporary to Iron Age II has been found at Marlik and Hasanlu too.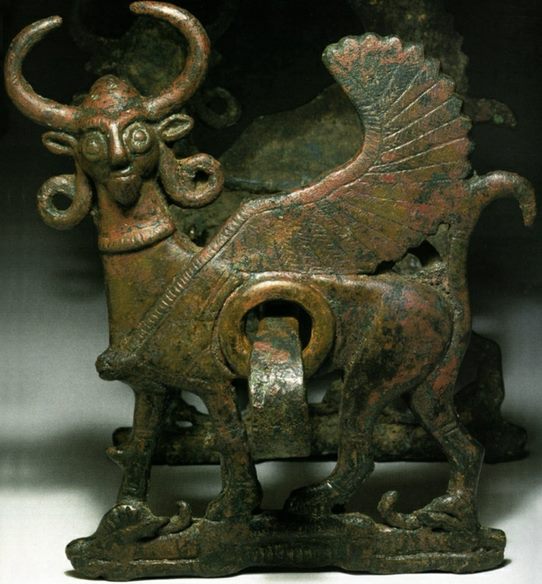 Luristan Bronze, the sample of ancient Iranian metalwork
From Achaemenid period, outstanding jewelry and metal works in unique Persian style have been discovered that among those, the rhytons are the most noteworthy. This period can be considered as the golden age of metalworking, because the different methods, such as hammering, molding, and inlaying with gems were used by the craftsmen.
During Sassanid period, metalwork flourished and exceeded the Persia borders. Sassanid engraved silver plates and bowls showing the kings, fights, and feasts, often partially gilded have been survived. After the advent of Islam, the Sassanid metalwork style was still followed by the artists. Its design mainly consisted of the royal hunt.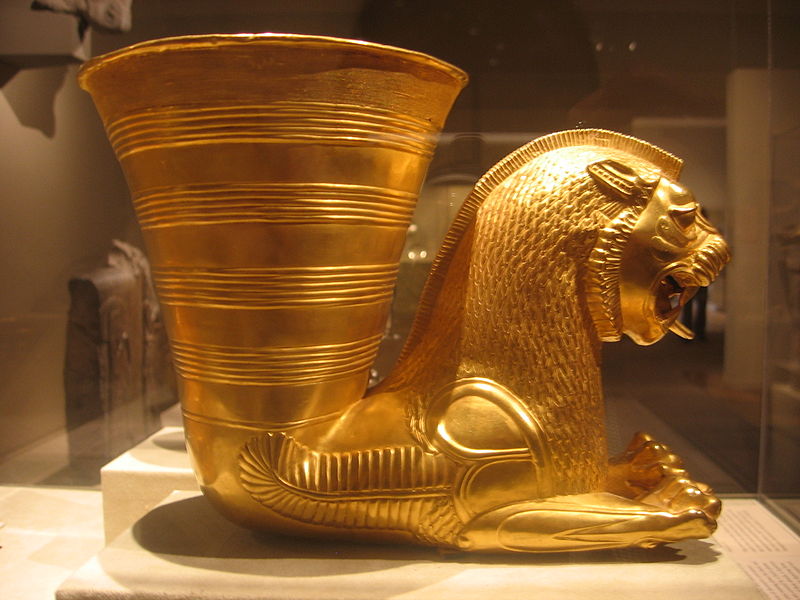 Achaemenid Rhyton
In the Samanid period, cheaper materials like copper were used in innovative manners. In 12th century, astrolabe made in Isfahan gained reputation in Iran and other countries. Some belongings of the upper class found from that time consist of enameled or gilded gold or silver weaponry, belt, boxes, and utensils.
During 10th and 11th centuries, copper alloy (bronze and brass) highly ornamented metal works became popular and came into practice. The designs were the continuation of Sassanid patterns, but usually surrounded by geometrical and calligraphic shapes. In Seljuk era, metal works were decorated with precious metal inlays. In 14th century, the artists made gold and silver patterns on the cheaper metal materials.
During Safavid dynasty, metalwork experienced a gradual decline, still both luxurious and cheaper metal works were created in masterful ways. Red, black, and green inlays replaced silver and gold ones. Instead, gold and silver were used, for example, for the doors of shrines of the Shi'ite religion. Best swords were made in Iran at that time. Many of the jewelries made at that time and after that can be visited in Jewelry Museum in Tehran.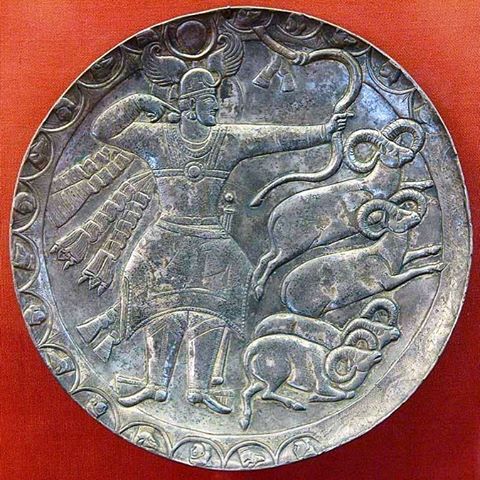 Sassanid metalwork
In Qajar dynasty, European art had a strong influence on Iranian art, and metalwork was not an exception. At that time, painted enameled ornaments, often in shape of the flowers, were used on metal.
Iranian metalwork is divided into some categories. The two most famous are called Minakari and Qalamzani.