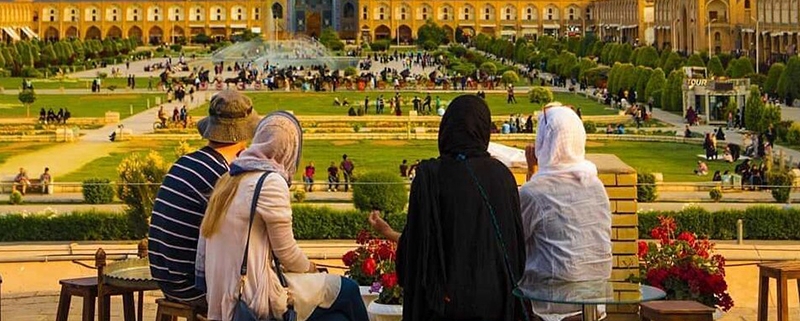 15 Dos and Don'ts for tourists in Iran: Iran Local Laws
If your travel plans hold Iran on the horizon, planning and making reservations aside, getting informed about special rules comes first! Respecting these rules requires modesty of course, but as they are derived from Iran's cultural norms, it means a lot to your host society. Here are the laws all tourists in Iran are supposed to follow.
If you plan to travel to Iran, here is the link to Iran online visa form.
-Definite Laws:
1-Iran Dress codes
Your concern as a tourist, about Islamic clothing, is understandable. You might have pictured women in Iran in black Chadors, and men in white Dishdasha, but the reality is totally different:
For men: Although there is no strict law about men's clothing, wearing shorts and sleeveless vests would be somehow improper in Iran. Do you want my opinion? Pants and T-shirts would be the best choice!
For women: There is no confusing rule about women's clothing. Women are supposed to hide body shapes and hair, that's all! The way Iranian women dress can give you a clue. Of course, manteaux and jeans are the most popular style in Iran. Manteau is a long-sleeved blouse that covers the bottom and pants or skirts must cover the legs up to the ankle. By the way, don't forget to pick a scarf while packing, it's necessary to put it on in public. In brief, it doesn't really matter what you wear as long as your clothes are not too short or too tight!
Click for more information about Iran dress code.
2-The ban on alcoholic drinks
According to the Islamic rules, drinking or even carrying alcoholic drinks is illegal all over the country, which means there is no nightclub or bar in Iran.
3-Tricky Visa Process
Receiving an Iran visa is not that complex for citizens of many countries. Most tourists can receive an Iran visa on arrival with ease. All 10 nationalities are the exceptions and require it in advance including Colombia, Somali, England, Canada, USA, Bangladesh, Jordon, Iraq, Afghanistan, Pakistan, and India.
Canada, England and USA citizens do not have the possibility of receiving a visa in person and must apply through valid travel agencies.
Keep in mind that a visa on arrival is only available at the airports for tourists in Iran.
4-Israel issue
Unfortunately, Citizens of Israel are totally barred from entry to Iran but if 365 days have left from your last travel to Israel you can get an Iran visa.
5-Import and export rules
As all the luggage will be checked with X-ray, you should be careful about carrying the following objects:
– Alcoholic Drinks, Weapons, and drugs are illegal to both import and export
– there are no limits for entering currency into the country, up to 10000 dollars.
– Animals and pets are isolated on arrival.
– only personal health care medicine is allowed, with the prescription which determines the dose.
Export limitations
– Pistachio and other nuts: up to 10 kg
– Saffron up to 100g
– Carpets: up to 20 meters per person.
– The ancient and valued object is counted as cultural heritage.
6-Hotel rules for tourists in Iran
– Sharing a hotel room for unmarried Non-Muslims couples will be Ok. the marriage certificate would be required for Muslim couples.
– Hotels are usually keeping your passport until you check out.
30 days in a year Muslims do fast, which includes abstaining from eating and drinking from dawn to sunset. And then they break the fast with a particular evening meal, named "Iftar". During these 30 days, even non-Muslims prevent eating and drinking or even smoking in public before sunset. As a sign of respect, most restaurants are closed during Ramadan but buying food and eating in privacy is totally ok.
8-The authorization code
The law enforcement force of the Islamic Republic of Iran is the organization that is in charge of protecting tourists in Iran. In order to this protection, this organization gives out a personal serial number to every single person entering the country. The tourists should have their travel itinerary at the entrance to receive that serial number and maintain it until departure.
9-Gender segregation
Pay attention to where and beside whom you sit in Iran! There is a sex-separation in some entertainment centers such as swimming pools and seashores, mosques and religious sites, and public transportation. Look for "men only" and "women only" signs which determine specific sections in the mentioned places. It is ok for women to enter men's sections sometimes but seems too weird if a man enters the women's section.
10-Social media limitation
During your stay in Iran, you might need to use VPNs to access Facebook, Couchsurfing, YouTube, and maybe a few other applications. In order to have faster and easier access to social media, choose applications with no bans on instead; like Instagram, WhatsApp, and Skype.
11-Credit and debit cards
Unfortunately, there is no network in Iran for using international cards, but there is a new travel card name "Mah Card". You can instantly fund your card in any preferred currency and that will be converted to Iranian Rials.
It-Not legally forced, but would be wise to follow:
Rules are over, but bearing in mind some tiny tips, shows your cultural respect, and will stop you from getting into trouble.
12-Social Taboos
– Showing Displays of affection to the public: Kissing and hugging people of the opposite sex is not accepted in Iran, especially for unmarried couples.
– Blowing nose in public: you can do that in WC if necessary, but not in front of people!
– Wearing shoes indoors: No need to ask! You should take off your shoes in almost every house in Iran!
– Taking photos of people without their permission.
– Handshaking with people of the opposite sex in public.
13-Visiting religious sites
– Women should be wearing their Islamic hijab (wearing a Chador is obligatory in mosques) and men with shorts are not allowed to enter religious places (Iran religious tour)
– Dancing, singing, shouting, and similar behaviors are consumed as disrespect.
14-Talking politic
You might be curious about different things taking place in Iran and how people feel about it. Even if you start to talk about political issues people are not going to stop you or they might start the conversation themselves, but keep in mind that any kind of criticism can easily offend their strong nationalism inside! I recommend keeping the trip cool and avoiding talking politics.
15-Do not trust crosswalks and traffic lights!
Not as a proud, but Iranian drivers are not really into following international traffic regulations. The crosswalk here is not really your safe zone as a pedestrian. And sometimes the red light is not able to stop hasty drivers. The only way to rescue from crossing the street is to watch carefully the cars and guess the speed.
Are you planning to travel to Iran? Check out our Iran tours.
https://irandoostan.com/dostcont/uploads/2020/02/iran-tourists1-2.jpg
600
800
Naeimeh Nakhaei
https://irandoostan.com/dostcont/uploads/2018/05/logo-idt2-09.png
Naeimeh Nakhaei
2020-02-22 17:50:31
2023-09-05 16:25:13
15 Dos and Don'ts for tourists in Iran: Iran Local Laws