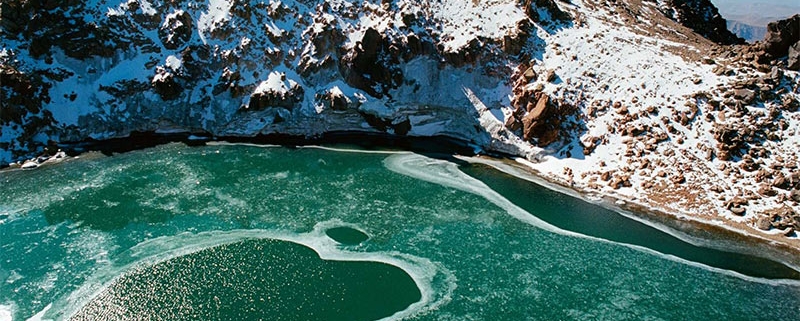 where to find the best hot springs in Iran?
Iran enjoys a diversity of hot springs scattered all around the country, each region offers its own features. Hot springs in Iran are quite attractive to tourists and they offer a variety of curative aspects. Soaking in hot springs in Iran is not only relaxing but also beneficial to one's health. Local people have believed in the medical features of these waters for years and have treated many illnesses in these hot springs which are scientifically proved today and have brought about many people traveling for the health benefits of these springs.
Sarein hot springs
52 kilometers from Ardabil, you will reach to Sarein where it is well-known for hot springs in Iran. The area attracts many tourists, especially during summer, to its thermal springs with curative features.
It is widely believed that the existence of the minerals in these waters with various temperatures coming from the volcanic Sabalan mountains, soothe joint pain and rheumatism and also is good for relieving nerve pains. The area also offers many volcanic swimming pools with massage therapists and the region is equipped with modern facilities including hotels.
Reine hot springs
Driving to the amazing Haraz road in Marazandaran, you will find Reine hot springs that are a fascinating place for having some fun among the dense forests of the north of Iran. There are both private and public baths available. If traveling in a group, you can conveniently rent a house and enjoy bathing in the thermal waters of Reine. The advantage of being close to Tehran, attracts many visitors to the area annually.
Shahr-e Kohne
There are abundant hot springs in Khorasan Razavi province, in the northeast of Iran; Shahr-e Kohne Hot Spring in Qouchan county is also famous for being close to ancient historical sites, dating back to 250 BC. These hot springs attract many tourists who appreciate soaking in warm waters every year to the region.
Kariz hot spring
Kariz is another hot spring located in Khorasan province near Kashmar which is of great medical value compared to other hot springs in Iran, according to what the experts believe. The most outstanding feature about Kariz spring is being rich in mineral and chemical elements which is healing for skin disease. It is interesting to know that due to being located 1400 meters above sea level, this village has a mountainous climate, with extremely cold winter and mild cool summer with a wild river roaming through. Kriz village is one of the most ancient villages of Kashmar city. "Shah Band", one of the registered national monuments, located near the village well indicates the dating of Kariz village.
Ferdows hot spring
Located 20 km north of Ferdows city in Southern Khorasan province, there is a hot mineral spring dating back to 200 years ago. The mineral spring of Ferdows is located on the top of the mountain where the spa flows and there are traces of an ancient tower representing the historical age of the Ferdows mineral spa. It is interesting to know that after the Ferdows spa was cut off 47 years due to an earthquake happened and then it the flow again as an effect of the aftershocks that made local people happy, especially the inhabitants of Beroun and Mehran Koushak villages in the vicinity of Ferdows spa.
Falakdeh hot spring
Right in the middle of Do-Hezar forests in the north of Iran, somewhere off-the-beaten-path, there is an amazing hot spring that does not really attract a lot of people since it is not easy to access. So, this place is strongly recommended to adventurers looking for an unexplored place to relax in nature. Topographically, this hot spa has many low and high lands adding to its beauty and diversity. The most significant feature of this hot water is the absence of sulfur in it. The Falkade area has a cool and foothill climate which is very pleasant particularly during warm seasons.
Qale Kandy Hot Spring
On the road from Ardabil to Parsabad close to the eye-catching forests of Arasbaran and Aras river, you will arrive to a gorgeous touristic region with a famous hot spring, named "Qale Kandy" attracting many tourists. Qale Kandy hot spring is particularly healing in the treatment of Rheumatism. The water temperature of Qale Kandy spa in the main fountain reaches 75 to 80 degrees Centigrade and in the pools 65 to 70 degrees Centigrade; that is why most orthopedic specialists recommend this spa to their patients.
Chaldoran Hot Spring
There are 46 hot springs in West Azarbaijan province in the northwest of Iran, so, the province is a well-known destination for those looking for warm waters to relax or cure special diseases. Out of these 46 spas, some are in the vicinity of valuable monuments. Chaldoran hot spring is a natural attraction in the province that attracts many tourists. Ahmadabad is another hot spring locating near Takht Suleiman geo-tourism site in Takab.
Are you planning to travel to Iran? Check out our Iran tours.
https://irandoostan.com/dostcont/uploads/2020/03/Hot-Springs-in-Iran2.jpg
600
800
Farima Fehrest
https://irandoostan.com/dostcont/uploads/2018/05/logo-idt2-09.png
Farima Fehrest
2020-03-25 13:23:58
2023-09-04 10:15:41
where to find the best hot springs in Iran?