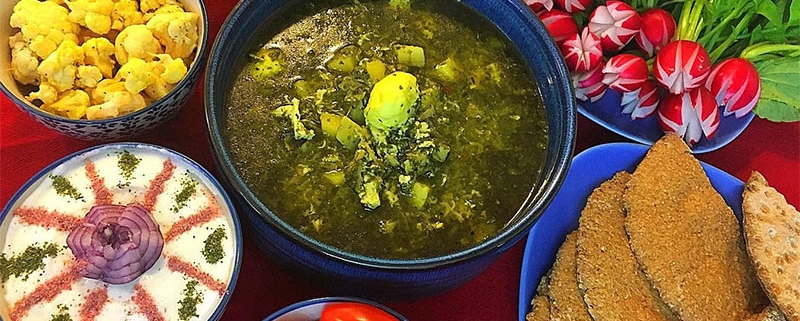 The most unusual foods in Iran you should not miss
Enjoying local food has always been the best part of any traveler's trip. Every country offers its own cuisine which is normally influenced by many factors such as geographical location, climatic conditions, and culture. Traveling to Iran, an ancient vast land with a diverse climate in every corner of the country, you will find various delicious foods, some may sound strange to you at first but they are totally worth trying. Stay with us here in this article to know some of the most unusual foods in Iran.
Kale Pache
Strolling in the streets of Iran early in the morning, you will see Iranians go to special restaurants for a special Persian breakfast. Kale Pache is honestly considered among the most unusual Iranian foods, however, we recommend you not to miss at least trying a bit of this energetic Iranian breakfast!
Kale Pache means the head and hooves of sheep (including the coveted eyes, tongue, and brain) served with sour lemon beside it.
Do not worry! The heads and hooves have been completely cleaned and are cooked with cinnamon and some herbal leaves for more flavor and a pleasant aroma. This thick soup is served mostly in restaurants since cooking it is a totally time-consuming process (it takes at least 8 hours to be prepared).
Haleem
Halim is Asian food, however, it is cooked differently in various parts of Asia. The Iranian version is prepared with Wheat and meat (either lamb or turkey). The highlight of Iranian Haleem is the long time it takes to be prepared to let the meat get as tender as possible, and let you make the most of it. Haleem is often served as breakfast in Iran, a nutritious breakfast keeping you full all day! And is usually served with some butter, cinnamon powder, and sugar on it.
The long hours this food demands to be prepared has caused it to be available more in restaurants than homes. However, there are Iranian ladies who cook this appetizing Iranian food at home.
Ab Doogh Khiar
Persian cuisine is not only delicious but also therapeutic! Ab Doogh khiar is among the most unusual Iranian foods that help you survive in hot summer days! It used to be specially served in cities in the central part of Iran which are surrounded by deserts; however, it became popular all around the country later. Doogh is a kind of traditional Iranian drink made of sour yogurt, and khiar is actually cucumber, a mixture of these two with some dried mint, some walnuts and raisins make a simple yet tasty combination which is served by special kind of local bread.
If you have a call to travel to Iran during the summer, you should not be missing this amazing food at least once.
Dizi or Abgoosht
Dizi is an amazingly tasty traditional Persian food dating back to hundreds of years ago. Dizi is actually the name of a special little pot made of stone in which the food is cooked and served, the food is also called Abgoosht, meaning meat broth, by Iranians. You can still find this kind of container used to serve Abgoosht in traditional restaurants in Iran.
Abgoosht is a high-calorie food, made of lamb and chickpea; so, it is a good source of protein mostly preferred in winter. Although in various cities of Iran, the locals may also add other ingredients such as potato or tomato, the food is served and eaten the same way all over the country. The broth is consumed after adding small pieces of bread dipped into it and stirring, the remaining ingredients are mashed and consumed with traditional bread. Pickles, onion, fresh vegetables, and Doogh (as a drink) are usually served beside this traditional food.
Eshkene
Eshkene is actually a kind of classic onion soup in Iran. The food is prepared fast and is mostly served in winter among Iranian families. Frying chopped onions in oil and adding some dried mint and crushed walnuts, water will be poured on it. When the water is boiled and thicken enough, some eggs would be added.
Eshkene may not be among the most unusual foods in Iran, but the way it is served and consumed may seem somehow strange to people from other countries; much same way as Abgoosht, it is eaten with pieces of bread dipped into the soup and fresh vegetables beside it.
Sirabi
Sirabi is a traditional Iranian food made of lamb's tripe, chickpeas, onion, garlic, and saffron. Tripe is actually the stomach of a cow or sheep. This food is time-consuming to be prepared, it will take at least 12 hours for the tripe to become tender. It may not be originally from Iran since the food is served in some Eastern European countries, but the way it is cooked and the spices used, make it particularly Iranian and unique.
Iranian Macaroni
Macaroni is the Persian style spaghetti prepared in a different way from the Italian one. It may be interesting to know that Iranians treat pasta like rice, it means the pasta will be steamed for about an hour and then it is ready to be served. The sauce recipes is a mixture of a chopped onion being fried with grind meat and some spices, mushroom and tomato paste. The recipes are similar for all kinds of pasta cooked in Iran.
After boiling the pasta in water, it is rinsed and then steamed in a pot with this special sauce and also slices of potatoes at the bottom of the pot. Waiting for an hour or less, Iranian Macaroni is ready to be served with crispy potatoes.
Are you a fan of Iranian food? Maybe the Iran food tour is suitable for you.
https://irandoostan.com/dostcont/uploads/2020/03/Eshkene.jpg
600
800
Farima Fehrest
https://irandoostan.com/dostcont/uploads/2018/05/logo-idt2-09.png
Farima Fehrest
2020-03-29 19:23:20
2023-10-23 10:06:12
The most unusual foods in Iran you should not miss