Yazd, the City of Wind Catchers
The five thousand year old city of Yazd located in the center of Iran is one of the greatest adobe cities of the world. It is one of the driest cities of Iran with the minimum amount of rain or snow falling; however, the dry climate of Yazd has been a blessing for it to get flourished in art and architecture. Recently, Yazd has been inscribed on UNESCO's world Heritage List as a priceless adobe city embracing many pre-Islamic and Islamic attractions. Yazd, the city of wind catchers  is also well-known as the jewel of desert. It is a "do not miss destination "for tourists who travel to Iran.
Literally, Yazd means holy and sacred. The city of Yazd has taken its name from Sassanid ruler "Yazdgerd the 1st". During Sassanid dynasty, Zoroastrianism was the dominant creed of Yazd people. Today, there are some Zoroastrian attractions in Yazd such as Zoroastrian fire temple (Atashkadeh) that is believed to have a fire burning since 470 AD, and towers of silence (Zoroastrian's Dakhmeh). Towers of silence are located out of the city of Yazd and they are not in use today; however, once these two circular structures on the top of two adjacent hills were places to leave the dead bodies for scavenger birds to pick at.
Yazd is located between the largest deserts of Iran: Dasht-e-Kavir and Dasht-e-Lut. Therefore, its location in the arid area has protected it against many attacks devastating other cities of Iran. Moreover, people of Yazd adapted themselves to the climatic condition  of Yazd and applied their knowledge for making it a good place to live rather than abandoning the city. They made their homes out of adobe clay which reflected the sunlight and received less sun heat. The architecturally unique city of Yazd has maintained its old context and today it is really pleasant to stroll through the labyrinth-like alleys of Yazd and to get lost in the narrow lines full of stories of ancient times.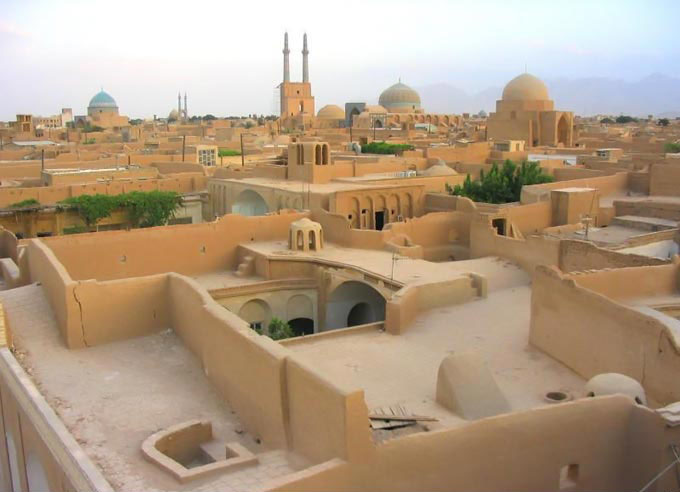 Yazd is one of the greatest adobe cities of the world
To survive the hot summer days, the architects of this ciy designed wind catchers (wind towers) called Badgir in Persian. The wind catchers act like natural ventilators. They are in shape of high structures designed to cool the inner environment of the houses by receiving the wind; cooling it, and directing the stream of cool wind into the inner spaces. Usually, there are big or small ponds below the wind catchers to make the ventilation more effective. The tallest wind catcher in this dry city is located in Dowlatabad Garden; a fantastic Persian garden inscribed on UNESCO's World Heritage List.
Qanat is also another Persian innovation elaborately applied in Yazd. To provide water, local people took advantage of Qanat technique and Qanat makers were the most skillful in Iran.
After the advent of Islam in Iran in 651 AD, the majority of local people gradually converted to Islam. Therefore, this city enjoys a variety of Islamic architectural structures and elements as well.
Amir Chakhmaq complex is a prominent architectural structure in Yazd and it was built in the 15th century by Jalal al Din Amir Chakhmaq who was the ruler of the city in the Timurid era. It has a three storey façade and it is famous for the symmetrical arched alcoves. It is a mosque located on the square called Amir Chakhmaq square and gets glorious at nights when it is lit up with orange lighting. Since Yazd is a family centered city, it enjoys families' company in different parts of the city such as Amir Chakhmaq complex.
Jameh Mosque (Masjed Jameh) is also famous for its outstanding architecture. It has the highest minarets in Iran and the entrance of the mosque is decorated with dazzling ceramic tiles. The history of Jameh Mosque dates back to 12th century. The sanctuary chamber within the mosque is called Shabestan and it is decorated with faience mosaics. Moreover, the perfect patterns of mosaic tiles and brick work make an awesome beauty that is very attractive for the tourists.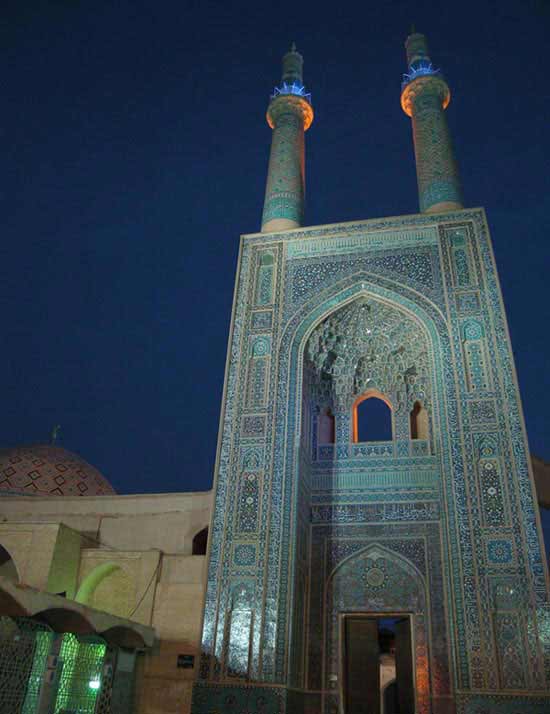 Jameh Mosque of Yazd has the highest minarets in Iran
The reputation of this amazing city is also for its magnificent handicrafts especially textiles. Once in 13th century, Marco Polo traveled to Iran and described Yazd as a city with a fine silk weaving industry. Today, it is one of Iran textile industry centers. Kilim, small carpets, rugs, ironworks, pottery, and ceramics are among the great handicrafts here. Tourists usually buy handicrafts and Yazdi delicious sweets such as Baqlava and Qotab as Yazd souvenirs.
Yazd has kind and approachable people as well. It is interesting to know that the people here speak with Yazdi accent which is different from the main accent of Iranian people. Moreover, they know the value of their cultural treasure and play an important role in maintaining their cultural heritage.
Are you planning to travel to Iran? Check out our Iran tours.