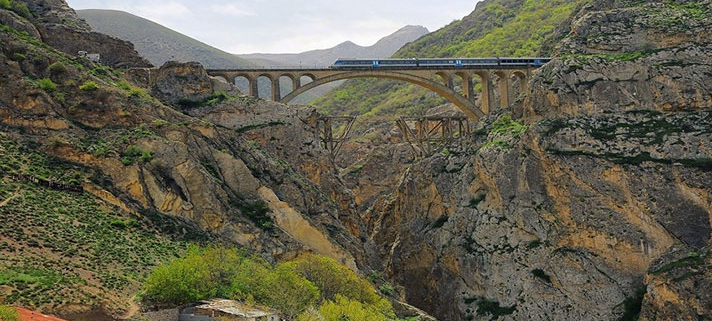 Trans-Iranian Railway Inscribed as UNESCO World Heritage
The Trans-Iranian railway was inscribed as UNESCO world heritage in July, 2021. This is the longest railway on the list of UNESCO, and Iran's first industrial heritage that has been recognized for its "outstanding universal value". The number of Iran's UNESCO-listed tangible cultural heritage has now reached 25.
The construction of the railway dates back to 1927, connecting Tehran to Bandar Torkaman Port on the Caspian Sea in the north of Iran and Imam-Khomeini Port on the Persian Gulf in the south of Iran. The length of this north-south railway is 1394 kilometers. However, the prominence of this railway in Iran is more than connecting north of this vast land to the south! It is considered a turning point in Iran's history, since its construction is regarded as the start of modernism and development in Iran during the past century. Outstanding technical features and quality of this railway, and the fascinating landscapes it passes through has made it a unique cultural heritage. we would welcome any inquiry you may have about traveling to Iran, check out Iran heritage tour and please do not hesitate to contact us at info@idt.ir.
https://irandoostan.com/dostcont/uploads/2021/07/Trans-Iranian-Railway.jpg
366
712
Farima Fehrest
https://irandoostan.com/dostcont/uploads/2018/05/logo-idt2-09.png
Farima Fehrest
2021-07-27 16:04:41
2023-07-16 11:05:53
Trans-Iranian Railway Inscribed as UNESCO World Heritage