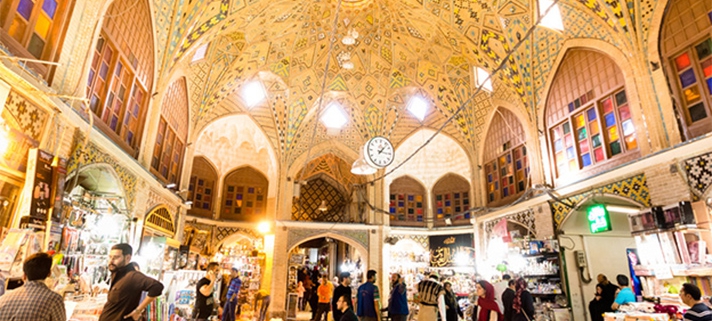 Best Iran Bazaars: from Tehran bazaar to Tabriz bazaar
Iran bazaars are among the astonishing tourist attractions that will amaze tourists and travelers with their various colors, flavors, and fragrances. There are many attractive subjects for photography and more important than photos, it is a place to keep in touch with people from different social and economic classes all wandering in bazaars to exchange goods and greetings, to do business, to pray, and simply to have some tea.
The traditional Iranian bazaar is a roofed complex of shops, passageways, caravanserais, bathhouses, and squares. It is not limited to business and commercial acts, it is a place for relationships. It is a place that provides the opportunity for individuals to discuss and exchange opinions. In fact, bazaars are for commercial, social, cultural, religious, and political activities. For Iranians, the bazaar looks like Piazaa for the Europeans and Hiroba for the Japanese. Not only does Iran embrace traditional bazaars as roofed complexes of shops and passageways, but also it embraces great malls and modern bazaars as the more entertaining parts of the major Iranian cities. Bazaar is the heart of Iranian cities leading to urban growth and it has provided a strong social and physical network constructed through the ages.
The word 'bazaar' has a very long history and its use in Iranian towns and cities may date back to 300 B.C. (Kermani & Luiten, 2009). The origin of term bazaar refers to the ancient Persian word Wazar. It is defined as a place for trade with two rows of shops connected to each other by a vaulted roof. Bazaar is also one of the most prominent socio-spatial systems of Iranian cities. Bazaar is one of the main factors of spatial organization in Iran and it is impossible to define the main body of the city, especially in traditional cities without it.
The structure of traditional cities in Iran is based on its bazaars' economic and political factors. In Iran, the traditional bazaars usually have a linear form, and other spaces and buildings such as mosques, and bathrooms are organized along this linear form.  Many cities grew around bazaars and the bazaars were always surrounded by mosques, bathhouses, tea houses and etc. The role of bazaars in the structure of Islamic cities is so important that some believe that bazaars are the main core of Islamic cities; however, some others believe that the main core refers to the Jameh mosque at the city center.
As it was mentioned, Iran bazaars are not just a place for commerce. The traders and merchants had the economic power to support social, political, and religious movements, therefore, they were among the most influential group of people in the traditional urban society. That is why bazaars were also places to make and support social, political, and religious movements, and Bazaariha-a merchant and trader- have ever been a vital part of the movements and protests in Iran.
Fantastic architecture, great construction, long history, and amazing people are all combined together to create a mesmerizing atmosphere in the bazaars of Iran. Each city has its own bazaar; however, some of the bazaars are well known either for their perfect architecture or their strategic location.
To have such a perfect experience and to purchase priceless handicrafts as souvenirs, travel to Iran and visit the best bazaars in Iran.
Tehran Grand Bazaar
Tehran Grand Bazaar has roots in Safavid, Zandiyeh, and Qajar periods; however, the major parts of the Tehran Bazaar were constructed in the Qajar period. The intertwined labyrinthine of Tehran Bazaar as one of the most beautiful parts of Tehran is an amazing tourist attraction where one will find everything such as colorful carpets, priceless jewelry, aromatic herbs, delicious food, and delicious nuts and shells. That is the place one would find people from all walks of life.
Tehran Grand Bazaar is one of the fundamental business hubs of Iran and it has an amazing economic structure. It is divided into many parts each of which is dedicated to a special business. There are many serays (alleys,), caravanserais, hojrehs (shops), and so forth. It has also had a historic role in political, cultural, and social changes. The Iranian constitutional revolution is one of the most important historic events in which bazaaris had an important role. Tehran Grand Bazaar has elaborate architecture and structure as well. The shops at rows are connected to each other by the arched roof and there are different alleys for each of the businesses. It also encompasses other traditional buildings such as coffee houses, zorkhaneh, bathhouses, mosques, and so forth. One could visit the old and historical restaurants and coffee houses in bazaar and enjoy having some delicious Persian food there. Tehran Grand Bazaar is close to Golestan Palace as well. Then, you will have the chance to visit one of the UNESCO world heritage sites and listen to the history of Tehran.
Tajrish Bazaar
Tajrish Bazaar located north of Tehran is also one of the colorful bazaars of Iran. It is less chaotic than Tehran Bazaar and it is close to some other tourist attractions such as Imamzadeh Saleh as one of the holy shrines in Tehran, Darband, and Darakeh the northern mountains of Tehran, Niavaran Palace, and Saadabad Palace as the fantastic remains of Pahlavid era in Tehran. It is a tourist-friendly spot for shopping, relaxing, drinking tea, and enjoying the view of the mountains. Tajrish Bazaar has a central square that sells fresh fruits and vegetables, Persian sweets, and many aromatic herbs. It has many passageways reaching different shops where one can buy sweets and savories, dairy, nuts, dried fruits, clothes, and so forth. If one has the chance to be in Iran before Nowruz, Tajrish Bazaar would be a perfect place to enjoy the hustle and bustle of the New Year.
Tabriz Bazaar
Tabriz Bazaar is the oldest bazaar in Iran and one of the oldest ones in the Middle East.  As a historic bazaar constructed and decorated with many arcades, red bricks, and stucco, it is registered as a priceless UNESCO World Heritage Site. It has been a place for commercial and cultural exchange since antiquity. Located on the Silk Road as one of the most fundamental east-west trade routes, Tabriz Historic Bazaar Complex embraces a series of covered brick structures and enclosed spaces each dedicated to a different function.
Tabriz and its historic bazaar were famous when the city was the capital of the Safavid dynasty, later it lost its fame, but it remained as a commercial hub for centuries. It is one of the best traditional bazaars well known both as a place for commerce and a place for social gatherings, religious practices, and political movements. It is true to say Tabriz Historic Bazaar is one of the most important commercial, social, cultural, and architectural complexes among bazaars, and over centuries, it is a place for people from different cultures to gather together in a unique environment.  As a fantastic example of a multi-functional complex, architectural structures are shaped by commercial activities.
In 2010, UNESCO declared Tabriz Bazaar a World Heritage Site playing the role of a commercial hub located along the ancient Silk Road. Centuries before, great travelers such as Marco Polo and Ibn Battuta praised Tabriz Bazaar in their travelogues describing it as one of the most beautiful bazaars in the world. Tabriz Bazaar is located in the center of the city and it consists of several sub bazaars each dedicated to selling some specific goods such as Persian rugs, carpets, jewelry, spice, and copper. However, Amir Bazaar for gold and jewelry, and Mozzafarieh for carpet are among the well-known sub-Bazaars. Tabriz Bazaars has an important role in political changes too. The Iranian Constitution Revolution in the last century and Islamic Revolution are the most important ones.
Vakil Bazaar
Vakil Bazaar (Bazaar-e-Vakil) located in Shiraz, the city of love and poetry, is one of the most beautiful bazaars in Iran. It was constructed about 200 years ago by the order of Karim Khan the king of the Zand period.
Vakil Bazaar is located in the center of the traditional part of Shiraz and it enjoys vaulted brick avenues known as the masterpiece of Zand Architecture. It was designed so elaborately that the interior part remains cool during hot summer days and warm during long-lasting winters. The vaulted brick ceiling keeps it cool or warm in different seasons by regulating the temperature.
Vakil Bazaar is an amazing place to wander around for hours and enjoy purchasing lots of souvenirs varying from colorful carpets and clothes to gorgeous handicrafts and diverse spices. Vakil Bazaar is one of the main attractions of Shiraz and it is a great part of the Zandieyeh Complex that also includes the Vakil Bathhouse, Vakil Mosque, and arg of Karim Khan. To experience some sweet moments there, one should drink a cold glass of Khakishir a popular detoxing seed-based drink, or have a full bowl of Faloodeh a delicious combination of rice noodles, iced rose water, and sugar. Nasir al-Mulk Mosque, Zinat-ol-Moluk House, and Shahe-Cheragh are also attractions close to Vakil Bazaar.
 The Grand Bazaar of Isfahan
The Grand Bazaar is also known as the Qeysarrieh Bazaar is one of the historical bazaars of Iran located in Isfahan. Being adjacent to Naghshe Jahan Square as a UNESCO world heritage site and also as a reminder of the glory of the Safavid era, it is a must-see attraction in Isfahan.  The Grand Bazaar is one of the oldest and longest roofed bazaars in Iran as well as the Middle East linking the old region of the city to its new one. The architecture of the Grand Bazaar of Isfahan enchants visitors with its elaborate details, vaulted roofs, and beautiful alleys. One needs to stroll around to enjoy it all and to find out priceless handicrafts such as carpets, kilims, Minakari, and Qalamzani.  The bazaar has many alleys and lanes. Each of the lanes is an entrance to many shops selling particular goods such as carpets, kilims, gold, silver, spices, herbs, handicrafts, etc. That is a great experience to walk along vaulted pathways, enjoy the scents and colors, watch and chat with people, and buy some souvenirs in the Grand Bazaar of Isfahan.
Bazaars of Yazd
The five-thousand-year-old city of Yazd is one of the greatest adobe cities in the world. Yazd has been inscribed on UNESCO's World Heritage List as a priceless adobe city embracing many pre-Islamic and Islamic attractions.  The bazaars of Yazd are among the most astonishing attractions one should never miss. The old bazaars of Yazd with their outstanding Islamic architecture, gorgeous wind catchers, and minarets are among the astonishing attractions one should not miss. The bazaars of Yazd as both historical attractions and business hubs and they include mosques, caravanserais, schools, and water reservoirs.
Bazaars are the right place to enjoy and buy traditional handicrafts and souvenirs such as handmade jewelry, painted tiles, termeh, silk and wool handwoven fabric, pottery, carpets, and rugs. Darvazeh Mehriz Bazaar, Tabrizian Bazaar, Zargari Bazaar, Mesgari Bazaar, Panjeh Ali Bazaar, Haji Qanbar Bazaar, Qeisariyeh, and Bazaar-e-Khan are among the most significant bazaars of Yazd. Haji Qanbar Bazaar included in the Amir Chakhmaq cultural-historical complex is the oldest Bazaar of Yazd, and Qeisariyeh located between Khan Square and Khan School is the most beautiful bazaar of Yazd. Qeisariyeh is among the most famous bazaars in Iran and it is protected by two exquisite wooden gates.
Are you planning to travel to Iran? Check out our Iran tours.
https://irandoostan.com/dostcont/uploads/2018/12/Iran-Bazaars.jpg
366
712
Farima Fehrest
https://irandoostan.com/dostcont/uploads/2018/05/logo-idt2-09.png
Farima Fehrest
2018-12-06 11:52:26
2023-11-08 11:02:03
Best Iran Bazaars: from Tehran bazaar to Tabriz bazaar