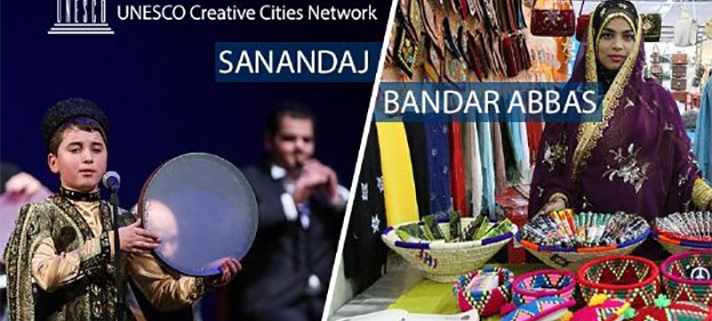 You are probably familiar with the UNESCO World Heritage List. According to its criteria and standards, UNESCO registers tangible and intangible works to protect those valuable works. Since 2004, UNESCO has launched the Creative City Network to promote inter-city cooperation. The member cities of this network work together to achieve their common goal. Their common goal is to put creativity and cultural industries at the center of local development programs and international cooperation. The UNESCO Creative Cities Network covers seven creative areas: handicrafts, indigenous arts, media arts, film, design, food, literature, and music. These cities are committed to sharing their positive activities and building cooperation between the public and private sectors and civil society. To date, Iran has registered three cities as creative cities in UNESCO. In the following, each city is explained separately.
Rasht, City of Gastronomy
You can get easily get confused in choosing food while going to the good local restaurants in Rasht. There are variety of local dish each has its unique taste. This variety of foods has listed Rasht as a city of Gastronomy in UNESCO in 2015. One of the reasons for this decision is the creative combination of local and seasonal food with the local culture of the region. Rasht cuisine has been passed down from generation to generation not only in old recipes but also in cooking methods and the proper use of utensils. Therefore, in Rasht, as a creative city, we are faced with unique food culture. The membership in the creative cities network makes a potential link between tourism, economic development, and gastronomy for Rasht.
Bandar Abbas, City of Crafts
Although, in Bandar Abbas, there are various cultural features such as seafood, folk music, handicrafts, and indigenous arts, handicrafts have become more important due to their antiquity. As a feature of this creative city, handicraft was registered in UNESCO in 2018. Bandar Abbas handicrafts include three sections include: functional handicrafts, local clothes, and local musical instruments. Bandar Abbas handicrafts are a significant part of the country's economy and an opportunity to generate income at the local and national level, and later generations can develop it in the future. Being selected among the UNESCO Creative Cities Network will make Bandar Abbas more valuable, and hopefully there will be more tourists traveling to this city. The traditional bazaars and the men and women who wear traditional clothes and produce handicrafts in this area are so attractive that it fascinates every tourist.
Sanandaj, City of music
You may think the city of music would be a great compliment! Sanandaj, as the second-largest Kurdish city in Iran, is well recognized for its music. Many great musicians have been introduced to the world by this city.
In Sanandaj, the Daf is introduced as a national musical instrument. Due to the importance of music in this city, it was registered as a creative city of music by UNESCO in 2108 to provide a way to develop this special style of music. Playing Daf in various ceremonies in the Khosro Abad mansion is one of the beautiful examples of music in this city that attracts many tourists every year.
https://irandoostan.com/dostcont/uploads/2021/11/Unesco-Creative-Cities.jpg
366
712
Sarvenaz Attari
https://irandoostan.com/dostcont/uploads/2018/05/logo-idt2-09.png
Sarvenaz Attari
2021-11-28 21:43:15
2021-11-29 14:12:15
Iranian cities among the UNESCO Creative Cities Network