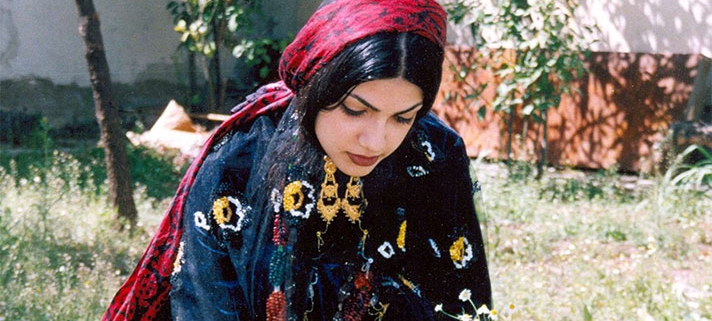 Clothing is one of the things that changes over time for various reasons, particularly traditional clothing. But some rural's and nomad clothes remain unchanged, and local people wear the local costume of their village. One of the most beautiful cultural attractions of any city is its local clothing. As a rich-cultural land, Iranian tribes' clothing is quite rich and diverse, every region has its own costume that will be explained in this article.
Qashqai Clothing
Qashqai tribe is one of the Iranian tribes that live in Fars province. The most important moral characteristics of Qashqai men and women are simplicity and purity, perseverance, and courage. Happiness and vitality are prominent features of the Qashqai people, the effect of which can be seen in the clothes of these people. So, most of them are colorful and have unique and beautiful designs. One of the positive features of Qashqai women's local clothes is that they protect their bodies from cold and heat. Anyone can buy these clothes according to their budget. Also, men's original Qashqai clothes have a special beauty and will not bother their mobility. Nomadic women use a fabric called Charqad to cover their hair. This fabric, which acts as a scarf, is very delicate and has rare designs. All Qashqai men should always wear a hat, double-edged made of felt.
Bakhtiari
The Bakhtiari tribe has one of the most original and beautiful Iranian tribes' clothing. Their clothes correspond to their lifestyle and type of activity. Bakhtiari women's local clothes have a significant variety and differ in the type of fabric, sewing, and decorations. They wear colorful clothes with various designs in daily life, migration, parties, and weddings. Beaded and sequined embroidery of Bakhtiari clothes shows the great taste and skill of Bakhtiari people in sewing clothes. Whether in weddings or mourning ceremonies, men's clothes are Chogha and Tonban and hats, and only the shirt under the Chogha differs in color. Each dress may represent a specific stratum because of an acquisition of social status based on clothing. Wealthy Bakhtiari people wear long fluffy hats called Khosravi hats and Chogha Kiarasi, but cheap and raw materials are used by the lower classes of society.
Turkman
Turkman clothing is usually made of silk, leather, linen, and cotton. Turkman women are responsible for raising silkworms and preparing cocoons and dyeing them with natural dyes such as seeds and bark of pomegranate, indigo, and other desert plants. Turkman men's clothing consists of parts such as trousers, hats, and shoes. Traditional trousers are of two types: Balaq or Tonban, which is a loose cotton Tonban, and Jolbar which are often worn by older men at festivals. Turkman women have four types of clothing, including home clothes, work clothes that are commonly used for baking bread and agricultural work, city clothes for leaving the house, and formal clothes for attending parties. It is interesting to know that hat is another type of clothing that is usually used after marriage as a sign of being married.
Kurdish
Kurdish men's and women's clothes are beautiful and available in various colors and are made of different parts and high-quality materials. They have special etiquette in covering and even wearing a scarf or shawl. You can find out the social class and the level of family finances according to the color, shape, material, and ornaments. Kurdish women's clothing has beautiful decorations that can not be found in men's clothing. They are based on various popular beliefs. They are mostly made of silk, velvet, and satin, which are decorated with sequins, stone, tapestry, and beads. Kurdish women tie shawls around their waists. These shawls come in a variety of colors and are woven from a beautiful fabric that is sometimes ribbon-shaped and sometimes square. Kurdish men's clothing is often loose to make it easy to walk through mountains and difficult routes. The color, design, and model of each dress are different according to the weather and its use in work or ceremonies, and celebrations. Men's clothing is much simpler than women's clothing and is usually made of one color like brown, blue, or gray.
Azeri
Clothing for the people of Azerbaijan is not just simple clothing but also tells a thousand points about the ancient history and culture of the people of this region. The abundance of raw materials in this ancient land has led to the development of weaving with wool and silk. Women are more interested in silk or velvet clothes, and men often wear woolen fabrics. Young girls' clothes have bright and cheerful colors decorated with jewelry, but older women wear clothes with soft colors and little embellishments. Of course, in aristocratic and wealthy families, most clothes, including Bork and vests are more decorated with coins. In the past, the clothes of most Azeri men were made of white shirts with sleeves and a round collar, but after 1314, their clothing gradually changed a lot.
Balooch
Balooch clothes are from the original Iranian tribe's clothing, which gives you a poetic feel. Balooch needlework is a delicate and long-standing art. The designs are exclusively geometric, which arise from the combination of lines and shapes. They are divided into several categories: plant motifs, cosmic motifs, and animal motifs. The clothing of Balooch men and women is simple and at the same time, beautiful and suitable for the hot climate of Baloochistan. Balooch men's clothing usually includes a long shirt and baggy pants. the unique art of needlework is used in sewing and decorating women's clothes, which is displayed on the chest, sleeves, and edges of the pants. Interestingly, what completes the beauty of Balooch women's clothing is jewelry ornaments, which is also one of the traditional and original arts of the region. Balooch women attach great importance to jewelry.
Are you planning to travel to Iran? Check out our Iran tours and Iran nomads tour.
https://irandoostan.com/dostcont/uploads/2022/01/Iranian-tribes-clothing.jpg
366
712
Sarvenaz Attari
https://irandoostan.com/dostcont/uploads/2018/05/logo-idt2-09.png
Sarvenaz Attari
2022-01-05 21:32:09
2023-08-30 17:07:12
Iranian Tribes' Clothing