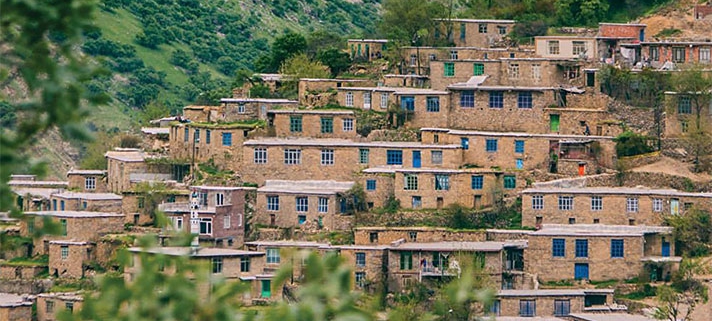 UNESCO inscribed Uraman on the list of world heritage sites
Uraman Takht, the undercover gem in the heart of Iranian Kurdistan embraces a unique history, architecture, culture, and people. UNESCO has added this outstanding village to the list of world cultural heritage sites. The number of Iranian cultural word-heritage sites has now reached 26 and we hope to have much more sites of such a culturally rich country on the UNESCO list.
This gorgeous village is a historical one which was formed over forty thousand years ago. In addition to the long history of the village, stone tools of the primitive cavemen and the bones of the hunted animals, that are thousands of years old, have been found around in this region. There are loads of stories and myths among the local people representing that the area was once one of the significant regions of the country during history.
As a stepped village, Uraman's construction is inspired by nature, the houses have been built on a steep mountain in a way that come to amaze many visitors. The roof of one house is the upper house yard! The architectural design of Uraman represents one of the best practices of ecologically-friendly, nature-connected design.
And finally, surrounded by high mountains and never-ending greenery landscapes the region offers a fascinating scenery. However, as you walk into the village what you will be impressed by Kurdish people kindness and hospitality. Kurdish people with their colorful special costume will invite you to a super tasty local food, a tea, and a friendly gap. This is most probably what you are going to remember from your trip. we would welcome any inquiry you may have about traveling to Iran, please do not hesitate to contact us at info@idt.ir.
Congratulations on this achievement to the local people of Uraman who are the guardians of this legacy. We believe this cultural heritage would never exist without you.
Are you planning to travel to Iran? Check out our Iran Heritage Tour.
https://irandoostan.com/dostcont/uploads/2021/07/Uraman1.jpg
366
712
Farima Fehrest
https://irandoostan.com/dostcont/uploads/2018/05/logo-idt2-09.png
Farima Fehrest
2021-07-28 14:28:03
2023-09-03 10:41:00
UNESCO inscribed Uraman on the list of world heritage sites