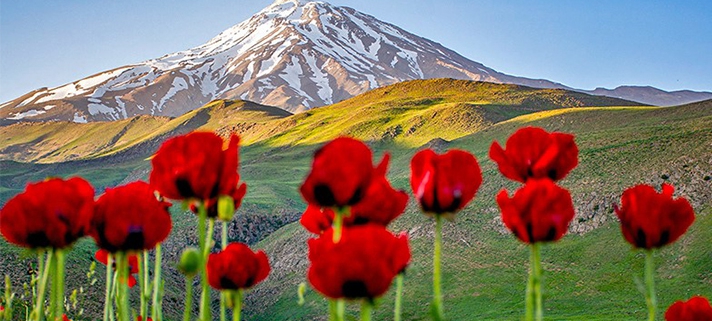 Iran Mountains for Climbing and Skiing
Climbing mountains may not appear as simple as most people think, but doing so will undoubtedly enrich your life. Adventurers or mountain climbers do not need reasons to climb mountains. We've got what you're looking for if you're looking for your next exciting mountain hike! Iran Climbing Tours, Iran Ski Tours, and Iran cycling tours are all available here at Iran Adventure Tours. Here are some of the most spectacular mountains in Iran that are excellent for those with a heightened sense of adventure.
Mount Damavand
A mountain lover's paradise, Damavand is loved by many. Damavand is the highest peak in the Middle East. This majestic volcano is commonly referred to as "the roof of Iran" because it elevates 5,671 meters. This beautiful mountain in the Alborz range is more than just natural beauty. In Persian mythology, this glorious mountain has played a prominent role since ancient times and is one of the symbols of Iran. Damavand is also one of the most impressive summits in Iran due to its unique nature and different shelters and facilities. Climbing mount Damavand requires average technical skill levels, which makes Damavand an excellent choice. The following three routes lead to Damavand's summit: from the south, north, and northeastern sides.
Sabalan Mountain Climbing
At 4,811 meters in height, Mount Sabalan is Iran's second-highest mountain, situated in the Alborz Mountain range. The Soltan Peak, Sabalan's highest peak, features a beautiful lake, making it a popular hiking and climbing spot for professionals. As well as being a fabulous trekking destination, Sabalan's scenic nature and its hot springs make it an ideal place for other sports and activities. In order to ascend Sabalan, you can choose one of the three routes: the southern route, the western route, or the northeastern route. A majority of people prefer to climb Mount Sabalan via the northeast route. During winter in Iran, you can also enjoy Iran Ski Tours on this gorgeous mountain.
Alam Kuh
Located in the Kelardasht district in Mazandaran province, Alam Kuh stands high in the Alborz mountain range. Like Damavand, this mountain is a popular natural attraction among hikers and mountain climbers. It is Iran's third-highest mountain at 4,650 meters. Alam Kuh is considered one of Iran's most challenging summits due to its granite walls and technical routes. So, if you are looking for exciting Iran Adventure Tours, this is the place. It is a suitable trekking and climbing destination for mountaineers of all abilities and tastes because of the variety of routes on Alam Kuh. In Alam Kuh, you can choose between two kinds of ascent trails: trekking and rock climbing trails. For rock climbers, high walls or flank routes are the best options. Iran Mountains trekkers can choose between the Hesarchal and Siahsang routes.
Mount Sahand
With a height of 3,707 meters, Sahand is one of the most remarkable volcanoes in East Azerbaijan With a height of 3,707 meters, Sahand is one of the most remarkable volcanoes in East Azerbaijan Province. Sahand Mountain is known as the third of the great volcanoes of Northwestern Iran. In addition to being a popular mountain climbing destination, the region is also excellent for skiing and snowboarding. The Sahand Ski Resort is located about 40 kilometers northwest of Tabriz city on the north slope of Sahand Mountain. An unforgettable ski experience awaits you here, so enjoy skiing in Iran to the fullest.
Mount Bisotun
A high mountain in the Zagros mountain range in western Iran's Kermanshah Province is Bisotun, with a peak height of 2760 meters. Here is one of the most challenging routes for rock climbers worldwide. The world heritage site and historical attraction of Bisotun make it more than just a climbing destination. There are several inscriptions and carved monuments at Bisotun, including the most famous and first known Iranian inscription. There have been many epic Persian literary works and poems mentioning this precious mountain.
Zard Kuh
In summer, Bakhtiari nomads camp in the Zard Kuh Mountains, surrounded by several peaks, rare plants, and flowing springs. Zard Kuh is a stunning mountain you do not want to miss. Zard Kuh Mountains are part of the Zagros Mountains in southwest Iran, making them one of the most scenic mountains in the country. Located in Chaharmahal and Bakhtiari Province, Kuhrang is the best place from which to summit this top Iran mountain. It is challenging to climb in the winter because there are deep valleys and high walls west of the mountains. During the winter, snow skiing is another popular activity in the mountains, which you can experience with our Iran Ski Tours.
Hezar Mountain Climbing
Hezar (or Hazaran) Mountain, with a height of 4510 meters, a stunning mountain in southern Iran, is the highest summit in Kerman Province. This summit has the lowest gravity in Iran due to its distance from the center of the Earth. The plant diversity of Hezar has given it the name Hazaran, meaning thousands, as you can find thousands of various plants. Depending on your professional and physical capacity, summiting Hezar Mountain can be an intense 1-day or a one and a half-day plan. There are different routes to reach Hezar peak: Mirshadi, Babbini, Ordikan, Babzangi, and finally Zarrud, which is the easiest and most popular route, which is also equipped with a shelter. Even in winter, Hezar can be summited, but you should keep in mind that it is very snowy and the weather can be unpredictable.
Dena Mountains
There are many hiking trails in Dena Mountain, and plenty of water and unique vegetation make it an ideal multiday trekking destination in southern Iran. This 80-kilometer-long mountain range lies in the heart of the Zagros Mountains. In addition to the central and northwestern mountain ranges, the southeastern and bypath ranges are also part of the Dena Mountain Range. The highest point of Dena, Ghash Mastan (4300m), is in the central region of the mountain range. It is essential to have a good understanding of the routes and a high ability to handle multiday treks to climb several peaks. Another attraction of Dena is the Wildlife and Plant Life in the Mountains, the reason for its status as a National Park.
Shirkooh
Like a sleeping lion in the middle of a vast desert, Shirkooh stands alone at a height of 4075 meters in Yazd province. This highest mountain in Yazd province is a part of the Zagros Mountains. The Shirkooh summit is a good option if you are looking for an easy or average ascent on Iran Climbing Tours. Shirkooh can be summited in one or two days and has shelters near the peak. A permanent spring ensures your access to water along the route as well. Although Shirkooh can be submitted at any time, spring and fall are the best times of year to submit it. Shirkooh has a snowy winter and a relatively hot summer. Although Shirkooh is not as high as other winter ascent destinations in Iran, it is an excellent choice for high-altitude climbs.
Taftan Mountain Climbing
Taftan is a volcanic mountain in southeast Iran, in Sistan and Baluchistan Province. Taftan generally has four peaks and three craters. Its highest summit, Chehel Tan (4042m), has an active crater that emits sulfur vapors. Taftan can be ascended via the shelter route on the western face. It can be reached from Torshab Village on the east, Tamin Village on the north, and Sangan and Khanjak village crossings on the north. Mountaineers often choose the western face route, which also includes a shelter. There is no wrong time to conquer Taftan, but spring and fall are the most ideal seasons. Just keep in mind ascents during the winter are extremely challenging because of strong cold winds.
Are you planning to travel to Iran? Check out our Iran climbing tour.
https://irandoostan.com/dostcont/uploads/2022/10/damavand.jpg
366
712
nelia shidfar
https://irandoostan.com/dostcont/uploads/2018/05/logo-idt2-09.png
nelia shidfar
2022-10-17 16:17:56
2023-10-18 15:48:49
Iran Mountains for Climbing and Skiing