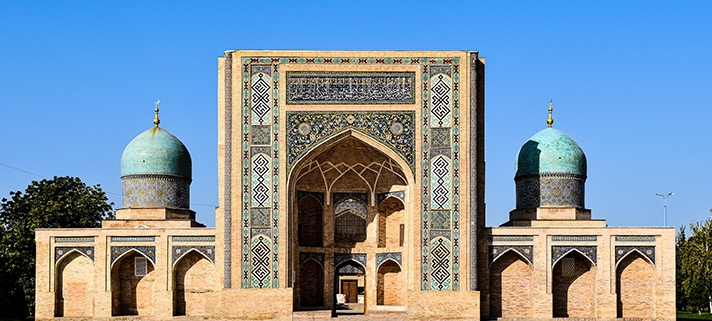 Things to Do in Tashkent, Uzbekistan: Photos, Info
Tashkent is the largest city and capital of Uzbekistan. Stone City has a lot to offer. From historical places with wonderful architecture that have an Islamic theme to unusual places that must be seen. Here are some of the best places to visit in Tashkent Uzbekistan.
Chorso Bazaar
Chorsu Bazaar is one of the oldest markets in Central Asia. It's a large open-air daily market in the heart of Tashkent. At the time, this market was located on the Silk Road and was one of the busiest. Mainly you can find fresh fruit, spices, meat, cooked food, sweets, bread and vegetable to buy here. There is a cloth section too. Visit this place is among the top things to do in Uzbekistan.
Chorso Bazaar is not only for tourists; all locals come to this traditional market for shopping. Do not hesitate to bargain in this market because you can buy your goods at a reasonable price. Shopping at this market is one of the must things to do while in Tashkent.
Metro Tashkent
Metro Tashkent is a popular transport system in the city. While you are going from visiting one attraction of Tashkent to another by metro, we must say that you are in a sightseeing place in Tashkent.
Architecture is fabulous here. It seems that the architectural aesthetics of metro stations are prevalent in former Soviet countries because we see these beautiful stations in cities like Kyiv in Ukraine as well.
If possible, visit all stations you can. Some tourists managed to visit 9 stations in 2 days. Metro ticket is very cheap.
When you get on the train, stand by the door to get off easily at the beautiful stations. Then get off and take your photos at the station of your choice. After that, you have to wait for the next train to come. It takes less than 5 minutes for the next train to reach the station. Then, you can go to another stunning station.
Teleshayakh (Tillashaykh) Mosque
Don't forget the old part of Tashkent city. Exploring the old quarter of Tashkent is one of the best things to do in Uzbekistan. In this older part of the city, the beautiful blue-tiled domes of Tillashaykh Mosque catch the eye.
Teleshayakh mosque is a part of the large complex where they kept one of the 7 original handwritten Qurans in the museum. The closing time of the museum is 5 P.M.
This complex doesn't have a nearby metro. Therefore, you can either go by Yandex or Taxi. It is not one of the popular attractions of Uzbekistan, but so many tourists who love ancient architecture, come and visit this place.
Independence Square (Mustakillik Square)
The Green, calm and relaxed area of Independence Square is representative and the most significant square of Tashkent. The name transformed over time from Red Square to Lenin Square, and now after independence in 1991, named Independence Square (Mustakillik Square).
It's a spacious open space. In the heart of Tashkent is a central park filled with monuments, fountains, and colorful flowers. Visiting the monuments is the top thing to do while there. There is a monument of a mother with a child in her hands, representing Motherland.
Minor Mosque
This mosque has a soul! The new mosque in Tashkent has a lot to offer. It is better to go to this mosque early in the morning to avoid crowds. At this time, you can take attractive photos. This new mosque has been designed with attention to detail on both the exterior and interior.
You can feel the beauty in each marble stone of this mosque, a white mosque that glistens in the sun.
There is a fountain in front of two fascinating minarets. The mosque area is enormous, about 11 hectares. When you go to this mosque, it is better to wear appropriate clothing because this is the largest working mosque in Tashkent, where worshipers come to pray.
Why is this place called Minor? Because it's in the "Minor" district in the Yunusabad district.
And to answer why this place is called the new white mosque? So, it won't be confused with the historic White Mosque (Ak Mosque).
Old Tashkent
Old Tashkent is the part of this big city where everything is real. Real life, real people, and real food. What do we mean by this? It means that you can find the authentic and honest culture of Uzbeks. Chorsu bazaar is part of the old Tashkent neighborhood where you can find magic in the air.
Walk through the streets of the old city and enjoy the beauty of the culture of Uzbekistan. Here you will find what it's like to be on the Silk Road.
Amir Timur Square
A great park, in honor of a great conqueror. Amir Timur is one of the greatest leaders of all time but the most brutal one. Amir Timur Square is the central square of Tashkent city. Due to the centrality of this square, the first hotel built in Uzbekistan was around this square.
In the middle of the square is the Amir Timur monument. Many tourists visit this square and take pictures of this statue. A blue dome stands out in this square. Inside the building of this dome, you can see exhibitions of Amir Timur's bravery and victories.
Navoi Opera Theater
You will find footsteps of the Japanese in the interior design of this Navoi Opera Theater. If you are a Japanese who visits this place, you will be proud of it, but you should know that although the Japanese built this place, Uzbek culture can still be seen in it.
Tickets are very cheap. You might be able to see one of the most exciting opera performances of your life here for just $5, so it's worth a visit. The performance of ballet and opera is outstanding, and you will never see anything like it again. Navoi Opera Theater is among the things to do in Tashkent. Since this place is near the Amir Timur monument, tourists visit both of these attractions.
Tashkent TV Tower
Like any other TV tower in the world, the Tashkent tower is a landmark in Tashkent. You can see the whole city from the seventh floor. The entrance fee is 40000 Som and for some tourists is a convenient way to enjoy their time.
Go to the eighth floor of this tower, where you can eat a good economical meal in its restaurant and enjoy the spectacular view of the city. It is better to try the authentic Uzbek food, Plov, here. You have to consider that the lift is very crowded regarding COVID-19, so maybe you want to consider taking the stairs.
Japanese Garden
You are welcome to a wedding! If you don't find brides and grooms who photograph their wedding photos here disturbing, then the Japanese garden is among the places you should visit in Tashkent.
It does not look like a Japanese garden, but it has the style of a Japanese garden. The entrance fee costs 20,000 Som per person. Some of the visitors say it's expensive for what you experience here. Overall, it's a nice park where you can have a peaceful moment. Tashkent's Japanese garden is very clean, like the entire city.
A Taste of Elegance in Uzbekistan's Capital
Above, we have named the top best things to do in Tashkent, Uzbekistan. Each of these places has a long history. There are some modern ones, some that keep the country's traditions, and some that are rooted in the people's history.
Are you planning to travel to Uzbekistan? Check out our Uzbekistan tour.
https://irandoostan.com/dostcont/uploads/2023/01/Tashkent.jpg
366
712
nelia shidfar
https://irandoostan.com/dostcont/uploads/2018/05/logo-idt2-09.png
nelia shidfar
2023-01-09 15:20:36
2023-10-02 09:34:22
Things to Do in Tashkent, Uzbekistan: Photos, Info