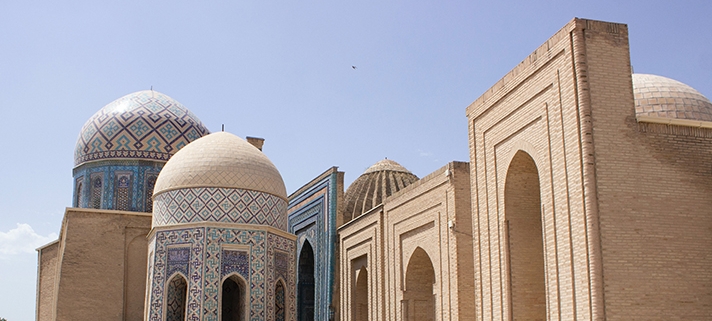 Things to Do in Samarkand: Photos, Info
"If that Shirazi Turk accepts my heart in their hand, for their Indian mole, I will give Samarkand and Bukhara." Hafez, one of the most significant Persian poets says about Samarkand city. That prodigality in his poem causes a lot of trouble for him, but from that, you should know Samarkand is an incredible city with a lot of history and culture. Here are the top things to do in Samarkand.
Registan
When the sun goes down, magical lights show start to illuminate. A fantastic harmony of music and colorful lights is worth the price. But that's not all. Registan square offers plenty of history, culture, and beyond valuation architecture. First, you have to buy a 4$ entry ticket per person.
From left to right, Ulugh Beg Madrasa, Tilya-Kori Madras, and Sher-Dor Madrasah are three historic Islamic schools surrounded by a well-maintained garden that you can visit while there.
The ideal time to visit here is before 11 A.M. if you want to take many photos without being interrupted by people or wedding photographers. We think you should go to this place twice, once in the daytime and once at night. This square has a different atmosphere day and night.
Registan Square is one of the highlights of Uzbekistan's architecture and culture and one of the most astonishing squares you have ever seen. It is among the top things to do in Samarkand, so don't miss out.
Shah-i-Zinda
Quthum ibn Al-Abbas ibn Abd al-Muttalib, a cousin of Prophet Mohammad, brought Islam to Central Asia during the 7th century. Why do we tell you that? Because Shah-i-Zinda is one of the most prominent and holiest cemeteries in the whole world, which contains the sacred tomb of Quthum ibn Al-Abbas.
Shah-i-Zinda means Living king. You will have to wait quite a while to get in because it is quite crowded. Better to have some local currency in cash with you since paying with credit cards takes some time. The entry fee is only 3$ per person.
Like all holy places in the world, you should wear appropriate clothes in this place.
Amir Temur Mausoleum (Gur-i-Amir)
Azure is the color of the sky when it's clear and the color of the waters when the ocean is calm. Azure is the color of Islamic architecture and the color of Amir Temur and his sons' tomb.
The Azure tiled domes of Amir Temur Mausoleum have a unique harmony with the clear sky that creates extraordinary breathtaking, beautiful scenery that shows the fingertips of god and man.
Just a 10-minute walk from Registan Square is where Timur, his two sons, two grandsons, and a scholar Ulugh Beg are buried. The entry fee is 25000 Som.
There are so many things to do in Samarkand that you wouldn't believe, but this place should be on the list of top things to do in Samarkand.
Bibi Khanym Mosque
Bibi Khanum Mosque is another Timur architectural gem in Uzbekistan. It was built by Amir Timur (Tamerlane) as a tribute to his wife. The gift is a reminder of their love.
It is the largest mosque in the 15th century in the Islamic world. An earthquake damaged the main room of the mosque in 1897, destroying a large Koran made of stone as well as the dome above it. The entry fee is 25,000 Som. In the center of the mosque is a sculpture resembling an open Quran. According to local belief, young women who desire children go under this sculpture.
Siab Bazaar
Siab Bazaar is the largest bazaar in Samarkand and the whole country. After visiting Bibi Khanum mosque, you can go to Siab Bazaar for shopping. This bazaar is the original remnant of the Silk Road. Like Chorsu Bazaar, you can find fresh fruits and dried fruits, nuts, vegetables, gift baskets, Uzbekistan Souvenirs, clothes, and flowers. You can find the best almonds and raisins that you ever taste here.
One of the most enjoyable things to try in Siab Bazaar is the local bread "Lepyoshka", locally produced cream "Kaymak", and Uzbek puff pastry with meat or vegetables "Samsa". There is a variety of local Uzbekistan Food to try in Siab Bazaar Samarkand.
Ulugh Beg Observatory
They tell you Amir Temur is a brutal conqueror and killed almost 17 million people during his Conquer. However, every story has 2 sides, just like a coin. In Uzbekistan, Amir Temur is a great hero. You can see his sophistication and intellectual supremacy in Ulugh Beg Observatory. Even though the glory days are over, it is still one of Samarkand's must-sees.
Mirzo Ulugh Beg (Grandson of Tamerlane), a Philosopher, mathematician, and astronomer, built this place in the 1420s. His nickname is the prince of stars. He was the founder of this observatory, which has now become a small museum. You can see all the ancient instruments of stargazing in this place. Also, you can find a huge statue of Mirzo there. There is an entry fee for visiting the observatory, but it is free for the student on Friday.
The Mausoleum of Imam Al-Bukhari
Imam al-Bukhari is one of the prominent hadith scholars of the Muslim world. He was born in Bukhara, but his life ended in Samarkand. The mausoleum of Imam al-Bukhari is 30km far from the Samarkand in the small village. It's among the pilgrimage sites in Uzbekistan.
Locals say if you visit 3 mausoleums in Uzbekistan (The mausoleum of Imam al-Bukhari, Shah-i-Zinda, and Rukhobod Mausoleum) within one day, they say that you have gone on "Small Hajj".
Saint Daniel's Tomb
Followers of all different religions perform worship here. It does not matter if you are a Muslim, a Christian, or a Jew, a trip to Uzbekistan is incomplete without visiting this site.
Saint Daniel's tomb is located on the shore of Siab. It is far from a touristy area. If you like pilgrimage sites, history, and religion, it's for you, but if you don't like these, you can probably skip this part of things to do in Samarkand. The entrance fee is 20000 Som.
Hovrenko Wine Factory
Samarkand has had a wine culture for decades. Uzbekistan started to produce wine after the Russian occupation.
Hovrenko wine factory offers you a local wine-tasting experience you never had like before. Your journey starts with the small museum where you can see the history of this factory and academic information about the wine industry. After that, wine tasting begins with three normal wines, four dessert wines, and three cognacs.
There are so many fine vintage bottles of wine there; you can also buy local wine at a small store there.
Fascinating Attractions Await You!
Samarkand has a lot to offer. Samarkand is one of the best cities in Uzbekistan in terms of culture. They are proud of their hero Amir Timur. If you want to learn more about this period of history, go to Samarkand and visit the sights of Samarkand.
Are you planning to travel to Uzbekistan? Check out our tour of Uzbekistan.
https://irandoostan.com/dostcont/uploads/2023/01/Samarkand.jpg
366
712
nelia shidfar
https://irandoostan.com/dostcont/uploads/2018/05/logo-idt2-09.png
nelia shidfar
2023-01-11 11:13:26
2023-11-26 13:57:50
Things to Do in Samarkand: Photos, Info