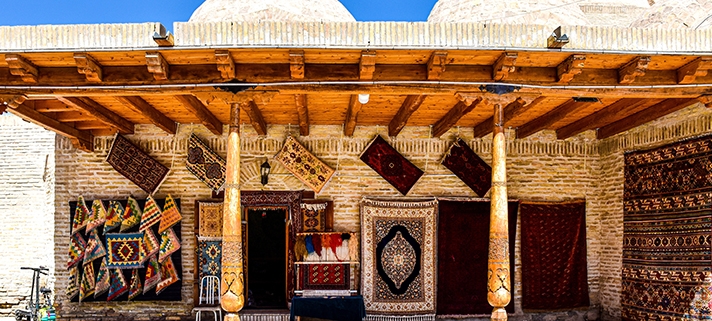 Best Souvenirs of Uzbekistan
Traveling to a new country creates new experiences and opportunities. Shopping and buying souvenirs are among the best things to do while traveling to a new country. Souvenirs are a reminiscence of the culture and identity of a region. Uzbekistan is a fascinating country with a rich culture located in Central Asia. Uzbekistan was once the center of the famous Silk Road and home to many ethnic groups. There are many famous things to buy in Uzbekistan. In this article, we take a closer look at what to buy in Uzbekistan, and we introduce you to some of the top souvenirs of Uzbekistan.
Ceramic Arts
Uzbekistan has a long history of master artistry, and you can visibly see this in the souvenirs of the country. Ceramics are one of the most authentic souvenirs of Uzbekistan. With a variety of colors, different shapes, and unique designs, ceramics are the most beautiful souvenirs of Uzbek Culture. You can find a variety of different ceramics in Uzbekistan since every region in the country has its techniques and designs. Most beautiful ceramics can be found in Tashkent, Bukhara, and Rishtan. Rishtan is very famous for its fascinating ceramics and its art designs. You can find some of the best ceramics in Rishtan, Uzbekistan.
Wood Carvings and Paintings
Wood is one of the most common elements used in every Uzbek House. Wood carvings and paintings on wood are one of the Uzbek traditions passed on for generations. Wood carvings and wood paintings of Uzbekistan are a reminiscence of traditional Uzbek art. Wood carvings are very popular among Uzbek people and can be seen in every Uzbek house. Usually, trees with the most beautiful and high-quality wood are used for carvings in Uzbekistan. Then, master artists design amazing patterns on the wood to create unique wood carvings. Wood carvings and wood paintings can be good souvenirs and gifts for your friends and relatives.
Ikat Fabrics and Uzbek Textiles
Uzbekistan is famous for its textiles and fabrics. In the past, Uzbekistan was the center of the fabric and textiles trades. Some of the merchants would come from around the world to buy Uzbek textiles. Some of the most famous Uzbek fabrics are ikats. Ikats are a kind of light silk fabric that is designed with patterns. The ikats are created using traditional Uzbek techniques, making it very unique. Margilan city in Uzbekistan is well-known for its silks and fabrics. You can find numerous shops and workshops in Margilan of Uzbekistan.
Local Sweets, Dried Fruits, and Navat
It is not a good journey without sweets and snacks. Uzbekistan has some of the most delicious local sweets, such as nuts, dried fruits, and bakery items. Navat is the most famous local sweet of Uzbekistan, which is used along with tea to give it a delicate sweet taste. Dried fruits are another amazing item found in the bazaars of Tashkent and Bukhara. Dried fruits and nuts are a signature of Uzbek people's lives. You can even taste different kinds of dried fruits and nuts before buying them in the bazaar.
Embroidery
Embroidery is another Uzbek tradition that is popular globally. Embroidered purses and bags, embroidered blankets, and embroidered carpets are used in every region of the country. Embroidered purses and bags are common Uzbek souvenirs. They have a wide range of colors and sizes, and their costs start at 15 USD. Embroidered carpets are also unique and beautiful souvenirs. You can buy embroidered carpets to decorate your home.
Another common souvenir and famous product of Uzbekistan is embroidered blankets or suzanis. There are a variety of suzanis in every shop, with a wide range of designs and colors starting at economical prices.
Samarkand Paper
There are a variety of traditional souvenirs in Uzbekistan. Samarkand paper is a unique Uzbek handicraft known for its smoothness, color, and quality. Samarkand paper is one of the oldest traditional arts that is famous all around the world. Uzbek people learned paper production from the Chinese in the 8th century. After that, paper production in Samarkand rose, and Samarkand became a Central Asian center for silk paper production. Today, Samarkand paper is created by the Uzbek people and is widely used inside and outside Uzbekistan. Samarkand paper is very popular in Uzbekistan and abroad.
Puppet
Puppets are very popular in Uzbekistan, especially among children. Many Uzbek people grew up with puppets and play with them or at least watched a puppet theatre when they were kids. So, puppets are an important part of Uzbek culture. Many shops in Tashkent, Bukhara, and Samarkand feature a range of handmade puppets in different colors, sizes, and shapes. If you want to buy a cute Central Asian souvenir, puppets are the ideal choice. Buying a puppet could be the perfect gift for your relatives and nephews.
Miniature Paintings
Miniature art is one of the beautiful Uzbek arts that requires great skill and professionalism to create it. Miniature arts have been popular in the history of Uzbekistan and have played a great role in Uzbek art & culture. They were used to decorate homes and give luxury to designs. Today, miniature arts are independent Uzbek art that demonstrates the history, culture, and stories of the Uzbek people. There are several workshops in Uzbekistan to learn more about the Uzbek art of miniature. You can shop miniature art in different sizes and different designs to always remember your journey to Uzbekistan.
Metal Art and Engravings
You can find knives, daggers, and swords almost in any bazaar of Uzbekistan. Metal art has been a traditional Uzbek souvenir and a part of Uzbek culture. Daggers and knives are usually carved and decorated for elegance and lightness. Most of these metal arts are made by professional masters.
Among the most famous knives are those made by masters in Chust Village. You can find many carved daggers in Uzbekistan's bazaars. If you have a passion for knives and daggers, it is impossible not to fall in love with Uzbek daggers and knives.
Carpets
The ancient tradition of carpet weaving is a big trait of Uzbek culture. Carpet production is one of the colorful Uzbek traditions that has many fans all around the world. These handwoven and fascinating items are priceless. Each handwoven carpet has its unique and distinctive style, adding to its beauty. Today, there are many types of carpets produced in Uzbekistan, including felt mats, flat-woven, pileless carpets, and pile or tufted carpets. Nowadays, carpets are a part of Uzbek people's lives and are used for decorating homes and mosques. You can buy an Uzbek carpet to keepsake your journey and also decorate your home.
Jewelry
The jewelry industry has been a big player in Uzbekistan's economy and culture. The Jewelry of Tashkent, Samarkand, and Bukhara is very well-developed and famous. Jewelry in Uzbekistan is not only a souvenir but also a unique accessory to use in ceremonies and weddings. The jewelry of Uzbekistan has a brilliant design and shows originality and elegance. The details of the jewelry designs are unique and very different from other accessories. The jewelry in Uzbekistan is made by skilled masters who work passionately to create some of the most beautiful jewelry pieces. You can find several jewelry stores and shops in Tashkent.
National Hats and Clothes
Uzbekistan is also famous for its traditional clothing. From hats to coats, socks, and shoes, Uzbekistan has some of the best quality clothing made out of different textiles and furs. The Uzbek clothes are very bright, beautiful, and cozy. The national hat of Uzbekistan is one of the unique hats of the Uzbek people and a reminder of their beautiful and warm culture. The clothing of Uzbekistan is varied in a range of colors and designs. Interestingly, the clothing of every region in Uzbekistan is different from the other in terms of design. Tashkent and Bukhara are the best places to buy traditional Uzbek clothing and the national hat of Uzbekistan.
Best Souvenirs for Yourself
& Family
Uzbekistan is one of the most beautiful countries to travel to in Central Asia. Buying products and souvenirs is an interesting experience in Uzbekistan. Shopkeepers of Uzbekistan are the most pleasant shopkeepers in the world. They will greet you with a smile and generosity every time you try to buy something from them. The souvenirs of Uzbekistan are very extraordinary and beautiful. They are a showcase of the country's rich culture. You can find high-quality souvenirs and colorful products in Tashkent, Bukhara, and Samarkand. Top souvenirs of Uzbekistan can remind your best memories of Uzbekistan. So, don't forget to buy some of the best souvenirs of Uzbekistan for yourself and your friends.
https://irandoostan.com/dostcont/uploads/2023/04/carpets-souvenirs-of-Uzbekistan.jpg
366
712
nelia shidfar
https://irandoostan.com/dostcont/uploads/2018/05/logo-idt2-09.png
nelia shidfar
2023-04-03 12:28:21
2023-04-03 12:28:21
Best Souvenirs of Uzbekistan