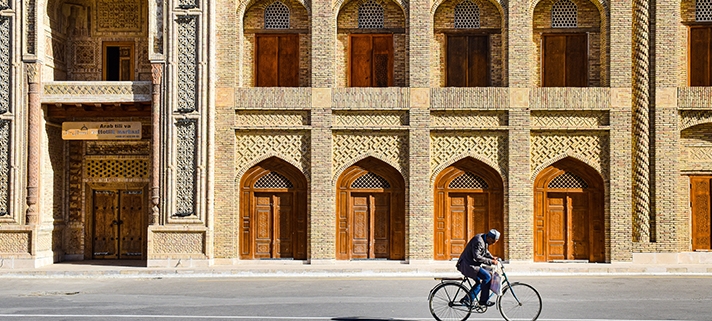 Is Uzbekistan safe? (Safety for solo travelers, Dress Code)
Traveling is an extraordinary experience in any human's life. A good trip can deliver joyfulness to mind & body. Uzbekistan has been investing in tourism in recent years, and it has become a perfect destination for travelers from the nearest to the farthest countries. In visiting Uzbekistan, safety consideration is an important part of the trip. Uzbekistan is on the list of top destinations to travel and knowing about Uzbekistan's travel safety while staying in this country will give you peace of mind. If you haven't been to this mysterious country, you'll have questions about Uzbekistan's safety and security. This article will reassure your trip to this amazing country.
Is Uzbekistan Safe?
Tourism is expanding at a fast pace in Uzbekistan. With the visa process becoming more convenient, many people want to explore this mysterious country. However, since some of them have not been to Uzbekistan, they may have questions about Uzbekistan's safety and security. For many years, Uzbekistan was not as safe as it is today. Uzbekistan was notorious for its corrupt cops who would annoy and charge foreigners for little excuses. But after the new president in 2016, and new laws revolving around the tourism industry, Uzbekistan became more tourist-friendly in Central Asia and opened its doors to host people from different countries. So today, foreigners shall have no worries exploring this ancient country. Travelers walking around the capital of Uzbekistan, Tashkent, or other cities like Samarkand and Khiva will not face any problems.
Additionally, Uzbekistan is a safe place. There isn't anything dangerous or too risky that would threaten the life of a foreigner. The people of Uzbekistan are super friendly and hospitable. If Uzbek people know you are a foreigner, you will receive much love and kindness. Uzbek people love to accept foreigners in their culture. They will make sure that you have a great time in their country.
Uzbekistan Crime and Safety Report
Violent crimes are rare in the mysterious country of Uzbekistan. Uzbekistan crime and safety reports illustrate well the safety of travelers and expats. Unlike its many neighbors, crime rates are very low in the country, and since it is a tourist-friendly place, you won't experience any hardships walking around the cities. However, this does not mean that your trip will be risk-free. Uzbekistan's safety rating suggests that precautions are necessary for expats. Like many countries all around the world, especially Asian countries, pickpocketing or scams exist in small or big cities.
Although Uzbekistan is a police state and there are even special tourism guards working in tourist cities at attractions, you should consider the risks and be ready for unwanted events.
As mentioned, Uzbekistan's neighbors, like Afghanistan, have a bad reputation for safety. Therefore, it is recommended that you avoid all travel to the Uzbekistan areas bordering Afghanistan except for essentials. Nevertheless, generally, being a police state, Uzbekistan is a safe place. However, like in other countries, standard precautions should be taken, especially in big cities like Tashkent or Samarkand.
Uzbekistan Road Safety
Safety of transportation is another part of general safety in any trip. Public transports are generally safe in Uzbekistan, and most official public transportations are available for people's use. Metro, busses, and taxis are ready for service. There are no major crimes in public transport. However, considering precautions is necessary since pickpocketing or scams may occur.
If you do hitchhike a lot, consider the risks. Avoiding unofficial taxis would also help to decrease the risks of danger. Main roads are well-maintained and safe, but secondary roads and roads out of the cities function in poor conditions. Additionally, Uzbekistan's road safety is good, and most of the city areas are secure.
Uzbekistan Dress Code
Traveling to a new country requires us to consider the dress code. By using a dress code, we can ensure the safety of our trip while respecting the country's culture. Uzbekistan's dress code is simple and is like other Asian countries. Considering that Uzbekistan is a Muslim country, women should not display too much of their bodies. Wearing shorts or skirts above the knee is culturally insensitive in Uzbekistan. Women should also avoid wearing tops without sleeves, but short sleeves are generally accepted. But remember that when visiting a mosque or religious place, it is better if your arms are covered.
Generally, men should not wear shorts and sleeveless tops, especially in religious buildings or conservative areas, because they're considered inappropriate. However, men can go into mosques with short-sleeved tops and don't need to cover their hair. These guidelines will help you to feel more relaxed in the environments of the cities of Uzbekistan.
Uzbekistan Personal Safety for Solo Travelers
Uzbekistan is a great place to explore by yourself. Ancient monuments, a variety of giant mosques, and museums would cheer your soul.
Solo traveling is more common nowadays. Pickpocketing, scams, muggings, and snatching in public and crowded places are common risks for solo travelers worldwide.
Although Uzbekistan is a safe place, these accidents can occur. Also, due to the language barrier, you may face some difficulties with the locals too. However, this doesn't mean you should not have a trip to Uzbekistan. Uzbekistan is a charming and spiritual country, which has hospitable people.
In general, if you are a solo traveler and you're planning to see the mysterious land of Uzbekistan, it is recommended that you take standard precautions.
Uzbekistan Safety for Solo Women Travelers
Uzbekistan's safety for solo women travelers is quite good. Women will not experience any kind of cat-callings or be bothered by others. Uzbekistan's culture is very rich, and they have a lot of respect for women. Solo women travelers can move around the different parts of the cities freely and on their own. However, keeping certain considerations about the dress code would be appropriate for women as it is a Muslim country.
Uzbekistan Tourism Safety
Uzbekistan is the new travel hub of Central Asia. A lovely landlocked country with stunning views, majestic attractions, and peaceful weather. A place that you must travel to witness its breathtaking beauty. Uzbekistan's safety ratings demonstrate that despite the country's medium safety ratings, this country is genuinely secure. There isn't anything dangerous that would threaten the lives of tourists or people. If you are wondering about Uzbekistan's travel safety during your visit, you need not worry. Uzbekistan is a tourist-friendly country with welcoming people who will help you in every way possible. But taking general considerations is recommended.
Are you planning to travel to Uzbekistan? Check our Uzbekistan tour.
https://irandoostan.com/dostcont/uploads/2023/01/Uzbekistansafety-1.jpg
366
712
nelia shidfar
https://irandoostan.com/dostcont/uploads/2018/05/logo-idt2-09.png
nelia shidfar
2023-01-09 12:52:39
2023-08-30 15:26:57
Is Uzbekistan safe? (Safety for solo travelers, Dress Code)