Must-see Attractions in the North of Iran + Photos
The Northern of Iran is rich in terms of attractions. Having the Great Caspian Sea as one of the main destinations of Iran gains an incredible amount of visitors each holiday. Mazandaran, Gilan, and Golestan, are three provinces that bring this opportunity for Iranians to visit the Caspian Sea with their family and friends and have the most fun out of it. Here are some of the most popular places among Iranians in the North of Iran, which you can visit anytime you travel to Iran.
Mazandaran Attractions
1. Ramsar
Although Ramsar might be a little city, compared to others in the north of Iran, you will still have the most fun time in this city. You can experience an enjoyable ride on cable cars over the Hyrcanian Forests while facing the sea. When you get off of the cable cars, you will meet a marvelous silver sea. A calm and peaceful moment by the sea is all you need to wash away all of your exhaustion. Other than that, the Ramsar Museum Palace, Casino Boulevard, and, Dreamland Amusement Park are other choices to spend a day in Ramsar city.
2. Badab-e Surt
An absolute photogenic natural site, with amazing changing colors of water, is a great photography opportunity. Badab-e Surt owns one of the unique scenery in Iran which is the natural springs of water. This fascinating place is the second largest spring saline water in the world that changes color over the sunset or sunrise. So if you want to experience the best moments of your trip, visit this natural creation during sunset while the sunlight makes the water glow. Ice cold water and soft drinks will be sold on the hill while you're taking your time making an unforgettable memory.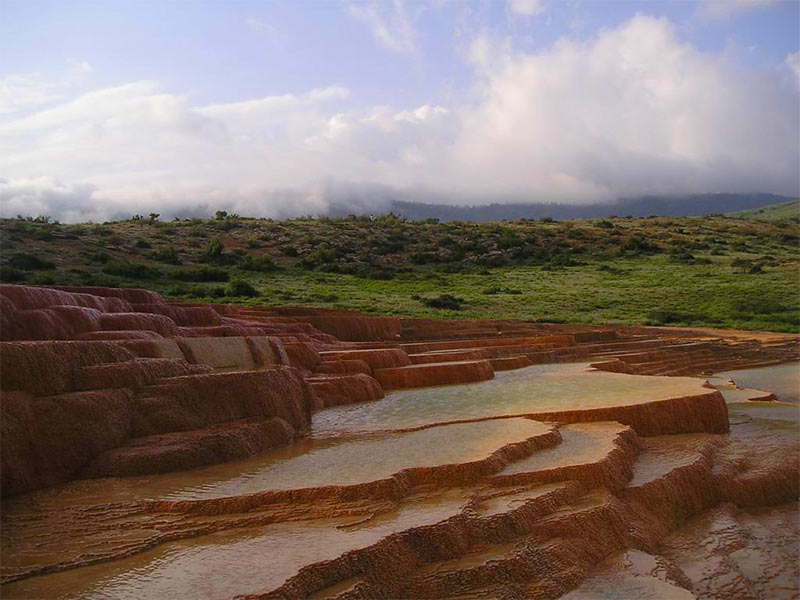 3. Elimalat Lake
Make a beautiful memory with beautiful scenery! Elimalat is one of the stunning forests in Iran in which you can find a lake among its gigantic trees. The reflection of mountains along with the trees, aligns with the lake and water waves, creating a relaxing sight to enjoy. There are some facilities for your entertainment, such as pedal boats and restaurants near the lake. If you enjoy mountain biking and have access to one by chance, you will love riding through the forest paths.
Gilan Attractions
1. Gilan Rural Heritage Museum
This place is more than just a museum. The heritage, culture, and history behind the closed doors of the old and traditional houses are much more worth it than it seems. You can find out so much about Gilan in only this one museum. Various kinds of ceremonies will be executed at different times of the year like Yalda, the longest night of the year, or Arous Baran which is a tradition for weddings. While walking along the paths and listening to some of the old songs of northern regions, you will see people in colorful traditional costumes baking bread, serving drinks, or making products that you can only find in the North of Iran. So make sure to treat yourself to some delicious cookies or buy some souvenirs as a memorial.
2. Masouleh Village
Masouleh is famous for the spectacular architecture that its village owns on one of the steep hillsides. The yard of the houses above is the roof of the houses below. This fact makes this village unusual in a way but pleasing to look at as well. Every single house has colorful flowerpots on its balcony that spread a great vibe to the environment besides giving the village a beautiful look. Among the houses, you can find shops, restaurants, and cafes in which you can take a break, and try some Persian tea or local foods. The locals are very kind and generous. You can buy products and handicrafts that are for sale from them.
3. Rudkhan Castle
Wear your sports shoes and get yourself ready because there's a long way to reach your destination. Rudkhan Castle has more than a thousand steps that you need to climb so you could reach the top of the castle. But when you do, you will be fascinated by the breathtaking view. It's worth visiting Rudkhan Castle, especially on a beautiful spring day, the trees are a delight to walk through. You will need 4 hours to visit the whole castle. And at the foot of the castle, you can find plenty of places where you can eat and refresh yourself.
Golestan Attractions
1. Khalid Nabi Cemetery
The Khalid Nabi Cemetery is believed to be the most mysterious cemetery in Iran and is well-known for its strange-looking grave. Not only the cemetery, and the surrounding landscape, but the scenery on the way is also breathtaking. When you take a look at all the surroundings, you might think you walked into a place that seems to be far away from this planet. It is beautiful here in all seasons, but visiting in spring gives you an unforgettable memory.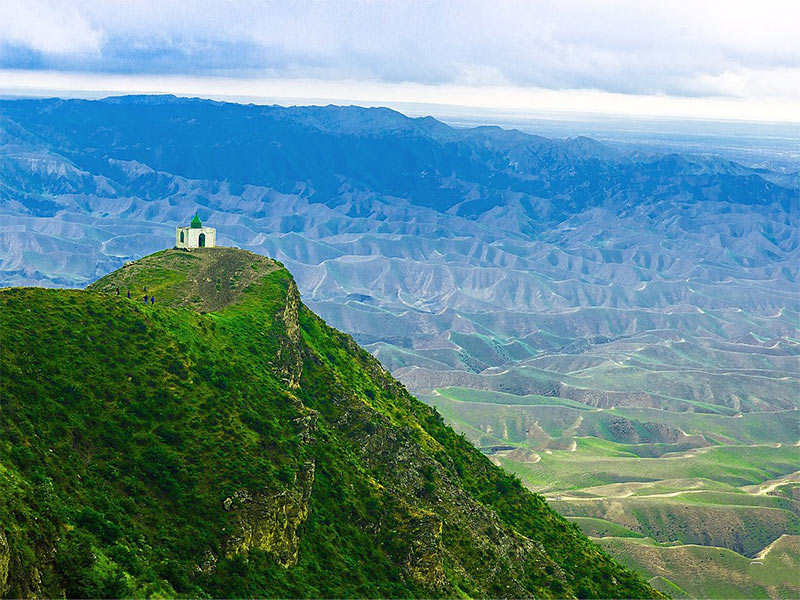 2. Qabus Dome
You can find one of the tallest brick towers in the World in Golestan Province. Gonbad Qabus is an ancient monument that is one of the UNESCO world heritage sites. This tower used to act as a sign for people passing through the silk road so they could use it to find the right way. There is a spot outside the tower marked by a white stone that makes a strange echo to everything you say. Local traditional foods and costumes can be found around the tower as well, which will be a pleasing experience.
3. Alangdarreh
If you're looking for a place to relax and ease your mind while cycling in between pathways of trees, then you can consider Alangdarreh a choice. You can have a pleasant picnic with your family and friends and enjoy the cool weather around you. There are barbecue accessories around in which you can cook yourself tasty food. You can hear the water flow sounds from a nearby river that is so pleasing and relaxing and calms you down in an instant. Take your time and lie down in this mesmerizing place and enjoy.
we would welcome any inquiry you may have about traveling to Iran, please do not hesitate to contact us at info@idt.ir. We will come back to you soon.
Are you planning to travel to Iran? Check out our Iran tours.
https://irandoostan.com/dostcont/uploads/2020/09/Feature-North.jpg
266
712
Travel to Iran
https://irandoostan.com/dostcont/uploads/2018/05/logo-idt2-09.png
Travel to Iran
2020-10-22 15:36:51
2023-09-03 11:59:37
Must-see Attractions in the North of Iran + Photos