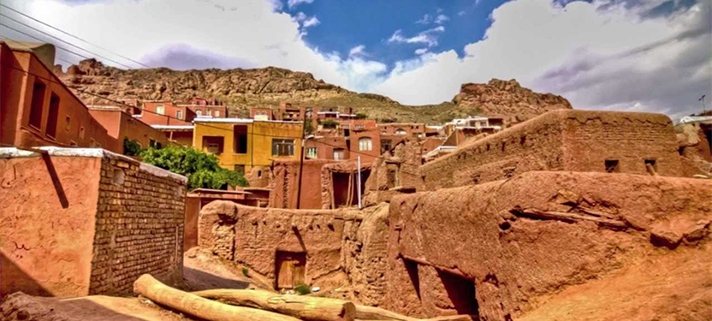 Abyaneh Village, Red Village of Iran: History, Photos & more
Abyaneh is a historic village in Isfahan province of Iran close to Kashan and Natanz. The village is in a long and narrow valley on the foot of Karkas Mountains, 70 kilometers southeast of Kashan. From the main road of Natanz-Kashan, there is a winding road that goes 22km deep into the mountains, passes several villages, and reaches to a valley with a historic village sitting in it. Houses in Abyaneh have a reddish color that comes from the soil around the village containing iron oxides.
The alleys are narrow with mud brick houses on both sides with beautiful lattice windows and small balconies looking over the alley.
Similar to other mountainous villages of Iran, Masouleh or Uraman Takht, Abyaneh has stepped structure with the roof of each house being the courtyard of the one above it.
How old is Abyaneh?
There is no evidence to indicate the exact date of the village but historians know that it has been around since Sassanid dynasty (700 AD) for sure. The houses sit on the mountain slope facing east to receive the maximum sunlight and they are from Sassanid, Seljuks, Safavid, and Qajar eras.
Karkas Mountains and its surroundings were the hunting area for Safavid kings and Abyaneh was the destination for their summer vacation. Abyaneh's high elevation (2222m) causes cool summer and very cold winter days.
Because of its mountainous setting, Abyaneh stayed isolated for many years and people's customs and language is untouched and preserved. In Abyaneh people speak Farsi with a special dialect belonging to the village only. They still use some words from the Parthian era (247 BC – 224 AD).
Men wear a very loose pair of pants and the women's traditional costume consists of a long colorful dress, along with a special pair of pants, and a white long scarf with colorful floral design named Charghad.
Besides the charismatic beauty of the village, there are historic monuments as well. There is a Zoroastrian fire temple dating back to the Sassanid period, three castles, a pilgrimage site, and two mosques. The most famous monument of Abyaneh is an 11th-century Jameh Mosque, with an ancient Mihrab made of walnut-wood covered with carvings of calligraphy and floral designs. The Jameh Mosque is closed and cannot be visited because of its very long and valuable history.
Are you planning to travel to Iran? Check out our Iran tours.
https://irandoostan.com/dostcont/uploads/2016/11/Abyaneh.jpg
366
712
Travel to Iran
https://irandoostan.com/dostcont/uploads/2018/05/logo-idt2-09.png
Travel to Iran
2016-11-22 12:05:12
2023-09-17 11:45:44
Abyaneh Village, Red Village of Iran: History, Photos & more