Susa attractions infographic
Located in the south-west of Iran, on the foothill of Zagros Mountain, 7000 years old Susa is still shining as one of the first places of ancient civilizations in the world. Urbanizations and also the development of early state took place here for the first time in the world's history.
Having been the capital of Iran during Elamite, Susa embraces several architectural masterpieces which are quite eye-catching to every visitor. And the interesting point is that history has been documented in this city and they were the very first people who invented script, and more surprisingly, this was not their only amazing invention. Elamites earned many achievements in writing, architecture, sculpture, melting glass, and metalwork. And all these achievements along with natural attractions have made Susa a lovely destination worthy of visiting.
Chogha Zanbil Ziggurat, constructed 3200 years ago, is the greatest Ziggurat in the world which is a well-representative of Elamite's art and architecture. It was a five-floor temple of Elamites with seven gates around and inscriptions with Elamite's alphabets on its bricks. This great construction has been registered on the UNESCO World Heritage List and attracts many tourists from around the world every year.
People in Susa and in Khuzestan province are known for being hospitable and the local food here is pretty delicious. Traveling to this city to visit all glorious monuments, and meet warm-hearted people will be one of your life-long experiences you will never forget about.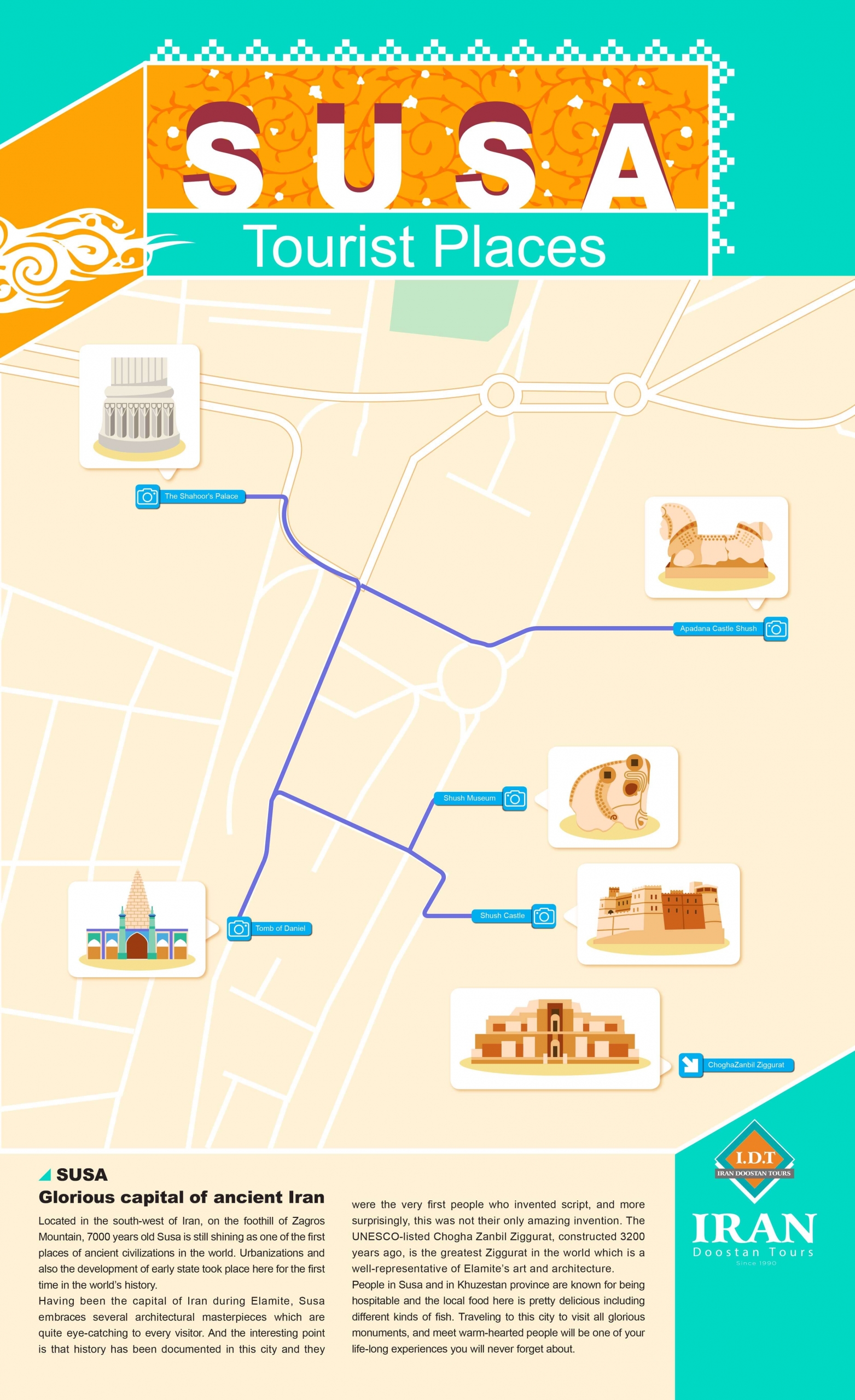 https://irandoostan.com/dostcont/uploads/2020/07/visit-Iran-susa.jpg
266
712
Farima Fehrest
https://irandoostan.com/dostcont/uploads/2018/05/logo-idt2-09.png
Farima Fehrest
2020-07-16 11:18:21
2023-09-03 14:16:01
Susa attractions infographic