Where to Hear Traditional Iranian Music? (photos, timing)
Music as the next trending diet? Sounds easy enough! According to research, the combination of soft lighting and music leads people to consume less food and enjoy it more. Iran has very rich music in every genre. From years ago, many songs have found their way to people's hearts and became an undeletable part of their lifetime. Iranian music has always played an important role in Iranian culture, with each region having its own specific style and sound. Iran has different styles of traditional and folk music. In every city and village from north to south and west to east, there is no single place without its own traditional music. There are different places to get involved in Traditional Iranian music during your cultural tour to Iran.
Zoorkhaneh and Varzeshe-Pahlavani
Have you listened to music in the old reservoir? Varzeshe-Pahlevani is an Iranian sport dating back to ancient Persia. It is a place that Iranian athletes train with live music playing with Zarb (Persian drum) and poems of Shahnameh, the brilliant masterpiece consists of epic poems written by Ferdowsi thousands of years ago. Zoorkhaneh has completely a different atmosphere you have experienced in sports clubs; it has its own music, exercises, and equipment. The exercises take place in the Gowd, which is a round or octagonal shape hole in the middle of the place where the athletes with colorful uniforms exercise and show their performance. Their performance will be managed by Morshed (the singer). Saheb Al-Zaman Zoorkhaneh is the best example of Zoorkhaneh in Iran, located in Amir Chakhmagh square in Yazd, the place was built five hundred years ago. The building consists of four floors and five Badgir (wind catcher structures, typical of architecture in Yazd).
You may visit Saheb Al-Zaman Zoorkhaneh from 5 am until 8 pm.
Vahdat Hall
Let's visit the biggest opera house in Iran! Opened in the year 1967, the whole complex was called Rudaki Hall, then after the revolution, it was given the name of Vahdat Hall. This stage is designed specifically for band and orchestras performance. The main stage consists of three levels and the auditorium has 1,200 seats and two tiers of boxes and balconies. The end of this stage is dedicated to performing choirs and orchestral groups. There was a restoration in 2007, during which the hall was equipped with modern sound and lighting systems.
It is located in Hafez Avenue, Shahryar, Tehran, Iran.
Tehran Music Museum
Visiting unique musical instruments in a romantic garden is quite fascinating! Iranians are well-known for performing various types of art. Covering an area of 3650 square meters in three different stories, Tehran Music Museum is one of the best museums representing this taste for art and is quite worth to be visited. If you are one of those interested in music, particularly folklore music, the Tehran Music Museum would be a perfect place to get to know Persian music and different types of instruments. The museum has been opened to the public in 2009 and started by presenting more than 200 different Iranian instruments from all over this vast land which are well representative of Iranian rich culture and also Iranians good taste for this valuable art.
It is located in Mouze Street, Darbandi Street, Tajrish District, Tehran, Iran.
Opening hours: Every day except Saturday 9 am- 5 pm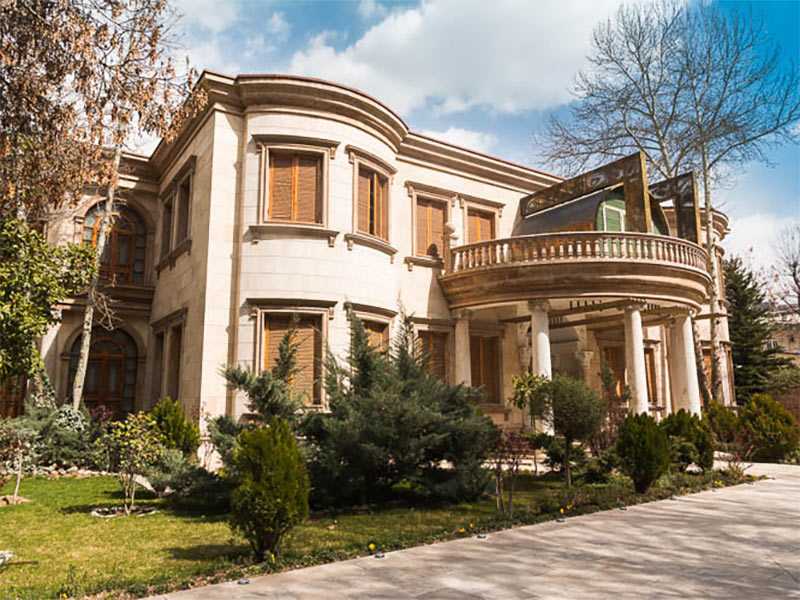 Tehran music museum displays different Iranian instruments from all over the country.
Harandi Garden
Harandi garden, established by the Pahlavi dynasty is a beautiful and wonderful building of the recent period that gained its historical value since Reza shah Pahlavi stayed here in his last exile. Even the automobile used by Reza Shah during his short stay has been put on display at the site. The main building has got two floors, on the first floor there is an impressive array of musical instruments, and on the second-floor archaeological finds from sites near Jiroft and Shahdad. The Harandi Garden Museum was opened in 2002 with 250 musical instruments created by masters on display. The masters plan to purchase rare instruments in Kerman and other regions for the museum complex. If you are interested in music make sure to visit this museum. It is located in Kerman city quite close to the city center which is called Shariati Street.
Isfahan Music Museum
Let's play music in Half The World! The Isfahan music museum which has been operating for almost four years, it is the only music museum in Isfahan. There are different halls to show different types of national and local instruments. There are about three hundred instruments then you have a chance to see a live musical performance and also to try some instruments. It is located in Shahid Ghandi Street, Mehrdad Street, Towhid Miani Street, Isfahan, Iran.
Sharze Restaurant in Shiraz
Have you eaten Iranian cuisine while listening to music? If you want to get familiar with Iranian live music you can go to Sharze restaurant in Shiraz. You'll help yourself with the salad bar, and you may experience some Iranian food and kebabs while listening to Iranian live music. The architecture reminds you traditional Iranian style. That is an interesting choice for those tourists who want to get acquainted with the real Iran used to be in the past. Furthermore, you may have vegetarian meals. It is located near Vakil Bazaar.
Are you planning to travel to Iran? Check out our Iran tours.
https://irandoostan.com/dostcont/uploads/2020/03/isfahan-music-museum.jpg
600
800
Farima Fehrest
https://irandoostan.com/dostcont/uploads/2018/05/logo-idt2-09.png
Farima Fehrest
2020-03-01 13:05:02
2023-09-04 12:43:48
Where to Hear Traditional Iranian Music? (photos, timing)