Best Summer Destinations in Iran for Adventure
Are you looking for a destination to plan an unforgettable summer adventure? We must tell you that you will have remarkable expeditions in canyons, caves, and mountains of Iran. Of course some of world heritage sites will be on the list no matter why or when you are traveling to Persia. If you are going to visit Iran on summer we'll recommend the cooler regions of the country which are on northwest and west such as Azerbaijan provinces (eastern and western), Kermanshah, and Zanjan. To your surprise we are going to introduce destinations in Fars province on south of Iran too.
Summer is a great time for summiting the top three peaks of Iran: Damavand, Alam Kuh, and Sabalan. Also you can enjoy water rafting in rivers of Zagros and Alborz Mountains. Hiking, climbing, rafting, biking, rock climbing and canyoneering are some fun activities you can do in the ever-green Alborz Mountains. In fact Alborz is a canyon-filled paradise for beginner and expert explorers. To escape the heat of summer days in Iran you can plan an expedition to one of Alborz canyons.
You must note these expeditions are not easy and need enough body and mental strength. You must have proper outfit such as wetsuit, water proof back pack, and also experience of mountaineering and working with descend gears. Expeditions will be a couple of days at least and a guide must accompany you who know the route and the proper spots for camping at night very well.
Chakrood canyon in Guilan province originates in a village on Caspian Sea coast is a great destination for outdoor enthusiasts. Be ready to slosh through shallow streams, jump from rocks in to the cool water, swim, and rappel through this natural reserve. Chakrood has one main canyon, two secondary, and numerous waterfalls. A two-day expedition will take you through this gorgeous canyon.
Mor canyon in Mazandaran province is another great destination for adventure lovers in Iran. The very first expedition in Mor was done in 2010. The canyon achieved its name from the Mor forests on its North. Mor canyon has 40 waterfalls from 2m to 30m height. The first 33 waterfalls are seasonal but the last seven ones have permanent flow.
Nest is Kamjel canyon in Mazandaran province on Caspian shores. Crossing this canyon is very technical. It is less than a decade that the first expedition took place in Kamjel. You will be walking in water all the way and will descend almost 30 waterfalls on your way to the bottom. The heights of waterfalls vary from 20m to 40m tall.
This one is the masterpiece of nature, Raghaz canyon in Fars province. It has breathtaking scenery with huge rocks, crystal clear water, and stunning waterfalls. It covers four kilometers with 64 waterfalls and 100 pools. The highest waterfall of Raghaz is 65m high and you must use gears to descend it. You can start the journey without any gear at the beginning since the falls are not too high and water is so clear that you can estimate the depth and just jump into the pool until you reach a waterfall that is 23m from then the route gets technical.
Kermanshah province of Iran is famous for having several unique and wonderful caves such as Ali Sadr and Parau. Ghoori Ghal'e is another incredible cave that we recommend you visit in your tour to Iran. Ghoori Ghal'e is one of the longest and most beautiful river caves of Iran and its formation dates back to 65 million years ago. In 1976 a group of biologists from France and Britain found this cave while they were looking for some mammals such as bats. They progressed into 620m depth of the cave to a point that the water was up to the ceiling and they assumed they've hit the end of it but the cave goes deep into 3140m which was discovered in 1989. Throughout your journey in the cave you will see very interesting stalactites looking like different animals or ice-cream next to beautiful natural pools. There is an area with stalactites that looks like drapes and when you touch them they create a sound like different musical instruments and it's called Beethoven area.
To make your summer journey in Iran even more unforgettable make sure you check out some historical attractions of Iran that are world heritage as well. Just make sure you will stay in cooler areas again.
Takht-e Soleyman, literally means Throne of Solomon in West Azerbaijan province, is the fourth monument of Iran that was registered by UNESCO as a world heritage site.
The structure belongs to the first millennium BC and during Sassanid era it gained high importance. Takht-e Soleyman complex functioned as an educational, religious, and worshiping place in pre-Islamic era. 1800 years ago only Sassanid king and high military people could come to this fire temple. Some historians believe the Sassanid rulers performed the special ceremonies before receiving their throne at the Azargoshnasb. The main purpose of this historical remaining was for worship and religious ceremonies of Zoroastrian followers and its original name was Azargoshnasb fire temple.
There is a lake in the complex that has an artesian spring source and Zoroastrians believe this spot is one of the main locations on earth where the energies merge together which makes this lake sacred. One interesting fact about the lake is that its temperature stays the same during summer and winter.
Have you heard about the Persian story of Shirin and Farhad? Did you know this story made Bisotun famous among Iranians?
Before the bas reliefs and inscriptions were translated by European researchers, locals believed the engraving tells the story of Shirin and Farhad, a tragic love story written by the great Persian poet Nezami Ganjavi.
The bas relief high on the lofty Bisotun Mountain has an ancient beauty and gives you a great sense of the days Persia was the most powerful empire in the world.
This mythology is one of the most legendary stories and everyone knows it very well. The story ends with the tragic death of Farhad and it is the ending that made Shirin and Farhad such a great reputation. People still believe if you listen closely you will hear the sound of Farhad's ax on the mountain.
The inscriptions on mountain narrates the victory of Darius over Gaumata, a Median magus who led a rebellion against the king of Persia is one of the most famous and important documents in Achaemenian and world history.
Bisotun is a very valuable document not only for Iran but also for the world because it is the only official document that shows sovereignty and re-establishment of the greatest empire in the world by Darius I. It became a world heritage site in 2006.
We want to introduce you the structure that Arthur Upham Pope described it as the anticipating of Taj Mahal. Indeed Soltaniyeh Dome is the gemstone of Zanjan. It is the biggest historic monument in Iran and the third in the world.
Historical city of Soltaniyeh once the capital of Mongolian Il-khan dynasty holds the largest brick dome in the world. Dome of Soltaniyeh, a world heritage site is a 50m tall double-shell dome sitting on an octagon-shaped base is the mausoleum of Il-khan Öljeitü also known as Sultan Muhammad Khodabandeh. Khodabandeh originally was a Shaman, changed his religion several times and when he converted to Shi'a Islam he chose the name Muhammad.
Sultan Muhammad wanted to make Soltaniyeh a well-known city in the world so he ordered for a masterpiece to be built.
It has an exquisite architecture inside and outside and you are mesmerized by the huge size of the structure and its gorgeous detailed decorations. Exterior of dome is covered by turquoise-blue tiles and makes it look more huge and strong, like the sky. Eight slender minarets surround the dome which their functionality is not found yet. Light beam that passes through small and big windows on the structure creates a beautiful scene at every time of the day also they function as a light clock.
Tabriz, the second oldest city of Iran and the capital of stunning hand-made rugs, sits on the Silk Road connecting east and west since antiquity. Tabriz is home to the biggest ancient covered bazaar in the world. Bazaar of Tabriz was registered by UNESCO in 2010 because of its great value in history and culture. The social-cultural complex has developed over centuries with beautiful brick arches, walls, and ceilings that give it more atmospheric look. It is the heaven of Persian souvenirs such as handmade Persian carpet, rug, and aromatic spices.
Bazaar in Iranian culture has an essential role in development of the city. Besides being the economic hub the bazaar is a place for social, political, cultural, and civic activities of people. The magnificent architecture of Tabriz bazaar with its various Timchehs (domed hall) and caravanserais will make your summer tour in Iran even more remarkable.
On your trip to Tabriz make sure you try Kufte Tabrizi dish, a super delicious large stuffed meatball served with its special sauce.
Are you ready to see one of the rarest natural wonders in the world? An unusual looking village with ice-cream cone shaped houses carved in the rocks on a remote corner of Iran is one of the places we definitely recommend you to pay a visit. The cone shape stones are formed by the volcanic eruptions of Mount Sahand over thousands of years. The softer parts of the formation fell and the harder parts formed the incredible structure of the houses. The hardened ash functions as an energy efficient material by keeping the house cool during summer and warm on the cold winter days.
Kandovan has been inhabited by humans for seven hundred years now. Each of the cone shaped structure that has been turned in to a house is named Karaan and each Karaan has three or four levels with the ground level being the animal stable. There are little rivers springing form the depth of earth flowing between houses in the village rich in valuable minerals that can cure kidney problems. People started living in these caves when their own villages were attacked by Mongols.
Arasbaran protected area situated on north of Iran at the border to Armenia and Azerbaijan has gorgeous scenery with 23,500 nomads living in different zones of it. It has mountains, forests, semi-arid steppes, high alpine meadows, and numerous rivers and springs.
Perched at 2,300m above sea level on a cliff, the ruins of Babak Fort a Sassanid era structure is a valuable national heritage, once home to one of the most respectable heroes of Iran, Babak Khoramdin.
The fortress sits high on the spectacular Arasbaran forests looking over gorgeous scenery, surrounded by deep valleys, and can be reached by one narrow road only. After passing a hairpin road that turns, twists, and crawls up the mountain you will reach the castle and this feature made this structure a very strong place for Babak's troop to fight against Arabs who wanted to invade Iran.
You will be surprised by adventure destinations, the immense size, and diversity of Iran. There are amazing UNESCO World Heritage sites to see as well as stunning modern architecture.  We have mountains, plains, biological reserves, waterfalls, two sea coasts, even three offshore islands!
All these make your tour to Iran the favorite part of your summer!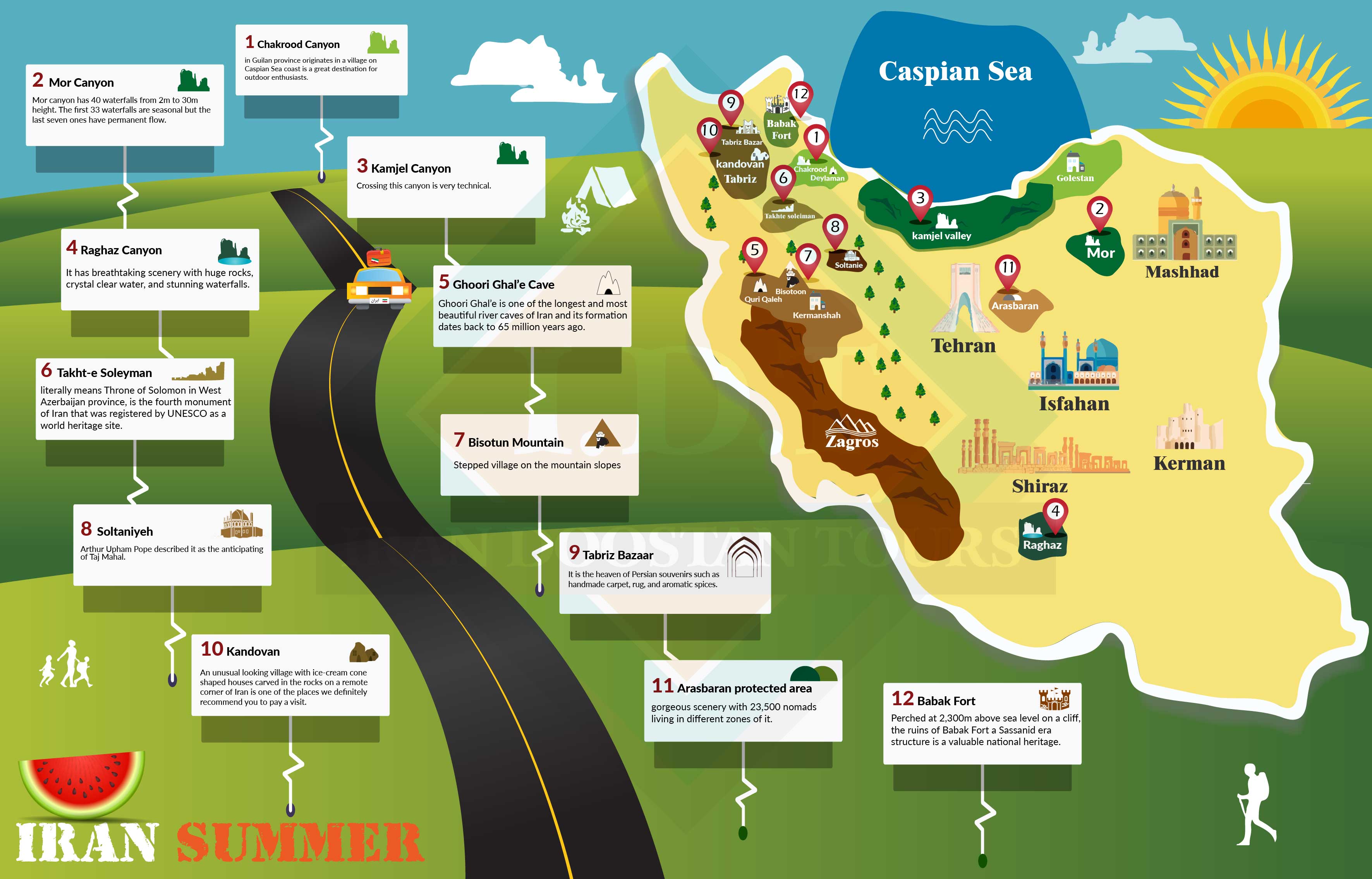 Iran Summer Destination[/caption]
Are you planning to travel to Iran? Check out our Iran tours.