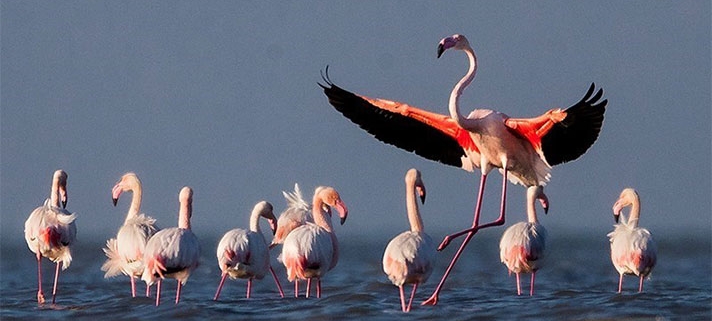 February 2 is the day the Convention on Wetlands in Ramsar, Iran, in 1971 was signed by 18 countries. Today 169 countries have signed and joined the Ramsar Convention. United Nations has marked this day as World Wetlands Day.
Mr. Eskandar Firouz, the Department Chief of Environmental Protection Organization of Iran in 1971, recognized the essential role of wetlands on human, plant, and animal life and made the effort to make international society aware of the wetlands' high importance by creating a convention. He made everyone responsible for protecting these zones around the world.
Wetland is referred to a flat ground that is always wet and saturated by water. This setting creates a vital role for us in many ways such as protecting our coastlines, creating a huge variety of life, saving water, and controlling erosion. Wetlands create the most fertile environment for agriculture and fish. Rice, the food for more than half of the world's population grows in wetlands only and 40% of 20,000 different fish species live in this area. Wetlands store carbon dioxide that regulates climate and they are very rich in plant genetic resources. In the tourism industry wetlands are crucial as well. They are the perfect location for bird watching and different water activities.
The theme for 2024 World Wetlands Day is Wetlands and human wellbeing.
The residents of one of the villages in the West Azerbaijan province of Iran proved it is still possible to save our swamplands by regenerating the Kani Barazan wetland in a very difficult climate situation. Kani Barazan was added to the Ramsar Convention in 2012.
Billions of people depend on wetlands for their living, yet these areas have become wastelands and we have lost 64% of our swamps and marshes since 1900; that is why saving wetlands is saving humans' life!
https://irandoostan.com/dostcont/uploads/2016/02/wetlands.jpg
366
712
Travel to Iran
https://irandoostan.com/dostcont/uploads/2018/05/logo-idt2-09.png
Travel to Iran
2016-02-02 09:32:24
2023-09-18 10:26:31
World Wetlands Day