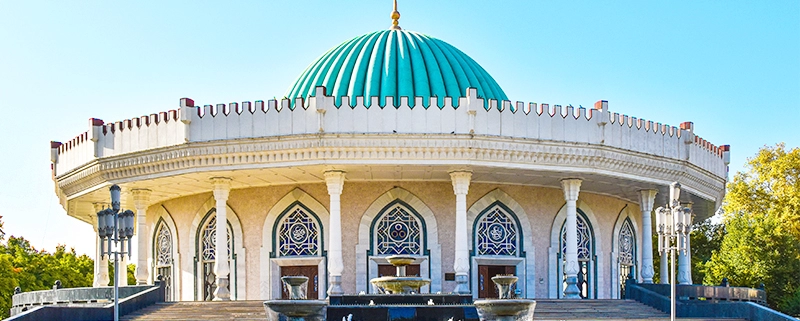 Amir Timur Museum, Tashkent (Photos, History, Info)
If you're a history buff or simply fascinated by the stories of ancient rulers, you won't want to miss the Amir Timur Museum. Located in the vibrant center of Uzbekistan, this museum is a true treasure trove of knowledge and artifacts, showcasing the incredible legacy of the legendary conqueror Amir Timur, also known as Tamerlane. You're sure to be captivated by the stories and artifacts that bring this incredible figure to life.
This museum is not just a repository of artifacts and historical relics; it is a living tribute to the invincible spirit of Central Asia. As you step into its hallowed halls, you'll be transported through time, engaging yourself in the grandeur and intrigue of Timur's empire. The museum's exhibits bring history to life with intricately detailed armor, weaponry, statues, and manuscripts.
With its striking architecture and mesmerizing exhibits, the Amir Timur Museum invites visitors on a fascinating journey through the past, where the echoes of Timur's conquests and the splendor of Central Asian heritage resonate with every step. It's a place where history truly comes alive, and the enduring legend of Amir Timur continues to captivate and inspire.
Amir Timur Museum History
The aim is to raise awareness among young people about this country's achievements, rituals, and traditions. To strengthen their sense of patriotism and focus more attention on the ancestral heritage of the youth and develop a greater sense of love and respect for their motherland.
The opening ceremony of this museum was held on October 18, 1996, with the participation of Uzbeks and foreign guests. During the opening ceremony, the President stated that justice has been done for a character like "Sahibqaran." What he meant by this word was Amir Timur. In the speech, he compared Amir Timur Square to a jeweled ring, and he considered the museum building as an agate and a precious stone of the ring, or Timur Square. Describing the values of this historical museum, the President of Uzbekistan added that the Amir Timur Museum, for any visitor, has the status of a transparent mirror showing the past, present, and future.
Features of the Amir Timur Museum of Uzbekistan
If you look at the building from the outside, you can see its magnificent turquoise dome, which is similar to the mausoleum of Guri Amir, located in the city of Samarkand. Although this building is inspired by medieval and Dark Age architecture, it also has modern architecture. Combining these two styles of architecture shows very attractive buildings and tilings around the Museum of Amir Timur of Uzbekistan.
Out of the 5,000 works in this charming museum, more than 2,000 works have been placed for the public to see. Among them, you can see unique and beautiful works specific to the period of Gurkanian rule that cannot be found anywhere else in the world.
In this large and magnificent building, you can see Timur Lang's favorite war maps, coins, and many military tools of that time. Among other interesting points of this museum, we should mention the display of Amir Timur's genealogy and list some other things. Like how he came to power, military operations, diplomatic and commercial relations, his skills, and also his contribution to the progress and development of the city, as well as the advancement of science and knowledge during his reign. Here you can see displays of replicas of historical monuments such as Amir Timur and the Gurkanian dynasty. Visitors can explore the Ak-Saray Palace, Sheikh Ahmad Yasawi's tomb, Bibi-Khanym Mosque, Ulugh Beg School and Observatory, and the tomb of Gur-e-Amir.
Upon entering the museum, the President's speech is broadcast, which is about his heartfelt respect for Amir Timur. Next, you can see the hall, which is decorated with works related to the era of Amir Timur and the Gurkani dynasty, as well as poems he wrote. In the section entitled "Gifts," we see a copy of the statue of Amir Timur, which was donated to this museum by the French Louvre Museum. Also, gifts from the Iranian embassy and the embassies of countries such as Pakistan, Malaysia, Kazakhstan, Russia, Georgia, and Turkey, are on display.
Amir Timur Museum Timings
The Amir Timur Museum in Uzbekistan typically operates within specific times to accommodate visitors interested in exploring the life and legacy of the renowned Central Asian conqueror, Amir Timur. While exact timings may vary, This beautiful museum is open every day except Mondays, and you can visit it from 10 am to 5 pm. Spring (April to May) and autumn (September to early November) are the best seasons to travel and visit this fascinating building. However, it's advisable to verify the current operating hours in advance, as schedules can occasionally change due to holidays or special events. Visitors can enjoy themselves in the rich history and culture of Uzbekistan, gaining insights into the remarkable achievements of Amir Timur and his lasting influence on Central Asia.
Amir Timur Museum Information
Visit fee: 6000 Som
Address: 1, Amir Timur Square, Yunus Abad district, Tashkent
Phone: (+998 71) 232-02-11, 232-02-12
Last Words
Uzbekistan's Amir Timur Museum is a must-see destination for travelers interested in Central Asia's rich cultural heritage and history. Named after the legendary conqueror and founder of the Timurid Empire, Amir Timur, this museum offers a remarkable journey through time. From beautifully preserved manuscripts to ornate weaponry and intricate textiles, the museum provides a comprehensive understanding of the region's history. Additionally, the museum's location in the heart of Tashkent, a city known for its stunning architecture and historical significance, adds to its allure. A visit to the Amir Timur Museum is not just a chance to explore the past but also an opportunity to appreciate the enduring cultural richness of Uzbekistan.
Are you planning to travel to Uzbekistan? Check out our Uzbekistan tours and feel free to contact us. Maybe you will find more interesting things to do in Uzbekistan.
https://irandoostan.com/dostcont/uploads/2023/10/uzbekistan-timur-museum.webp
366
800
nelia shidfar
https://irandoostan.com/dostcont/uploads/2018/05/logo-idt2-09.png
nelia shidfar
2023-10-11 09:04:24
2023-10-15 11:24:43
Amir Timur Museum, Tashkent (Photos, History, Info)