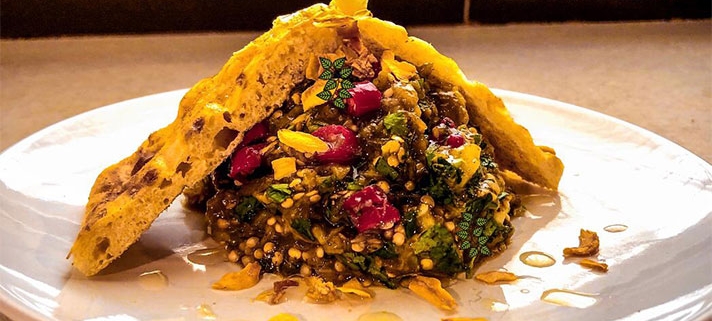 It took Persian cuisine more than 3000 years to become what it is today. The long history, ancient culture, and diverse climatic conditions coming from the vastness of the country have all influenced Persian Cuisine.  If you are a foodie, we recommend you put Iran on your bucket list, there are thousands of Persian recipes to try in every corner of the country. Each province and city has a lot to offer in terms of food and drink regarding its geographical location and climate. we would welcome any inquiry you may have about traveling to Iran, please do not hesitate to contact us at info@idt.ir. Here are come classic Persian recipes cooked mainly in the south of the country, try a complete meal, and tell us how did you like it!
Appetite or "Naz Khatoon" pickle
Ingredients
4 medium eggplants
A whole plant of garlic
Chopped and fresh fragrant herbs
Basil and coriander 1 cup
Chopped red chili 1/2 cup
Enough salt and pepper
Ground angelica 1 tablespoon
Black seed 2 tablespoons
Abghore (verjuice) 1/2 glass
How to prepare
Grill the eggplants with the skin and cut them a few times with a knife so the inside of them will be grilled great.
Turn the eggplants over several times so that all eggplants are grilled.
Finally, after a few minutes, remove the eggplants from the fire and mince them.
Add ground angelica, turmeric, black seed, garlic, pepper, salt, chopped greens, and Abghore.
If you want, you can add a little pomegranate paste to make it more delicious.
The appetite is ready, enjoy!
Koofte Anari (Pomegranate Meatball)
Ingredients for 2 persons
Mince Meat (Mixture of mutton and beef) 200 gr
Chopped and roasted walnuts 100 gr
Chickpea flour Two tablespoons (spoonful)
Black pepper ½ teaspoon
Salt ½ teaspoon
Cinnamon powder ½ teaspoon
Persian spice or curry powder ½ teaspoon
Turmeric ½ teaspoon
Pomegranate paste 1 or 2 tablespoon
Grated onion (Take its water) 1 medium onion
Dried coriander powder 1 tablespoon
Tarragon or Mint powder 1 tablespoon
Ingredients for the sauce
Turmeric ½ Dessertspoon
Cube chopped onion 1 medium onion
Pomegranate paste 6 tablespoons
Water 2 glasses
How to prepare
Mix all the ingredients in a bowl and knead them well, then wet your palms and take some of the mixed ingredients and make meatballs, you need to roll them so that they had no cracks. Fry the meatballs in a large pan with two tablespoons of liquid oil until all parts are just golden. Remove the meatballs from the pan and fry the chopped onion in the same oil for one minute, then add 1/2 teaspoon of turmeric, and after a few seconds add 5 to 6 tablespoons of pomegranate paste. Return the meatballs to the pan. Then add two glasses of water. Put the lid on the pan and let the meatballs cook on a low flame for 30 minutes. Enjoy your meal!
Ranginak
Ingredients for 6 persons:
2 glasses Sifted flour
100g Butter
½ cup Liquid oil
½ teaspoon Cinnamon powder
½ teaspoon Ginger powder
½ teaspoon Cardamom powder
Walnuts and Dates – to taste depending on the size
Pistachio powder or Powdered sugar to garnish
How to prepare
Take out the dates' core and put a piece of walnut or almond kernel.
Roast the flour in an oil-free pan over low heat for 15 minutes. Stir it frequently to change the color (golden).
Add the butter and liquid oil to the flour. Stir again until it smooths.
Add cardamom, ginger, and cinnamon, stir and cook for 2 minutes.
Spread the mixture of flour and butter over the dates until the surface of the dates is completely covered.
Then put Ranginak in the refrigerator for 2 hours to cut it easily.
Finally, take it out of the refrigerator and garnish it with powdered sugar or pistachio powder. Now, it is ready to serve.
We can keep Ranginak in a closed container in the refrigerator for one month.
Hope you try and enjoy these Persian recipes.
https://irandoostan.com/dostcont/uploads/2020/12/Persian-Recipes.jpg
366
712
Farima Fehrest
https://irandoostan.com/dostcont/uploads/2018/05/logo-idt2-09.png
Farima Fehrest
2020-12-04 00:38:00
2021-08-04 16:07:28
Classic Persian Recipes