A Tour to Iran's UNESCO World Heritage Sites
It is a-dream-come-true for the art and history lovers. In this tour, you can truly see and absorb all the glory of Iran. With twenty-one UNESCO world heritage sites, Iran is one of the countries in the world with the most tourist attractions. Imagine visiting the magnificent prehistoric ruins in Persepolis and Pasargadae, stunning architecture in Isfahan, ornate domes and minarets in Yazd, dreamy Persian gardens in Shiraz and Kerman, Tabriz ancient bazaars, and many more breath taking monuments plus the scrumptious Persian cuisine and super friendly people; it will be an amazing trip of a life time.
Arrive to Tehran IKA, Welcome and Greetings by ourGuide, Transfer to hotel. O/N in Tehran


Full day city tour in Tehran, starting with Archaeology Museum, and Golestan Complex (UWH) then National Jewelry Museum or Glass and Ceramics Museum, sightseeing Baghe Melli Portal. Visit Tabiat Bridge O/N in Tehran


Morning Stroll through Great Bazaar of Tehran. Then  transfer to airport for the flight to Ahvaz. Accommodation
in the hotel and take a rest. Visit the bridges across the Karun River P.M. O/N in Ahvaz


Ahvaz- Shush-Tchogan zanbil- Shushtar

Day 4

Ahvaz Drive to Shush (UWH) visit Apadana Mound, Daniel Grave and Haft Tape which is an archaeological site and Chogha Zanbil/Zikkurat (UWH), city of Shushtar (UWH) with Qajar Water Mills, back to Ahwaz. O/N in Ahwaz


Drive to Shiraz, en route visit Bishapur with ruins of Sassanid Town and Reliefs in Tange Chowgan, arrive in Shiraz and accommodation in Hotel. O/N in Shiraz.


After breakfast visiting Eram Garden(UWH), Nasir ol  Mulk Mosque, the Tomb of Hafez and Saadi who were great Persian poets. Visiting Qoran Gate. If time permits Vakil Mosque and Bazaar. After that visiting the Shrine of Ali Ebn e Hamzeh and the Holy Shrine of Shah Cheragh from outside. O/N in Shiraz

Shiraz -Persepolis-Pasargadae

Day 7

Early morning excursion to Persepolis (UWH), the ruins of the ancient Persian capital, the necropolis (Naq ERustam) of the Achaemenid, Pasargadae (UWH) the tomb of Cyrus The Great. Back to Shiraz.O/N in Shiraz


Kerman full day drive to Kerman via Estahban; visit Sasanid Palace on the way in Sarvestan. O/N in Kerman


Kerman, Mahan, Rayen. arge Bam, Kerman

Day 9

Morning excursion in Mahan visiting the Mausoleum of Shah Nematollah Vali and former royal Shazdeh Garden
(UWH), after visit of ruined fortress in Rayen, Continue to Bam, Visit Arge Bam (UWH). Return to Kerman. O/N
in Kerman


Morning visit Ganjali Khan Complex in Kerman, drive to Yazd trough FAHRAJ vilage, and visit JAME Mosque there. Accommodation in Yazd. O/N in Yazd


In Yazd morning drive to Mehriz, visit Pahlanpour  Garden(UWH), drive back to Yazd, visit Zoroastrian Fire Temple where the flames have been burning for hundreds of yeards and the Dowlatabad Garden(UWH),  leaving Yazd to Isfahan P.M. En route visiting Naein's Jame Mosque.O/N in Isfahan

Full day city tour in Isfahan, visit Naghshe Jahan Square (UWH), includes Imam & Sheikh Lotfollah Mosques, Ali
Qapou Palace and walk through Gheysarieh Bazaar. Also visit Chehel Sotun Palace (UWH). At night Stroll amoung the significant old bridges across the ZayandehRoud River. O/N in Isfahan


Isfahan- Kashan-Tehran

Day 13

Start our day visiting Jame Mosque (UWH), drive to Kashan, en route visit Natanz's Jame Mosque and Ceramic Workshop and Archeological museum,Continue to Kashan visit Fin Garden(UWH) and Tabataie's House. Continue to Tehran. O/N in Tehran

Tehran- Qazvin- zanjan

Day 14

Morning drive to Qazvin, In Qazvin visit Chehel Sotun Palace and Imam Zadeh Hosein Shrine. Drive to Zanjan.
En route visit Soltanieh Dome (UWH). In Zanjan visit Archiological Museum and if time permits visit Seyed Ebrahim Monument. O/N in Zanjan

Drive to Ardabil via Khalkhal Road. In Ardabil visit  the Tomb of Sheikh Safi (UWH) and Museum of Anthropology. Free time in the evening. O/N in Ardebil


Drive to tabriz via Khajeh coloured hills and Meshkin Shahr. Visit Tabriz Bazaar (UWH) and Ali Shah Arg remained from 14th century. Go to El Goli Park P.M. O/N in Tabriz


Tabriz- Jolfa- Qareh Kelisa-Tabriz

Day 17

Full day excursion. Drive to Jolfa, enjoy the landscapes,  in Jolfa visit the St.Stefanos Church (UWH). After that
drive to Qareh Kelisa visit Taddaus Church (UWH). Drive back to Tabriz, en route visit Marand. O/N in Tabriz


In the morning visit Blue Mosque, drive to B.Anzali. O/N  in B.Anzali


Visit Fish Market and the lagoon in B.Anzali. Then Drive to Tehran, en route visit Museum of rural House of Gilan. Continue to Tehran. O/N Tehran


Transfer to airport for the flight back home.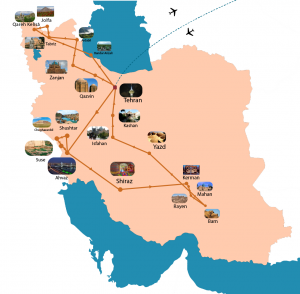 Tour highlight
Milad tower
Niavaran or Saadabad palace
Anahita temple
Apadana palace
Tagh e Bostan & Bistoun
Hafez tomb
Persepolis & Naghsh e Rostam
Pasargadae
Narenjestan or Eram garden
Dowlat abad garden
Amirchakhmagh Complex
Tower of silence
Imam square with Imam and Sheikh lotfollah Mosque
Alighapou palace
Chehel Sotoun Palace
Fin garden
Services included
Visa
Transport
Tour guide
Accommodation
The prices include
Accommodation in the hotels as per program
Generally half board or full board
All transfers
All land transportation
Tour guide
Entrance fees according to program
Visa support
Tip and portages in restaurants and hotels