Iran Doostan Tours Co. the exemplary exporter again in 2019
We are delighted and proud to announce that Iran Doostan received the national award as the outstanding Iranian exporter for the second time in 2019. In the past 27 years, this is the 8th time that Iran Doostan Tours Co. won this award.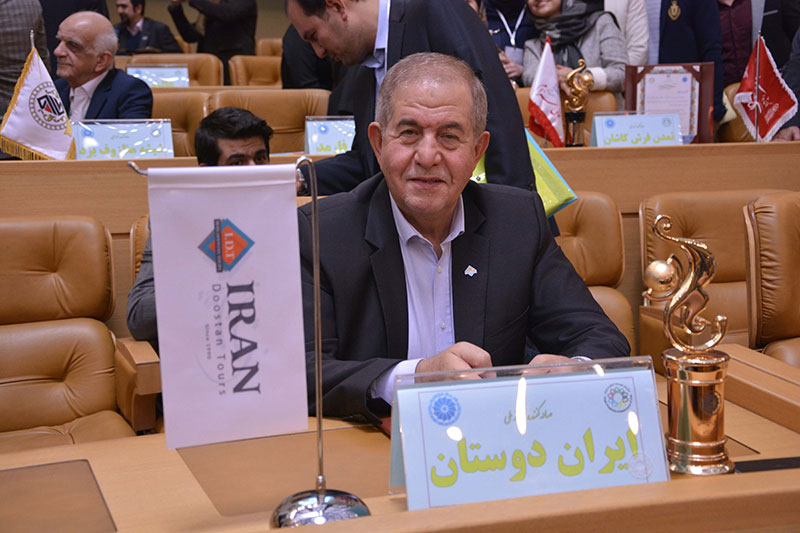 Mr. Vaghefi at Iran International Conference Centre
The 23rd anniversary of Iran National Exports Day was celebrated in Tehran on December 2. On this day The Exemplary Exporter ceremony was held at Iran International Conference Centre, Tehran and hosted by Es'haq Jahangiri, Iranian First Vice President and Reza Rahmani, Minister of Industry, Mine and Trade.
Iran Doostan received the national award
At this ceremony, ITPO (Iran Trade Promotion Organization) annually celebrates the National Day of Exports and introduces the winners tried to raise the competitive capability of Iran in the non-oil export section such as developing public export culture, encouraging exporters and economic activists and agencies. There were some important factors impacting our ability to achieve this award such as varied target markets number of passengers product diversity customer satisfaction and attention to sustainable tourism. Undoubtedly, this achievement would have not been possible without the cooperation of our foreign partners.IDT founded in 1990 in the tourism and travel industry of Iran and has received the national award of the best Iranian exporter in tourism services in the years 2004, 2008, 2009, 2012, 2013 and 2015.
https://irandoostan.com/dostcont/uploads/2019/12/8th.jpg
284
747
Travel to Iran
https://irandoostan.com/dostcont/uploads/2018/05/logo-idt2-09.png
Travel to Iran
2019-12-04 18:01:10
2020-06-10 15:02:00
Iran Doostan Tours Co. the exemplary exporter again in 2019