Iran, a Perfectly Safe and Halal Destination
Over the years the rapid growth in the travel industry has impacted halal tourism as well. Reaching a $142 billion industry in 2014 exceeded everyone's expectation and was a cut clear proof that Halal Tourism is a field with great potentials to grow even more. Iran as an officially Muslim country and home to shrines of prominent Islamic figures is the perfect destination for the travelers who want to find a place for their holidays without neglecting their cultural values and religious beliefs.
Besides being a perfect destination for the admirers of culture, history, and natural attractions, Iran is one of most multi-ethnicity and multi-cultural countries in the world. Today more than 95% of the population is Shi'a Muslims and the entire country operates under Islamic rules, which makes Iran a 100% Halal destination for those who want to enjoy their vacation without compromising their beliefs.
The word 'Halal' refers to food and activities that are allowed by Shariah of Islam. Halal food must have halal meat, slaughtered according to Islamic law (dhabiha), as instructed in Quran. And halal leisure activities involve separate beaches, swimming pools, spa, and nonalcoholic drinks and no pork products served in restaurants, cafés, and airlines. Moreover, Qiblah, the direction of Mecca, must be indicated in rooms and some public places.
One big advantage Iran has over such countries as Malaysia or Turkey, which are the most popular Halal destinations in the world, is that Iran does not need to generate Halal tourism or standards since the whole country has been operating under Halal laws for the last thirty years. Iran has it all; halal food, prayer facilities, Islamic bathrooms, prayer timings announcements, Islamic finance markets-commercial banking, and Halal media and recreation. Muslim travelers not only will see all the Halal standards in their hotels but also in the streets and the places they go for site seeing.
Since all the services provided in Iran are Halal, there is no Halal Brand or a Halal Certification Authority on products or in places. In fact, the government authorities always believed there is no need to use halal brand or certification on the food or in any facilities because the country is exclusively based on Islamic rules and there is no other alternative.
But Iran Cultural Heritage Handcrafts and Tourism Organization (ICHTO) have started creating and issuing Halal certificates to promote Iran in the international market as a perfect Halal destination.
The holy shrine of Imam Reza, the eighth Imam of Shi'as, is located in Mashhad that attracts more than five millions of pilgrims every year mostly from Iraq and Azerbaijan.
Mashhad is the Capital of Islamic Culture in 2017 elected by ISESCO and ICHTO is getting ready to take advantage of this huge opportunity to convey its Halal services to the world. Morteza Movahed, Deputy of ICHTO says Iran has been practicing all the Halal services and standards for three decades now, and it is the perfect time to emphasize its high capability in the international market.
Deputy of ICHTO, in Khorasan Razavi province, claims, in an exhibition in Mashhad August 2016, there is an upturn in the number of travelers to Mashhad every year and we must raise the quality of our services and our advertisement on Halal brands and standards to attract even more pilgrimages to this city. The government has started a project on promoting Iran's high capability in being a Halal destination with the slogan "Halal Tourism, Iranian Capacity". Arman Hotel in Mashhad is one of the first hotels that receive the Halal Certification following this project .
The other major holy city of Iran is Qom that holds one of the two main Hawzas in the world. The other one is in Najaf, Iraq.  Hawza is a seminary where Shi'a Muslim clerics are trained. It has been centuries that Qom has Shi'a academic centers and it accepts students from around the world in its institution.
Muslim tourists in Iran do not need to worry about the food in Iran's restaurants because by law the food served in Iran is 100% Halal, so when they are on a tour to Iran, they do not need to ask the hotel receptionist to give them the list of halal restaurants in the city that they are staying.
All the public places such as shopping malls, subway stations, entertainment centers, parks, and even mountain shelters have separate prayer rooms for men and women.
Also in Tehran and Mashhad, there are parks and waterparks designed for women only.
Our Muslim tourists can enjoy all Iranian coasts during their tour to Iran too. There are private beaches designed for men and women so everyone can freely enjoy the beach with their swimming suits. There are also mixed beaches that ladies can have a quality time with their family in their Islamic outfit.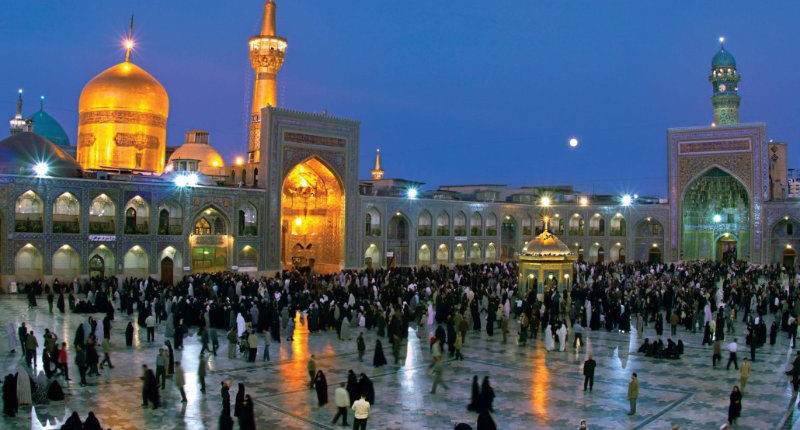 Imam Reza Shrine
Are you planning to travel to Iran? Check out our Iran Religious tours.