Abbas Kiarostami, Palme d'Or-winning Iranian film-maker, dies aged 76
Celebrated Iranian director, whose Taste of Cherry won Cannes' top prize in 1997, remained in the country after the Islamic revolution and continued to flourish.
Peter Bradshaw pays tribute to Kiarostami: a sophisticated, self-possessed master of cinematic poetry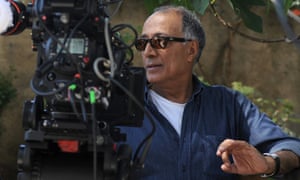 "Abbas Kiarostami, who had travelled to France for treatment, has died," reported the semi-official Isna news agency on Monday. Iran's house of cinema confirmed the report, Isna said. Kiarostami had been diagnosed with gastrointestinal cancer in March 2016, and had undergone a series of operations, including in Paris last month.
Speaking to the Guardian from Tehran, Oscar-winning Iranian film-maker Asghar Farhadi – who had been due to fly to Paris to visit his friend later tonight – said he was "very sad, in total shock".
Mohsen Makhmalbaf echoed the sentiment, saying Iran's cinema owes its global reputation to his fellow director, but that this visibility did not translate into a greater visibility for his work in his homeland.
"Kiarostami gave the Iranian cinema the international credibility that it has today," he told the Guardian. "But his films were unfortunately not seen as much in Iran. He changed the world's cinema; he freshened it and humanised it in contrast with Hollywood's rough version."
"He was a man of life, who enjoyed living and made films in praise of life – that's why it's so difficult to come to terms with his death," he said.
Kiarostami's rise to the status of one of the world's foremost auteurs started from relatively humble beginnings. He was born in 1940 in Tehran, and originally studied painting at the University of Tehran; Kiarostami began working as a graphic designer and went on to shoot dozens of commercials for Iranian TV. In 1969 he joined Kanun (the Centre for the Intellectual Development of Children and Young Adults), where he ran the film department, and was able to make his own films. In 2005 Kiarostami told the Guardian: "We were supposed to make films that dealt with childhood problems. At the beginning it was just a job, but it was the making of me as an artist."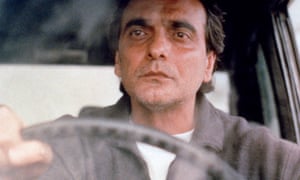 In the two decades he worked for Kanun, Kiarostami made films continuously, including his first feature, The Report, in 1977. He managed to negotiate the transition triggered by the Khomeini revolution, re-working the films he made to try and accommodate the demands of a new set of censors. Unlike many of his film-industry peers, Kiarostami decided to remain in Iran after the revolution, likening himself to "a tree that is rooted in the ground". "[If you] transfer it from one place to another, the tree will no longer bear fruit … If I had left my country, I would be the same as the tree."
It was while he was at Kanun also that Kiarostami embarked on what would become known as the Koker trilogy, the three films that established his international reputation as a director of considerable sensitivity and intellectual rigour. The first, Where Is the Friend's Home?, was completed in 1987, and its sympathetic story of a schoolkid's attempt to return a classmate's exercise book, won Kiarostami's first major award, the Bronze Leopard at the Locarno film festival.
Life, and Nothing More…, finished in 1992, saw him blend fiction and documentary in his account of his search for the earlier film's cast after the devastating earthquake of 1990. Said Jean-Luc Godard after seeing the film: "Film begins with DW Griffith and ends with Abbas Kiarostami." In 1994, Kiarostami made Through the Olive Trees, which revolved around the making of a fictional second instalment of Life, and Nothing More.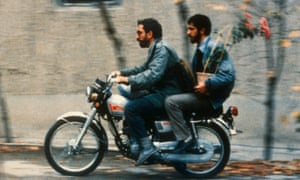 However, the hostile censorship climate meant he had already left his job at Kanun, shortly after completing another film, Homework, in 1989. Close-Up, from 1990 was an agile docu-fiction about a man who had been put on trial for impersonating Kiarostami's fellow film-maker Mohsen Makhmalbaf. At the same time, Kiarostami wrote and produced films by other directors, most notably The White Balloon, the 1995 directorial debut of Jafar Panahi, who had worked on Through the Olive Trees as an assistant director.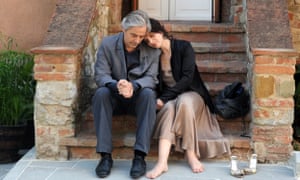 Last week, Kiarostami was among 683 film-makers asked to join the Academy of Motion Picture Arts and Sciences; many commented on the belated nature of the invite. In 2003, The Guardian ranked him the sixth best working director.
Kiarostami was married once, in 1969, to Parvin Amir-Gholi, but they divorced in 1982. They had two sons together: Ahmad (a mulitmedia publisher) and Bahman (a documentary-maker).
Source : The Guardian