History on the Walls of Persia
The history is written on the walls of Iran. The impressive bas reliefs of Apadana Palace in Persepolis narrate the story of the Persian guard soldiers and the delegations bringing gifts to the Achaemenid king. And the reliefs in the Shapur City "Bishapur" show Shapur's triple triumph over Rome. Khuzestan province bordering the Persian Gulf is "the birthplace of nation".  Some of the main cities of Khuzestan are Andimeshk, Dezful, Shushtar, Susa, and Masjed Soleiman that each has a very ancient and unique history. You will visit a couple of important ports of Iran in Persian Gulf on the Strait of Hormuz as well.
Then there is the city that has been registered as the world city of handicraft, the half of the world, Isfahan. When in Isfahan you can easily get the sense that this city was once the capital of Safavid Dynasty by seeing the exquisite and rich architecture of the city, the blue-tile works and beautiful domes and minarets of mosques.
In this journey you will see the world's most spectacular and peerless jewelries in Tehran jewelry museum, and the world's most unique wind catchers of the beautiful Yazd.
Dogoubayazit-Tabriz

Day 01

Drive from Bazargan Border to Tabriz.


Full day city tour of Tabriz


Visit El Goli park and drive from Tabriz to Zanjan.


Drive from Zanjan to Tehran, en–route visit Soltaniye Dome.


Full day city tour of Tehran.


Drive to Natanz via Kashan and visit Fin Garden and Tabatabaiee House. Arrive at Natanz and visit Jame Mosque.


Drive to Yazd via Naieen.


Full day city tour of Yazd.


Drive from Yazd toward Isfahan via Mohammadieh Village with traditional Textile weaving.


Full day city tour in Isfahan.


Free at Leisure to enjoy the beauties of the city.


Drive from Isfahan to Dorud.


Drive early in the morning from Dorud to Andimeshk via Pole Dokhtar.


Andimeshk-Masjed Soleyman

Day 15

Drive from Andimeshk to Masjed Soleyman en rout we visit Apadana Palace and Susa Fortress  then Chuqa Zanbil Ziggurat and then go on toward Shushtar and visit Shushtar Watermills, arrive at Masjed Soleyman.


Masjed Soleyman-Behbahan

Day 17

Drive to Behbahan via Ramhormoz.


Drive to Shiraz via Kazerun there we could visit Tange Chugan  , Bishapur and visit ruins of an old town from Sassanid Area .


Shiraz-Persepolis-Naghshe Rostam

Day 19

Visiting of Persepolise and Naghsh- e Rostam.


Full day city tour of Shiraz.


Drive from Shiraz to Firuzzabad.


Drive from Firuzabad to Bushehr.


Bushehr - Bandar Taheri

Day 24

Drive from Bushehr to Bandar Taheri.


Drive from B. Taheri to B. Lengeh via Bandar Kangan.


Drive to Bandar Abbas, en route visit Bandar-e Kong and visit construction site of "Lenj" boats, drive to salt mountain. Continue to Bandar-e Abbas.


Make excursion to Hormoz island with ruins of former Portuguese fortress and colorful hills. Return to Bandar-e Abbas.


Full day excursion to Minab, visit the market where many women still wear traditional "borqa" masks, drive further South to sceneries at Ziyarat and direction Sirik, return to Bandar Abbas.


Departure. In Bandar-e Abbas visit former Hindu temple, bazar and new great mosque. Get the Ferry to Sharjah.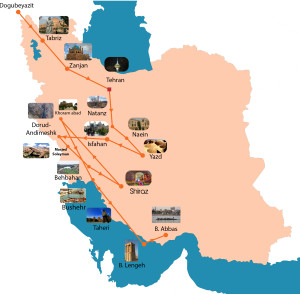 Tour highlight
El Goli Park
Kandovan village
Soltaniye Dome
Golestan Complex palace
Fin Garden
Tabatabaiee House
Chaqmaq Complex, Dowlat Abad Garden
Ali Qapu Palace
Naghshe- Jahan Sq
Imam and Sheikh Lotfolah Mosque
Apadana Palace
Susa Fortress
Chuqa Zanbil Ziggurat
Persepolise
Naghsh- e Rostam
Narenjestan Garden
Tange Chugan and Bishapur
Portuguese fortress
Hindu temple
Services included
Visa
Transport
Tour guide
Accommodation
The prices include
Accommodation in the hotels as per program
Generally half board or full board
All transfers
All land transportation
Tour guide
Entrance fees according to program
Visa support
Tip and portages in restaurants and hotels